Voters Speak Out in Key Congressional Races After Months of Speculation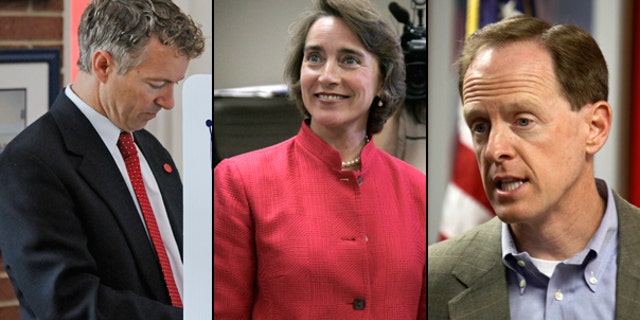 After months of speculation over the mood of the country, the electorate is getting its say Tuesday in three fiercely competitive Senate races and a House special election that may tell incumbents in Washington just how worried they should be come November.
In Kentucky, the Tea Party movement will find out how strong its influence is after throwing its weight behind Rand Paul in the Republican primary for U.S. Senate. In Arkansas and Pennsylvania, a couple of Democratic senators, Blanche Lincoln and Arlen Specter, will see how durable they are.
And in a fourth race of national significance, Republican Tim Burns and Democrat Mark Critz are battling to fill out the term of the late Democratic Rep. John Murtha in a congressional district in Pennsylvania. Both political parties reported spending roughly $1 million to sway the race, turning it into a laboratory for the fall campaign, when all 435 House seats will be up for grabs.
Burns is giving Critz fits, despite a 2-1 Democratic registration edge. The seat hasn't been held by a Republican since 1975, but rank-and-file union dissatisfaction with President Obama's agenda could prove decisive for Burns, much as it was for Republican Scott Brown in the Massachusetts election to fill Sen. Ted Kennedy's open seat.
Oregon voters also faced a deadline for returning ballots in a statewide mail-in vote that began more than two weeks ago.
In Arkansas, Lincoln is fighting for her political life in her primary battle against Lt. Gov. Bill Halter. Halter had the support of several unions that spent heavily in hopes of punishing Lincoln for her votes on health care, trade and legislation to make it easier to organize workers.
The presence of a third contender on the ballot, D.C. Morrison, raised the possibility that Lincoln might be forced into a politically debilitating runoff on June 8.
In Pennsylvania, five-term Sen. Arlen Specter's race against Rep. Joe Sestak is a clear measure of experience vs. change, and the voters were saying so as they cast their ballots.
"Politicians are like diapers. They both should be changed regularly," said Marc Coleman 41, of Philadelphia, who said he sided with Sestak.
Turnout appears low in Philadelphia and its suburbs – a development that doesn't bode well for Specter, according to the Philadelphia Inquirer.
But across the state in Pittsburgh, Stephen Little, 48, said he voted for Specter. ""He's been there so long, he's familiar with all the areas and information," he said.
Specter, 80, who switched to the Democratic Party from the Republican side of the aisle last year, is struggling for political survival in his primary with Sestak, who gained late momentum with a television ad that showed Specter saying last year that he changed parties to win a new term.
On the eve of the busiest primary night of the year so far, White House spokesman Robert Gibbs said Monday that President Obama was following the races, but "not that closely."
"We have supported incumbent Democratic senators and we've done a lot on behalf of each campaign," he added, referring to Lincoln and Specter.
Last year, when Specter switched parties, Obama said he would give his full support to the veteran lawmaker, and he appeared with him at a rally in the fall.
But on Tuesday, Obama flew over Pennsylvania en route to Youngstown, Ohio, where he made remarks about the economy.
The lack of a late campaign appearance contrasted with a special election in Massachusetts earlier this year, when the president made a late campaign foray to try to help Martha Coakley win an election that she wound up losing. It also contrasted with the president's efforts on behalf of losing gubernatorial candidates in Virginia and New Jersey last year.
Senate Minority Leader Mitch McConnell made no attempt to minimize his own interest in the Senate primary in Kentucky after making a late television commercial on behalf of Secretary of State Trey Grayson, who is battling Tea Party-backed Paul for the Republican nomination.
McConnell's spokesman, Don Stewart, said the senator was watching the race closely, and added he doubted White House claims that Obama wasn't equally interested. "That sure would be a surprise given that he has two incumbents in close races," he said.
While Grayson had support from the state's Republican establishment, Paul countered with backing from former Alaska Gov. Sarah Palin, retiring Sen. Jim Bunning and conservative Sen. Jim DeMint of South Carolina. DeMint has interceded in several primaries in hopes of pushing his party to the right, a decision some Republicans say may portend a move for greater influence inside the Republican leadership led by McConnell.
Paul predicted a win when he voted Tuesday, saying he thinks it will be the "first statewide victory for the Tea Party movement. I think it's huge."
Among Democrats, Kentucky Attorney Gen. Jack Conway collided with Lt. Gov. Daniel Mongiardo for the right to take on the Republican winner. Mongiardo lost a close race to Bunning six years ago.
In Pennsylvania, former Rep. Pat Toomey campaigned as the prohibitive front-runner for the Republican nomination, six years after losing to Specter in a GOP primary.
Toomey stopped by GOP headquarters in Johnstown Tuesday to thank phone bankers for their support. He said Specter has damaged his credibility and that Pennsylvania doesn't need a San Francisco liberal as its senator.
In Arkansas, Lincoln voted at her precinct with her husband and two sons in tow.
"I did run a good campaign," Lincoln said when questioned about the negative tone of the contest. "It was not a negative campaign. It was comparative campaign at times and I think that's important."
Lincoln once again decried ads attacking her that were paid for by out-of-state money.
"They have misrepresented my voting record, they've misconstrued who I am and what I've been about and I think it's important that other candidates need to be shown for who they are," she said.
Earlier in the day, there was some confusion over whether Lincoln had already voted.
Election officials showed Fox News paperwork indicating Lincoln had already voted by absentee ballot, but the senator told reporters she always requests an absentee ballot, "just in case."
She voted by provisional ballot and assured reporters it was the only ballot she has filled out in this election.
Halter, accompanied by his wife Shanti, spoke to reporters after he voted in the morning and called the possibility of a runoff election "a victory'" for his campaign.
"We certainly hope to win today outright," Halter said. "But I do think it's fair to point out when you been in a race for 11 weeks and you've taken on an 11-year incumbent who's also been a member of Congress for four years before that, that by anybody's reckoning, a runoff would be a victory for us and a tough statement about the incumbent."
Rep. John Boozman was the acknowledged Republican front-runner for the Senate nomination for a seat the GOP hopes to win in the fall.
Oregon's mail-in primary produced little if any of the drama that was on display elsewhere.
Sen. Ron Wyden sought the Democratic nomination to a third full term. Seven Republicans vied for the right to oppose him in the fall.
Former Democratic Gov. John Kitzhaber campaigned for his party's nomination for a return to office, and nine Republicans competed for the nomination to run against him.
In Pennsylvania's gubernatorial primary, four Democrats and two Republicans vied to advance to the fall election. Gov. Ed Rendell, a two-term Democrat, was barred from seeking re-election.
Fox News' Shannon Bream, Jake Gibson, John L. Wallace III, and The Associated Press contributed to this report.