Virginia governor race: Candidates pull out political heavy hitters as showdown gets nasty
In a year where coverage of President Trump has generated TV ratings, limitless controversy,  and the world's scrutiny,
the November 7th Virginia governor's race between former Republican National Committee Chair Ed Gillespie and Democratic Lt. Gov. Ralph Northam has been gasping for attention.
That may change this week as both campaigns pull out some heavy hitters. President George W. Bush is attending two Gillespie fundraisers on Monday. President Obama is campaigning for Northam on Thursday. That, following weekend appearances by Vice President Mike Pence at a Gillespie rally and former Vice President Joe Biden at an Northam event.
Unknown yet is whether President Trump will campaign for Gillespie.
"It's a tightrope. If you remember when the President Trump tweeted his endorsement  of Gillespie, Gillespie did not exactly jump at re-tweeting that," said Jeff South,  a journalism professor at Virginia Commonwealth University.
To the contrary, it was Gillespie's opponent who re-tweeted the President's Twitter attack. It read: "Ralph Northam, who is running for Governor of Virginia, is fighting for the violent MS-13 killer gangs & sanctuary cities. Vote Ed Gillespie!"  But Northam added to his retweet: "I've been expecting this. Donate here."
Old school Republican Gillespie has been stepping gingerly on Trump's coattails — not fully embracing the man but generally supporting his policies and campaigning in rural counties where Trump's base is strong.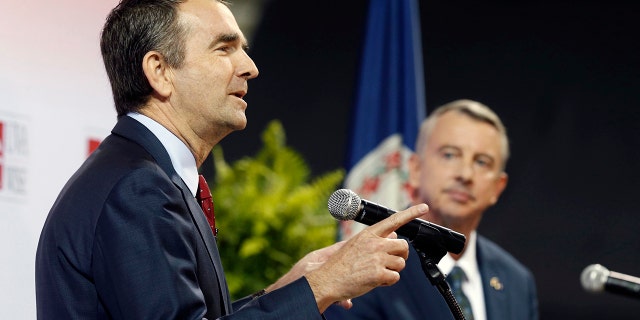 "Those voters seem more agitated than ever before, and they're willing to come out for the candidate who appeals to them, " said Matt Schlapp, chairman of the American Conservative Union. "It's also critically important that Ed Gillespie appeals to them as well, which I think he's trying to do."
In this race, Trump's outsized ego and influence — good or bad -- is magnified, given that both candidates have been accused of understated, non-charismatic personalities. Those personalities  are not reflected in their in-your-face attack ads. In one such Gillespie ad — the apparent basis of President Trump's tweet —an ominous sounding narrator sounds an alarm.
"Ralph Northam cast the deciding vote in favor of sanctuary cities that let illegal immigrants who commit crime back on the street," the ad said.
A frequently running Northam ad shows the Democratic candidate calmly and happily saying: "Now, I'm listening carefully to Donald Trump and I think he's a narcissistic maniac."
The latest Real Clear Politics average of polls shows Northam with a lead of 6.8 percent. But Gillespie is confident that will prove badly inaccurate. That sentiment is based upon his experience in the 2014 Virginia Senate race when he ran against incumbent Democratic Senator Mark Warner.
Polls showed Gillespie well behind Warner in the final weeks of the race.  But Gillespie closed in the final days, losing by less than a half percentage point.