Virginia Governor Adds Abortion Coverage Restrictions to Fed Health Insurance Exchange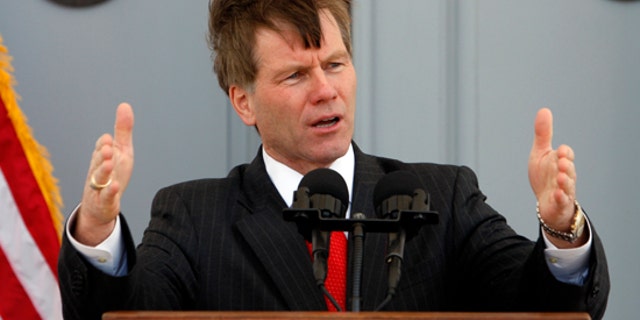 NEWYou can now listen to Fox News articles!
RICHMOND, Va. -- Furthering an anti-abortion push by Virginia Republicans, Gov. Bob McDonnell is seeking to ban abortion coverage by the state health insurance exchanges that are being created as part of the federal health care overhaul.
Over the weekend, McDonnell quietly amended a bill that outlined how Virginia would create a health exchange, adding a provision barring them from covering abortions except when the mother's life is in danger or the pregnancy is a result of rape or incest.
Supporters heralded McDonnell's amendment Thursday, saying the move protects anti-abortion citizens from paying for abortions. Opponents said the provision smells of the sort of government intrusion into private life that McDonnell so often rails against.
"It flies in the face of free market principles and limited government, which is what the governor always says he supports," said Tarina Keene, executive director of NARAL Pro-Choice Virginia.
At issue is the federal requirement that states set up health benefit exchanges by 2014, allowing individuals and small businesses to pool their buying power and choose coverage plans offered by private insurers
Federal law prohibits federal funding for abortions, but the law allows plans in the exchanges to cover abortions as long as they collect a separate premium from policy holders and that money is kept apart from federal subsidies. A McDonnell spokesman said Virginia simply is joining several states that have chosen not to cover the procedure.
"Several states have already implemented that policy, and Virginia is following suit," spokesman Tucker Martin said.
Arizona, Louisiana, Mississippi, Missouri and Tennessee passed bans last year after the federal legislation was approved, and at least 20 states are considering doing the same. Two such bills died in the Virginia legislature earlier this year.
While most abortions cost less than $700, later and more complicated abortions can be much more expensive. Currently, about 80 percent of insurance plans cover the procedure.
McDonnell also restored nearly $1 million in abstinence-only educational funding that legislators had stripped out of his proposed budget.
Lawmakers will vote on McDonnell's changes during a one-day reconvene session on Wednesday.
The amendments are the latest in a series of anti-abortion actions in Virginia and elsewhere.
McDonnell already signed a bill that would require strict new regulations for abortion clinics. The legislation requires clinics that provide first-trimester abortions to be regulated as hospitals, a move opponents said could put many out of business and drastically reduce availability of the procedure.
More than 27,000 of the 28,000 abortions performed each year in Virginia are completed during the first-trimester, Keene said.
Last year, Virginia eliminated state Medicaid funding for abortions, which had been allowed in narrow cases where a woman's health would be endangered by the pregnancy.
Nationwide, dozens of bills are advancing in states that would place new obstacles -- from extended waiting periods to bans after certain time limits -- before women seeking the procedure. Meanwhile, at the federal level there are pushes to limit tax breaks for insurance policies that cover abortions and strip funding from Planned Parenthood, the nation's leading abortion provider.
Keene said she believes Republicans are pushing the measures through because all 140 legislative seats are on the ballot this year. She worries more could come.
"They can scream jobs and the economy and transportation and education all they want, but this is the first thing on their agenda," Keene said.
Keene said it was hypocritical of McDonnell to ban insurance coverage while at the same time supporting a state lawsuit challenging the federal health care legislation.
Virginia argues in its lawsuit that the federal government cannot force citizens to buy products from other private citizens. Keene said McDonnell is doing the same thing by dictating that private citizens cannot buy coverage from private companies.
In his amendment, McDonnell added that the provision should not be seen as recognition of the federal overhaul's constitutionality.
Anti-abortion groups applauded McDonnell's amendment.
"Without a change like the government's amendment, pro-life citizens opposed to abortion will be mandated to fund this unethical destruction of human life," said Victoria Cobb, president of The Family Foundation.
The original bill, which sailed through the General Assembly with scant opposition, directs the governor and others to make recommendations on how the exchange should be structured by Oct. 1.
That bill expires in 2014, which means the state would have to pass separate legislation if it wanted to continue to impose the ban.