Virginia attorney general to fight state's same-sex marriage ban, report says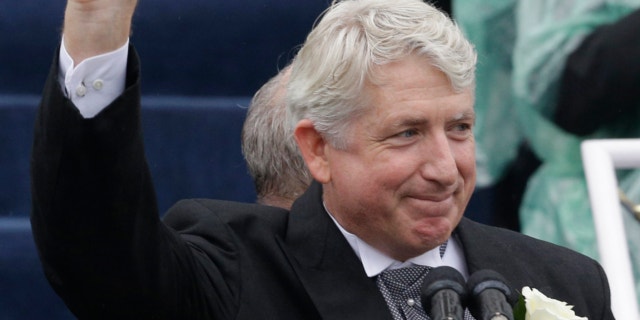 Virginia's attorney general will announce Thursday that he believes the state's ban on same-sex marriage is unconstitutional and that Virginia will ask a federal court to strike it down, The Richmond Times-Dispatch reported.
A spokeswoman for Democrat Mark R. Herring told the newspaper he thinks the ban is unnecessary and plans to file a brief on behalf of two same-sex couples in Norfolk who are challenging the ban, which was approved by voters in 2006, 57 percent to 43 percent.
"The attorney general has concluded that the ban violates the 14th Amendment of the United States Constitution on two grounds — one, marriage is a fundamental right being denied to some Virginians, and two, the ban unlawfully discriminates on a basis of sexual orientation and gender," spokeswoman Ellen Qualls told the newspaper.
Herring, took office Jan. 11, succeeding Republican Ken Cuccinelli, who opposes same-sex marriage. Herring voted for the ban as a state senator in 2006, but says that he has changed his views on the issue in recent years.
"I talked to a lot of people, I thought a lot about it, talked to my family, and I have seen how I would not want the state to tell my son or my daughter who they can and cannot marry," Herring said last August, according to the report.
Herring's decision does not change the amendment to the state constitution, which defines marriage as between a man and a woman. His office has also issued a directive to court clerks prohibiting them from handing out marriage licenses to same-sex couples, the Times-Dispatch reported.
Two federal lawsuits challenging the state's constitutional ban on gay marriage are moving forward, and a hearing on one of the cases is scheduled for Jan. 30. The issue could ultimately be appealed to the U.S. Supreme Court.
Herring is expected to file a supportive brief in a case filed in U.S. District Court in Norfolk. David Boies and Theodore B. Olson, the high-profile legal tandem that brought down California's prohibition on same-sex marriage, lead the legal team in the challenge.
The other lawsuit, filed in U.S. District Court in Harrisonburg, involves two couples from the Shenandoah Valley who claim the state's ban on gay marriage violates the Constitution's equal protection and due process clauses. The American Civil Liberties Union and Lambda Legal are representing the plaintiffs.
The judges presiding in the Harrisonburg and Norfolk challenges are appointees of President Obama.
The Associated Press contributed to this report.