VIDEO: Obama to Hispanic Prayer Breakfast: "Immigration Reform is a Moral Imperative"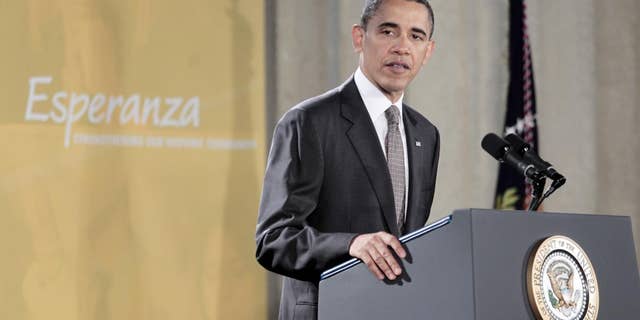 NEWYou can now listen to Fox News articles!
Speaking at the National Hispanic Prayer Breakfast Thursday, President Obama called on faith leaders and community activists to build a widespread movement for his immigration reform policy. "I'm asking you to keep preaching and persuading your congregations and communities," President Obama said. He called for the need to pray on this issue, stressing its moral imperative.
The president read a passage from scripture, "Love ye therefore the stranger: for ye were strangers in the land of Egypt." Mr. Obama said that line from the Book of Deuteronomy applies to the immigration debate and "is a call to show empathy to our brothers and our sister; to try and recognize ourselves in one another."
Many religions and interfaith organizations have supported the president's immigration policy, which he reminded the crowd in Washington, saying the sense of connection and moral compass calls us to do what's right.
While speaking of the need to reform immigration for the second time this week, Mr. Obama recognizes the laws of the land, calling the United States "a nation of immigrants and a nation of laws". His administration has beefed up security at the Southwest border which he toured in El Paso, Texas Tuesday.
Some Congressional Republicans panned that trip as a political move and President Obama does not currently have the votes in Congress to change the law by passing his immigration reform policy. He has said in the past one of his biggest disappointments of his administration so far, was the stalemate on the DREAM Act in the last Congress. He expressed some of his frustration at the breakfast, and the need to "change minds" to make his policy the law of our land. Check out the video HERE: