Venezuela first lady runs for congress while opposition leader is barred from contest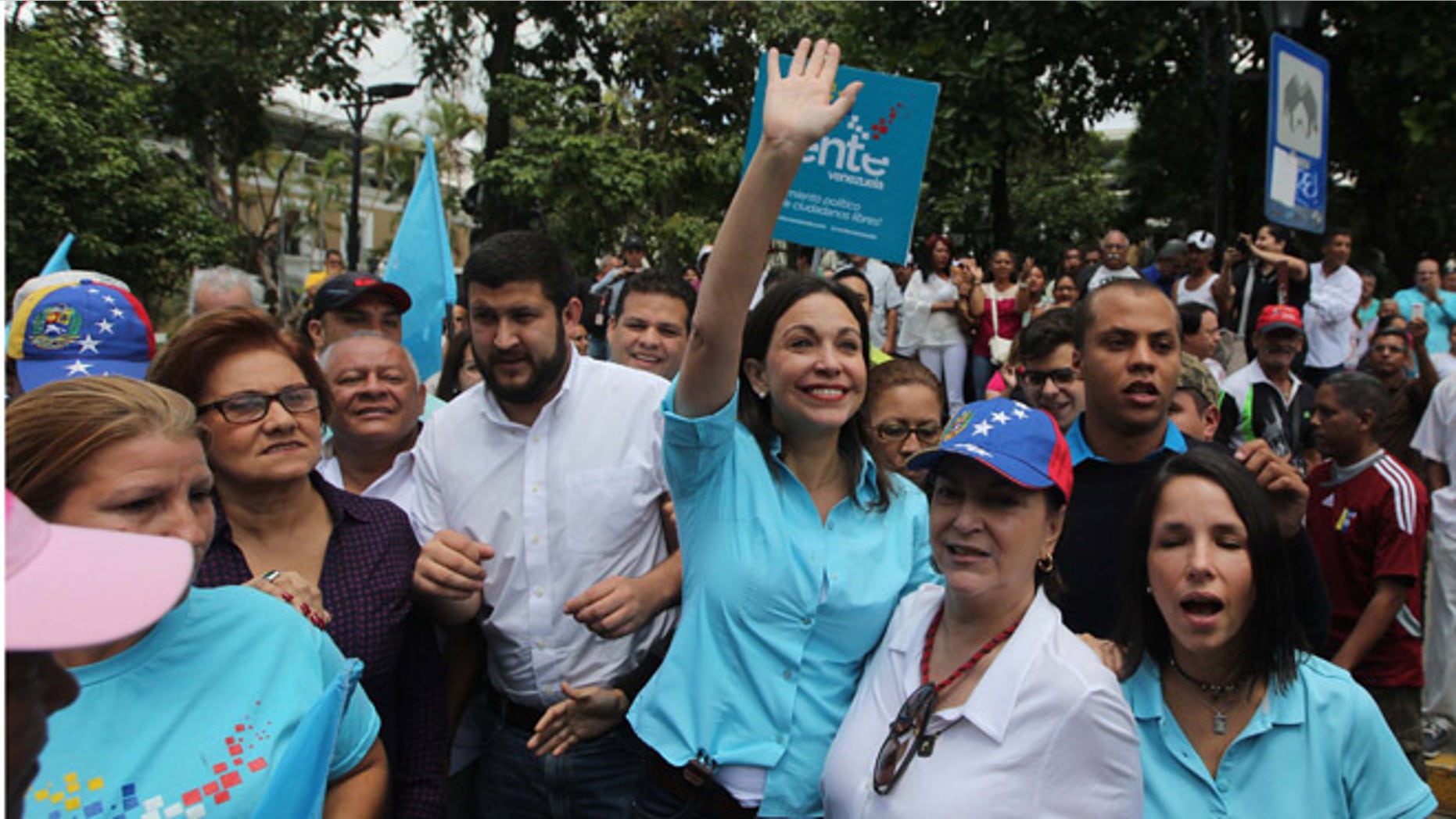 CARACAS, Venezuela (AP) – Venezuela's first lady will run for congress while an opposition leader has been formally barred from the contest.
Election officials rejected former congresswoman Maria Corina Machado's attempt to register as a candidate Monday for congressional elections Dec. 6. Hours later, President Nicolas Maduro announced that his wife, Cilia Flores, would be running for a seat.
Machado, an opposition leader, called the National Elections Council's rejection of her candidacy a grotesque violation of her rights and the rights of all Venezuelans.
She is among the hard-line opposition leaders who called for Maduro to resign last year and helped lead sometimes bloody street protests demanding an end to the South American country's socialist administration. The ruling party stripped her of her congressional seat amid the protests.
Machado has become one of the most visible faces of the opposition, continuing to lead protests against Maduro.
In July, elections officials barred her and a handful of other high-profile critics of the government from holding office. Officials said Machado failed to make required financial disclosures. The state prosecutor's office has also accused her of conspiring to assassinate Maduro, a charge she denies as ridiculous.
The December election represents the opposition's best chance in years to deliver a defeat to the 16-year-old socialist revolution ushered in by late President Hugo Chavez. Polls say the opposition is leading strongly as Venezuelans tire of chronic shortages, crime and inflation.
On Monday, Machado introduced a substitute candidate for the seat she had hoped to win: 70 year-old Caracas sociology professor Isabel Pereira.
The opposition coalition says the government is attempting to clamp down on its candidates out of desperation, and leaders have called for nationwide protests Saturday.
Flores was formerly the head of the National Assembly, and also served as Venezuela's attorney general.
In announcing that she would run, Maduro said that his wife is her own person.
"She consulted me about it, and I told her, 'You are free to fight your own battles because you have your own leadership qualities, your own space, and there is no machismo here that will limit you,'" he said.