VA watchdog says federal prosecutors involved in scandal probe, charges possible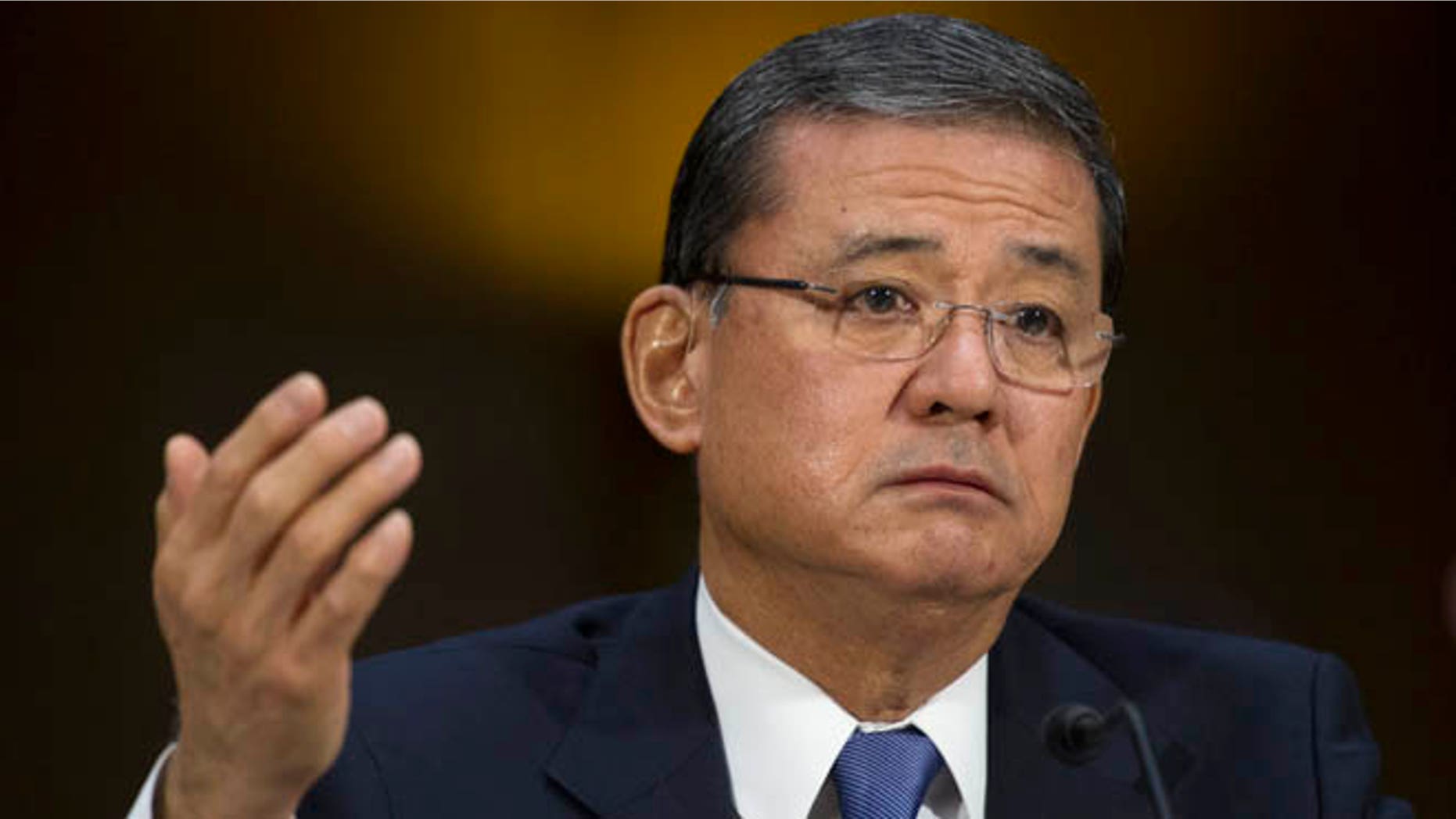 The chief watchdog for the Department of Veterans Affairs confirmed Thursday that his office is working with federal prosecutors to weigh whether criminal charges are warranted in the health care scandal at a Phoenix VA facility.
VA acting Inspector General Richard J. Griffin, who spoke to lawmakers on Capitol Hill after VA Secretary Eric Shinseki delivered his first public testimony since the scandal broke, vowed to complete an "exhaustive review" and predicted it would be done by around August.
He said that review includes OIG criminal investigators as well as federal prosecutors from the U.S. Attorney's Office in Arizona and the Public Integrity Section of the Justice Department in Washington, D.C. They are working, he said, to "determine any conduct that we discover that merits criminal prosecution."
His comments come as some lawmakers call for heads to roll over the burgeoning controversy over patient deaths tied to delayed care. Facing calls for his resignation, Shinseki defended the VA system but vowed to get to the bottom of what happened in Phoenix and elsewhere, and take "all actions necessary."
"Any allegation, any adverse incident like this makes me mad as hell," Shinseki said Thursday before the Senate Veterans Affairs Committee.
Lawmakers, though, accused Shinseki of failing to act on repeated warnings about problems with the veterans health care system. He faced bipartisan criticism that his department is falling down on its vital obligation to care for America's veterans.
Sen. John McCain, R-Ariz. -- who represents the state where the scandal broke -- said the problems have created a "crisis of confidence."
"We should all be ashamed," said McCain, a Vietnam veteran.
Sen. Jerry Moran, R-Kan., who has called for the secretary's resignation, accused Shinseki of being in "damage control" and not taking the action that is necessary to correct the system.
The scandal at the Phoenix division involved an off-the-books list allegedly kept to conceal long wait times as up to 40 veterans died waiting to get an appointment. Officials were accused of cooking the books to hide the fact that veterans were waiting more than 14 days, the target window.
VA facilities in South Carolina, Florida, Pennsylvania, Georgia and Washington state have also been linked to delays in patient care or poor oversight. An internal probe of a Colorado clinic found that staff had been instructed to falsify records to cover up delayed care at a Fort Collins facility.
Shinseki has urged officials to wait until the inspector general report is completed, as he orders a separate review, but lawmakers voiced concern that this would only lead to further delays.
Sen. Patty Murray, D-Wash., called the allegations "deeply disturbing." "We need more than good intentions," she said, calling for "decisive action."
A top Republican also questioned when senior leaders at the Department of Veterans Affairs learned that lower-level workers were "manipulating wait times" for veterans' health care. Sen. Richard Burr, R-N.C., ranking Republican on the panel, said that the allegations have been surfacing for a while, and information on the problems was available to the secretary a year and a half ago.
"Why were the national audits and statements of concern from the VA only made this month?" he asked, adding that the delayed health care has resulted in "patient harm and patient death."
Shinseki said the controversy "saddens" him. In his written statement, he said the department "must do better."
Under questioning from senators, Shinseki still defended the overall management of the VA, calling it a "good system" and claiming that cases where workers were manipulating wait times are "isolated."
Committee Chairman Bernie Sanders, I-Vt., in his opening statement, urged Shinseki's critics to wait until more details are known, acknowledging the VA health care system has "serious problems" but questioning whether it even has enough resources.
"There has been a little bit of a rush to judgment," he said.
Meanwhile, Griffin said veteran deaths could be avoided if the VA would focus on its core mission of delivering quality health care. Lawmakers also heard Thursday from a host of veteran advocacy groups -- including The American Legion, which has called for Shinseki's resignation.
American Legion National Commander Daniel Dellinger said in his testimony that the Phoenix scandal was not the only reason the organization called for a leadership change -- rather, it was the "final straw."
Griffin cited deep flaws in the organizational structure of the VA that need to be fixed. Griffin cited seven recent reports that demonstrate problems hindering the VA's ability to provide quality health care coverage.
Examples include a September 2013 report on a VA hospital in Columbia, S.C., which found thousands of patients had their appointments for colon cancer screenings delayed. He says it found that more than 50 patients had a delayed diagnosis of colon cancer, and some later died. Another report from October 2013 discusses a facility in Memphis, Tenn., where three patients died due to improper emergency room care.
Griffin says it is time for the VA to conduct a review of its systems to determine if there are changes that can be made to improve.
In discussing the current state of VA health care, Shinseki cites numerous examples of ways he says the VA has improved care over the past five years, including improving and expanding care access, working to end veteran homelessness and improving access to mental health services. He says the VA is actively working to improve patient wait times.
The White House has stood behind Shinseki amid calls for him to resign. President Obama announced Wednesday he is assigning his close adviser Rob Nabors to the VA to work on a review focused on policies for patient safety rules and the scheduling of patient appointments.
The Associated Press contributed to this report.