Utah Gov. Fires Back at Congressional Critics of State Immigration Law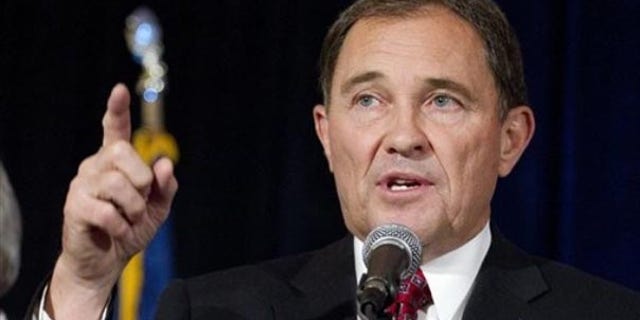 Two Republicans who hold leadership positions on congressional committees that deal with U.S. immigration matters say Utah should be penalized for approving a program that would allow undocumented immigrants to legally work in the state.
That has prompted Utah Gov. Gary Herbert, also a Republican, to fire back that Congress should focus on fixing the problematic immigration system and stop wasting its time taking shots at Utah.
Utah supporters of the guest worker provision, part of a larger immigration law, are hoping to get a waiver for it from the federal government, which prohibits the hiring of undocumented immigrants.
This week, U.S. Rep. Lamar Smith, the Texas congressman who heads the U.S. House Judiciary Committee, sent a letter to U.S. Attorney General Eric Holder urging him to sue Utah for approving a program he says is unconstitutional.
Smith, a Republican who favors strict immigration policies, said that it is "hypocritical" of the Justice Department not to take legal action against Utah while it wages a court battle against Arizona, which last year passed what was the nation's most hard-line state-level immigration law.
And in a recent interview with Fox News Latino, Rep. Steve King, the Iowa Republican who is vice chairman of the House Subcommittee on Immigration Policy and Enforcement, said Utah's law "turns Utah into a sanctuary state."
King said he is doubtful that Utah will get a waiver that will allow it to circumvent federal laws prohibiting the hiring of undocumented workers.
"Federal law prohibits it," King said, adding that people are mistaken "If people believe [President Obama] can write an executive order to waive [the law]."
"I don't want to see federal subsidy dollars go to Utah if they're going to defy federal laws."
In the case of Arizona, the Justice Department sued, saying that its law stepped into federal territory because immigration is a federal matter. A federal judge put key parts of Arizona's law on hold last July, a ruling the Ninth Circuit Court of Appeals upheld earlier this month.
Smith said that if Obama's administration "is serious about having a uniform immigration policy rather than a 'patchwork' of state immigration laws you profess to oppose, then the Administration needs to take action against the Utah law."
Arizona Gov. Jan Brewer, a Republican, argued that the federal government had failed in its responsibility to secure U.S. borders, leaving states to deal with the consequences.
Many state legislatures have immigration proposals styled after Arizona's, which among other things allows police to check a person's immigration status if he or she has been stopped for another matter, requires immigrants to carry documents proving lawful presence in the United States, and penalizes undocumented immigrants for working or soliciting work.
But some states have held off on moving on their immigration bills, concerned about the litigation that Arizona faces.
Utah, however, chose the rare path of passing laws that include both enforcement of immigration laws, but also a way to help undocumented immigrants who meet certain criteria to be able to work and live in the state.
Like officials of other states taking up the issue of illegal immigration, Utah's governor and legislators – all Republicans -- who supported the guest worker provision said they had no choice but to take immigration into their own hands since the federal government repeatedly has failed to address it.
But Utah legislators said the state needed a bill that covered enforcement as well as the state's need for immigrant labor.
"Being reasonable and being conservative are not mutually exclusive," Herbert said in a statement to a local Utah television station. "Part of being conservative is being practical."
In another statement released in response to Smith's letter to Holder, Herbert said: "Typical Washington-attempt to deflect criticism that comes from Washington's abject failure to address immigration, then sue a state over something that won't even take effect for two years, rather than use those two years to do something positive."
"Instead of throwing rocks at Utah, Congress should get off the sidelines, into the game and actually do something."
A showdown with federal officials is the last thing Utah wants, the state's Attorney General Mark Shurtleff said. Shurtleff and Herbert have met with federal officials, including members of the Justice Department.
Shurtleff said Smith's letter is not only wrong, but strictly political.
"He's riding right along the line of the hard right wing radicals," said Shurtleff, a Republican. "He's trying to stick his nose into Utah's business and play politics."
A Justice Department spokeswoman said the letter was being reviewed.
This story includes material from The Associated Press.
Follow Elizabeth Llorente on Twitter: @LlorenteLatino
Elizabeth.Llorente@FoxNewsLatino.com
Follow us on twitter.com/foxnewslatino
Like us at facebook.com/foxnewslatino