Use California program as mental health model? That's 'crazy,' lawmaker says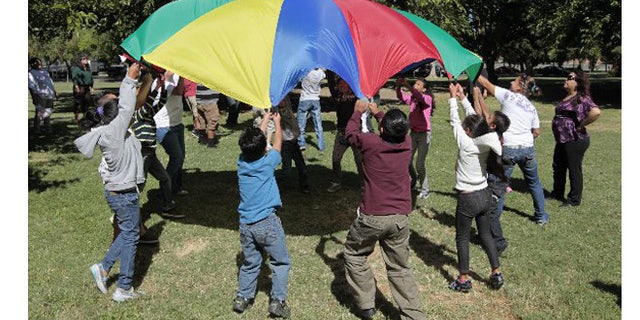 NEWYou can now listen to Fox News articles!
Washington – Hip-hop car washes. Lunchtime yoga. Horseback riding, tai-chi and Zumba classes.
These are all part of California's "mental health" program, one that has come under scrutiny for being wasteful and is currently being audited by the state.
But that hasn't stopped one state lawmaker from offering it up as a national solution.
California Senate President Pro Tempore Darrell Steinberg is now pressing Vice President Biden to consider using his state's program as a model as Biden's White House task force examines policies to curb gun violence in the wake of the Connecticut school massacre. That review is expected to cover mental health policies.
"We are saving lives," Steinberg said in his Dec. 20 letter to Biden. "What's working here can work throughout every state in the country."
Steinberg also wants Congress to go a step further and match state funding dollar-for-dollar. Steinberg's office maintains California – despite allegations of abuse and waste – should remain a model for the nation.
State Assemblyman Brian Nestande, though, countered: "That's just crazy."
California's "experimental" initiatives have been blasted by experts who say they are fraught with abuse, have little to no impact and need to be revamped. Nestande was one of the first lawmakers to challenge how California spent money on mental health programs generated from a 2004 ballot initiative – about $1 billion a year.
In August 2012, an Associated Press report found that tens of millions of dollars raised under Proposition 63 had gone to programs designed to help those who have not been diagnosed with any mental illness. The programs included art and drama classes, horseback riding and gardening.
Other programs under scrutiny include a $2.1 million proposal that would create a Santa Clara community center that would serve as a hub for "traditional" wellness practices like acupuncture. The state gave a Los Angles self-help drop-in facility $230,000 for a biofeedback lab where students can learn breathing and relaxation techniques on computers.
Riverside got the go-ahead for Mamas y Bebes -- a 12-week "mood management" course that helps Latina mothers create a healthy environment for themselves and their infants.
A fifth of the initiative's revenue was earmarked for prevention, and the state Department of Mental Health later dictated that the money should go to promote wellness among people who had not entered the mental health system. Nestande says these "forced experimental programs" wasted millions.
"States have been going through painful budget processes," Nestande said. "Not having money for other programs and then all of a sudden spending millions on yoga for mental health is unnerving."
Questions raised about the effectiveness of some of California's programs and how the funds were being spent led to an audit which is still ongoing. California State Auditor Elaine Howle has said her investigation will be extensive, with two teams visiting and gathering information from state agencies as well as four representative counties, including Los Angeles County.
Nestande, a Republican, told FoxNews.com he would "encourage" Biden to experiment with a range of state programs. "Some of our programs have worked and others have not," he said.
Proposition 63 has brought in $7.4 billion since 2004 through a 1 percent tax on income greater than $1 million a year.
"Tens of thousands of Californians are benefiting from mental health services provided through this act, but many are simply not aware of the breadth of the work being done," Steinberg said. "It is important Californians hear that story so that those suffering with mental health problems know they can reach out and get help from a system that works."
While money has gone to prevention and early intervention programs in California, the state's overall spending on mental health services has fallen dramatically. The state's mental health budget from 2009 to 2012 was slashed 21 percent. Ninety percent of beds in state hospitals – once set aside for general psychiatric patients – are now being used for mentally ill suspects awaiting trial or for sexual predators who have completed their prison sentence.
Steinberg's office told FoxNews.com Tuesday that the state needs to transform its "fail first" stance and refocus on prevention and early intervention.
"While it is absolutely misguided to draw direct correlations between mental illness and such violent acts (at Sandy Hook Elementary School), investing in prevention and early intervention for people in the early stages of mental illness is a strategy that clearly saves lives," Steinberg said in his letter.