US slaps sanctions on four nations for refusing to take deported nationals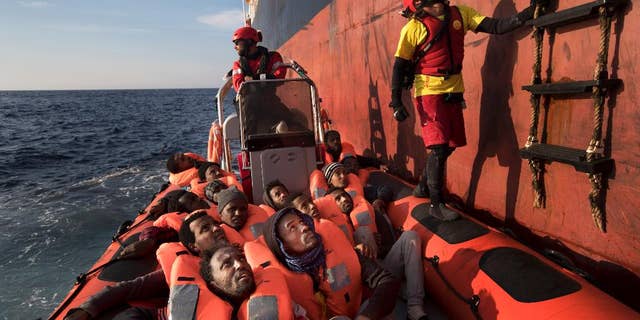 NEWYou can now listen to Fox News articles!
The U.S. government has imposed sanctions on four countries that it says have refused to accept their deported citizens as part of the Trump administration's immigration crackdown.
According to the U.S. Department of Homeland Security, the four countries – Cambodia, Eritrea, Guinea, and Sierra Leone – are facing the sanctions for "lack of cooperation" in accepting the deported citizens. Cambodia is in Southeast Asia while the three other countries are in Africa.
The plan to sanction the four countries had been circulating since last month, though the extent of the sanctions and the timeframe for enacting them remained unknown. At the time, officials hinted that U.S. Secretary of State Rex Tillerson would not ban all visas issued to the four countries, but instead target just government officials and their families.
But Wednesday's DHS announcement revealed the sanctions to be more far-reaching than previously expected.
"International law obligates each country to accept the return of its nationals ordered removed from the United States," Acting Secretary of Homeland Security Elaine Duke said in a statement.
"Cambodia, Eritrea, Guinea, and Sierra Leone have failed in that responsibility," she added, noting that the "one-way street ends with these sanctions."
Under the sanctions, the U.S. will stop issuing all category B visas for tourism and business to citizens of Eritrea, a nation of about 5 million people.
In Cambodia (15.7 million), top government officials and their family members will be denied entry to the U.S. on a business or travel visa.
In Guinea (12.6 million), top government officials will no longer be able to obtain category B nor student and cultural exchange visas.
In Sierra Leone (6.4 million), Ministry of Foreign Affairs officials and immigration officials will not receive tourism and business visas.
"Without an appropriate response from the impacted countries, the scope of these sanctions may be expanded to a wider population," Duke said in the statement.
ICE Acting Director Thomas Homan claimed the reluctance of other countries to accept their citizens meant that "American citizens have been harmed" because ICE was forced to release more than 2,000 Guinean and around 800 Sierra Leone citizens, many of whom have serious criminal convictions, into U.S. communities.
Roughly 700 Eritreans and around 1,900 Cambodians were also released, despite most having serious criminal convictions, including violent and sex offenses.
"These sanctions will ensure that the problem these countries pose will get no worse as ICE continues its work to remove dangerous criminals from the United States," Homan added.
The move to sanction countries not complying with the U.S. requests was initiated by President Donald Trump, who signed an executive order in January instructing the government agencies to negotiate with "recalcitrant countries" that refuse their deported citizens and impose sanctions if such countries fail to comply, Politico reported.
DHS previously listed China, Cuba, Vietnam, Laos, Iran, Guinea, Cambodia, Eritrea, Burma, Morocco, Hong Kong and South Sudan as recalcitrant countries.
The Associated Press contributed to this report.