US reportedly reaches out to Yemen's Houthi rebels to promote anti-Al Qaeda campaign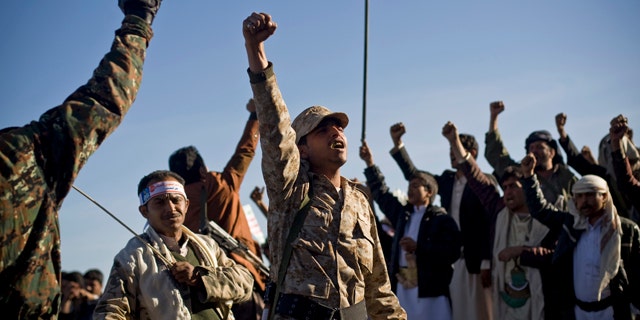 NEWYou can now listen to Fox News articles!
U.S. officials have reportedly reached out to Yemen's Houthi rebels days after they forced the resignation of that country's U.S. and Saudi-backed government, according to a published report.
The Wall Street Journal, citing U.S. officials, reports that Washington is communicating with the rebels through intermediaries in an effort to ensure the U.S. campaign of drone strikes against leaders of Al Qaeda in the Arabian Peninsula (AQAP) can continue.
"We have to take pains not to end up inflaming the situation by inadvertently firing on Houthi fighters," a senior U.S. official told the paper. "They're not our military objective. It's AQAP and we have to stay focused on that."
The Journal reports that Houthi commanders interviewed in Yemen say that the U.S. began sharing intelligence through intermediaries, about AQAP in November of last year. The terror group, which claimed responsibility for the deadly attack on the satirical French magazine Charlie Hebdo earlier this month, operates with near-impunity in Yemen's west and south.
According to the Journal, one Houthi commander said that the U.S. had provided logistical aid to the rebels and the two had exchanged intelligence in order to support Houthi group operations as well as U.S. drone strikes against AQAP. The commander also said that the group has pressed Washington not to fly drones over Houthi-controlled areas and clear future strikes with them.
National Security Council spokesman Alistair Baskey told the Journal that the U.S. does not have a formal intelligence-sharing agreement with the Houthis
The Houthis, who are Shiite Muslims and concentrated in the northwest of Yemen, are believed by U.S. officials to have received a considerable amount of funding and weaponry. The rebels have variously confirmed and denied this belief.
On Thursday, Yemeni military officials said the rebels had captured a key military base south of the capital, Sana'a where U.S. advisers had trained counter-terrorism forces until 2012.
Experts say that any strengthening of ties between Washington and the Houthis could further undermine Saudi confidence in the American alliance.
"Saudis are already nervous about U.S. policy in the Middle East," Emile Hokayem of the International Institute for Security Studies told the Journal, "and the sense that Washington is no longer interested in containing, let alone countering, what they see as Iran-allied Shia militias."
The Associated Press contributed to this report.