US officials taking Al Qaeda threat to US ambassador 'very seriously'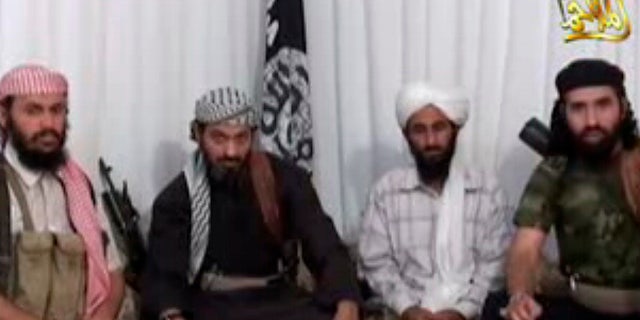 NEWYou can now listen to Fox News articles!
Washington – Intelligence sources told Fox News on Wednesday that they believe an Al Qaeda threat against the U.S. ambassador in Yemen, as well as a call to kill American soldiers there, is credible.
Separately, the State Department said it was taking the terrorist threat against Ambassador Gerald Feierstein and U.S. troops serving in the Arab state "very seriously."
The Al Qaeda branch in Yemen -- considered to be the most dangerous cell in the terrorist network - is offering thousands of dollars in gold to anyone who kills Feierstein or any U.S. soldier serving there.
"We have seen the reports and we take such threats very seriously," a State Department spokesperson said. "As you know, our embassy in Yemen already operates in a highly sensitive and difficult security situation."
The bounties on Feierstein -- $160,000 in gold -- and on American troops -- $23,000 in gold -- were posted online Saturday. They were set to "inspire and encourage our Muslim nation for jihad," according to media reports. The reward is supposedly valid for six months.
Al Qaeda is Yemen is notoriously violent. Their propaganda videos stand out and have the singular focus of attacking Westerners -- mostly Americans. Last year, the Yemen-based cell took advantage of security lapses during nationwide protests and ended up overrunning entire towns and villages. Backed by U.S. forces, the country's army was able to eventually regain control but it came at a cost that included hundreds of lives lost.
In Sanaa, the capital, security officials reported two gunmen on motorcycles had killed two intelligence officers as they were leaving a security facility over the weekend.
The new Yemen threat comes days after a scathing bipartisan report in Congress slammed the State Department for failing to respond to repeated requests from U.S. personnel in Benghazi, Libya, for additional security. The lack of security allegedly made the compound more vulnerable during the Sept. 11, 2012 attack that killed U.S. Ambassador Chris Stevens and three other Americans.
"I think there is no doubt that Al Qaeda and all of its affiliates see what happened in Benghazi as a major victory for them," Rep. Peter King, R-N.Y., said.