US military weighing air strikes in Syria, defense official confirms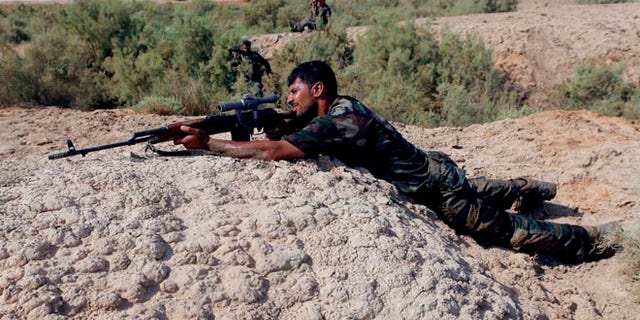 The U.S. military is considering air strikes in Syria to thwart Islamic State militants, a senior defense official said Saturday.
The official told Fox News he does expect anything "imminent," but such a plan is being weighed amid the militants' deadly roll from Syria into Iraq and the recent beheading of American journalist James Foley.
The acknowledgement follows a senior White House official and two top U.S. military leaders earlier this week publicly raising the possibility of expanding strikes on Islamic State beyond those in Iraq.
"We're not going to be restricted by borders," Ben Rhodes, President Obama's deputy national security adviser, said Friday.
On Thursday, Gen. Martin Dempsey, chairman of the Joint Chiefs of Staff, said Islamic State militants can be contained only so long and that their Syrian sanctuary will eventually have to be addressed.
"Can they be defeated without addressing that part of their organization which resides in Syria? The answer is no," he said at a Pentagon press conference. "That (sanctuary) will have to be addressed on both sides of what is essentially at this point a nonexistent border."
However, he argued such action will occur only when the United States has a coalition in the region "that takes on the task of defeating ISIS over time."
The same day, Defense Secretary Chuck Hagel said Islamic State is a dire threat that requires an international, not just an American, response, while predicting the group will retreat into Syria to mount a renewed offensive.
The White House has said the president has received no military options beyond those he authorized earlier this month for the limited air strikes in Iraq and military aid to Iraqi and Kurdish forces.
Thus far, the U.S. has avoided military involvement in Syria's three-year civil war. But faced with the Islamic State making gains across the region and the beheading of Foley, the administration's resistance may be weakening.
Many prominent Republicans and some Democrats have called on Obama to hit back harder at the Islamic State militants.
Sen. Marco Rubio, R-Fla., a prospective 2016 presidential candidate, said Friday that attacking Islamic State supply lines, command and control centers and economic assets inside Syria "is at the crux of the decision" for Obama. The risk of "getting sucked into a new war" is outweighed, he said, by the risk of inaction.
To hit back at the group, Obama has stressed military assistance to Iraq and efforts to create a new, inclusive government in Baghdad that can persuade Sunnis to leave the insurgency. He also has sought to frame the Islamic State threat in terms that convince other countries -- not just in the Mideast but also in Europe -- of the need to create a broad coalition against the extremists.
In an op-ed for The Washington Post, Vice President Joe Biden said the U.S. was prepared to help Iraq pursue a federal system that would decentralize power away from Baghdad. While saying that Iraq is making progress in forming a new government, Biden warned that sectarian divisions were fueling extremist movements like the Islamic State.
Lukman Faily, the Iraqi ambassador to Washington, said in an interview this week that Baghdad's new leadership has been told to expect additional military help once the new government is seated, possibly in early September. But an Iraqi counteroffensive may yield only temporary gains if the Islamic State retreats to areas of Syria beyond the government's control.
Rhodes also said the United States was "actively considering what's going to be necessary to deal with that threat."
Speaking on the Massachusetts island of Martha's Vineyard, where Obama is on vacation, Rhodes said: "We've shown time and again that if there's a counter terrorism threat, we'll take direct action against that threat, if necessary."
The recent execution of Foley could be seen as a turning point in a long-running battle against the group, whose origins are in an al Qaeda offshoot that U.S. forces faced in Iraq several years ago, he said. Foley's killing, he added, was "an attack on our country."
Obama faces tough decisions.
He can continue helping Iraqi forces try to reverse the group's land grabs in northern Iraq by providing more arms and American military advisers and by using U.S. warplanes to support Iraqi ground operations. On Friday, the Pentagon announced that U.S. warplanes made three more air strikes against Islamic State targets near the Mosul Dam, including a machine gun position that was firing on Iraqi forces.
"In a sense, you're just sort of back to where you were," said Robert Ford, a former U.S. ambassador to Syria who quit in February in disillusionment over Obama's unwillingness to arm moderate Syrian rebels.
"I don't see how you can contain the Islamic State over the medium term if you don't address their base of operations in Syria," he said in an interview before intensified U.S. air strikes this week helped Kurdish and Iraqi forces recapture the Mosul Dam.
Just in Iraq, Obama has difficult choices to make. Its sectarian divisions and political dysfunction created the opening that allowed Islamic State fighters to sweep across northern Iraq in June, capturing U.S.-supplied weapons that Iraqi forces left behind when they fled without a fight.
Among his options:
-- Sending more troops to Baghdad to strengthen security for the U.S. Embassy, as requested by the State Department. Officials said the number under consideration is fewer than 300. They would be in addition to several hundred U.S. troops already in the capital helping to protect U.S. facilities and personnel.
-- Speeding up the arming of Iraqi and Kurdish forces. The administration has been supplying Iraqi government forces with Hellfire missiles, small arms and ammunition, but critics say the pace is too slow.
-- Increasing the number and expanding the role of the dozens of U.S. military advisers coordinating with Iraqi forces in Baghdad and the Kurdish capital of Irbil. They could be given more direct roles in assisting Iraqis on the ground by embedding with units in the field or scouting targets for U.S. air strikes.
The Associated Press contributed to this report.