US faces tightrope walk in post-Chavez Venezuela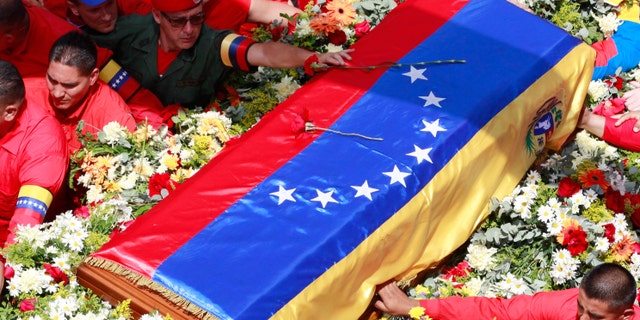 NEWYou can now listen to Fox News articles!
WASHINGTON – Now begins the delicate work of diplomacy.
After Venezuelan President Hugo Chavez died Tuesday, Secretary of State John Kerry and the rest of the Obama administration are faced with a tightrope-walk challenge. How to repair badly damaged relations with a key Latin American country without scuttling those chances by giving the impression of meddling in their internal affairs?
The next carefully crafted steps could finally begin to thaw the decades-old deep-freeze between the two nations.
On Wednesday, two senior State Department officials said they were "optimistic" that the frosty ties would improve and pressed the importance of reconstructing the battered relationship.
"We'd like a productive and more functional relationship with the Venezuelan government and we remain optimistic that can be the case," one official said.
The U.S. will send a delegation to Chavez's funeral, the State Department said, without saying who would attend.
But the effort to repair ties won't be easy.
Kerry will have to maneuver around a shaky socialist nation struggling to maintain its identity. He'll also have to deal with politicians who are looking to capitalize on Chavez's popularity and strong anti-American sentiment.
Experts believe Chavez's death, though, could change the dynamic in the region – something U.S. officials hope to jump on.
One reason is Iran. Iran and Venezuela have had close ties for years, and weakening the country's grip on Venezuela could be helpful in the future. Last year, Iranian President Mahmoud Ahmadinejad traveled to Venezuela and both leaders vowed to work together. In the past, the two nations have signed more than 270 trade deals as well as construction projects, energy initiatives and banking deals.
Restoring relations could involve striking common ground beneficial to both on counterterrorism, counternarcotics and energy, one State Department official said.
"It's important to talk about things that matter to both of us," the official said. "And then you try and build on that. It's a step-by-step process during which we will continue to speak out and defend democratic principles."
On Tuesday, President Obama described Chavez's death as a "new chapter" in the Latin American country's history.
Former U.S. Ambassador to the U.N. John Bolton told Fox News Wednesday that there was a lot of "potential" to restore ties but advised a "wait and see" approach.
Political uncertainty has engulfed the country for months as rumors of Chavez's deteriorating health and eventual death from cancer circulated.
Loyalists and his regime now face the dilemma of inheriting a government that was unified only by their devotion to Chavez. Interim president Nicolas Maduro, a former bus driver and cheerleader of Chavez, has been working overtime to convince his countrymen that he will carry on the late leader's socialist vision and anti-American approach.
During a speech Tuesday, Maduro spoke out against unnamed "enemies" he claimed were trying to undermine the country's government. He blamed the U.S. for Chavez's death, accused two American officials of spying and kicked them out of the country.
The State Department official admitted Maduro's actions weren't a great start to fostering a new-found friendship.
"It's a complicated relationship and his announcement of Chavez's death was preceded by his 90-minute press conference where we were accused of so many different things," the official said.
Tensions between the U.S. and Venezuela have been brewing ever since Chavez took power in 1999. He built alliances with anti-American governments in Iran, Cuba and Nicaragua and even called President George W. Bush "the devil" during a 2006 speech at the United Nations. He also repeatedly referred to former Defense Secretary Donald Rumsfeld as "Mr. War."
Matthew Levitt, a former counterterrorism official with the FBI and Treasury Department, calls Chavez's death a "game changer" and said his passing provides an opportunity to weaken the grip other governments have on Venezuela.
Chavez's funeral will be held on Friday. It will be accompanied by seven days of official mourning in the country. Schools will be closed and the government will shut down, according to reports. Dignitaries from around the world are expected to attend.