US evacuating Baghdad embassy staff as Islamic militants ramp up attacks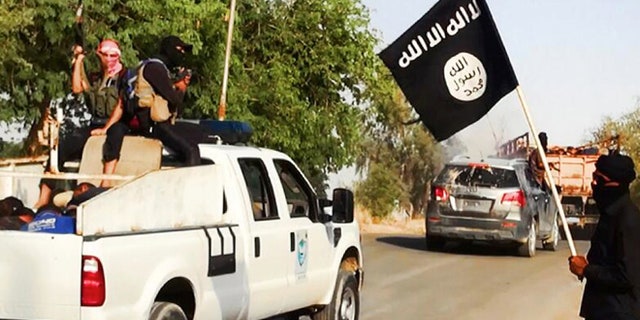 The Obama administration said Sunday the U.S. Embassy in Baghdad will remain open amid the growing sectarian violence in Iraq but will increase security and that some embassy staff will be temporarily evacuated.
State Department spokeswoman Jen Psaki said the staff will be moved to U.S. Consulate Generals posts in Basra and Erbil and to the Iraq Support Unit in Amman, Jordan.
The embassy is within the Baghdad's Green Zone. It has about 5,000 personnel, making it the largest U.S. diplomatic post in the world.
The Islamic State of Iraq and the Levant – also known as the Islamic State of Iraq and Syria (ISIS) -- swept across northern Iraq last week and captured the major cities of Mosul and Tikrit.
Iraqi government officials said on Sunday that ISIS fighters were trying to capture Tal Afar in northern Iraq and raining down rockets seized last week from military arms depots.
The government, meanwhile, bolstered its defenses around Baghdad a day after hundreds of Shiite men paraded through the streets with arms in response to a call by Grand Ayatollah Ali al-Sistani for Iraqis to defend their country.
ISIS has vowed to attack Baghdad, but its advance to the south seems to have stalled in recent days.
Meanwhile, Iraqi troops, many of them armed and trained by the United States, are fleeing in disarray, surrendering vehicles, weapons and ammunition to the powerful extremist group, which also fights in Syria.
White House spokesman Josh Earnest said President Obama continues to receive updates on the situation from National Security Adviser Susan Rice.
And Pentagon press secretary Rear Adm. John Kirby confirmed that the U.S. military is providing security assistance to diplomatic facilities in Baghdad. He also said the relocation of some staffers will be done with commercial, charter and State Department aircraft and that the U.S. military has "airlift assets at the ready" should the State Department request them.
A senior U.S. military official told Fox News about 100 Marines and Army soldiers have been sent to Baghdad to help with embassy security.
U.S. travelers in the country also were encouraged to exercise caution and limit travel to certain parts of Iraq.
"Due to the relocation of personnel from Baghdad, the embassy will only be restricted in its ability to offer all consular services; but emergency services are always available to U.S. citizens in need at any embassy or consulate anywhere in the world," Psaki said.
Despite the added security by the Iraqi government in Baghdad, a string of explosions killed at least 15 people and wounded more than 30 in the city Sunday, police and hospital officials said.
GOP Rep. Mike Rogers, chairman of the House Permanent Select Committee on Intelligence, said Sunday the uprising is "as dangerous as it gets" and that the Obama administration must reunite with Arab nation partners to stop the surge.
"You can't just fire missiles and come home," the Michigan lawmaker told "Fox News Sunday."
Rogers and others say the situation goes far beyond Iraq's borders and is a major problem because some of ISIS' members have passports, which allows them to be trained -- or "radicalized" – in the region and return to Europe and the United States.
He argued that another major concern is that at least some of the fighters in the Al Qaeda-connected group are "seasoned combat veterans."
"It's a jihadist Disneyland," he said. "We need to do something to stop the momentum."
Rogers and others also offer as proof of the situation that a Florida man joined Islamic extremists and last month in Syria carried out a suicide bombing against government forces.
Roger specifically called for Obama to work with Arab League partners, who include Egypt, Iraq, Jordan and Saudi Arabia, and for U.S. military support to help end the sectarian civil war.
Also on Sunday, the militant group posted graphic photos that appeared to show its fighters massacring dozens of captured Iraqi soldiers. The pictures on a militant website appear to show masked ISII and Levant fighters loading the captives onto flatbed trucks before forcing them to lie face-down in a shallow ditch with their arms tied behind their backs. The final images show the bodies of the captives soaked in blood after being shot.
And South Carolina Sen. Lindsey Graham, a Republican on the Senate Armed Services Committee, said Iraqi Prime Minister Nouri al-Maliki cannot keep his country together and that a U.S. alliance with Iran might be needed to do so.
He told CBS's "Face the Nation" that a U.S. partnership with longtime foe Iran to help the situation makes him uncomfortable but likened it to the U.S. working with Josef Stalin in World War II against Adolf Hitler.
He said the U.S. has to do what it can to keep Baghdad from falling to insurgents.
Obama on Friday said he would not send troops in Iraq but left open the possibility of military action.
The U.S. on Saturday moved the Navy aircraft carrier USS George H.W. Bush into the Arabian Gulf.
Psaki said the U.S., which toppled the regime of Iraqi President Saddam Hussein, "strongly supports Iraq and its people as they face security challenges from violent extremists."
She also said the embassy in Baghdad will continue to engage daily with Iraqis and their elected leaders.
Fox News' Jennifer Griffin and The Associated Press contributed to this report.