Uruguay's President Mujica Shuns Wealth for Small Farm and VW Beetle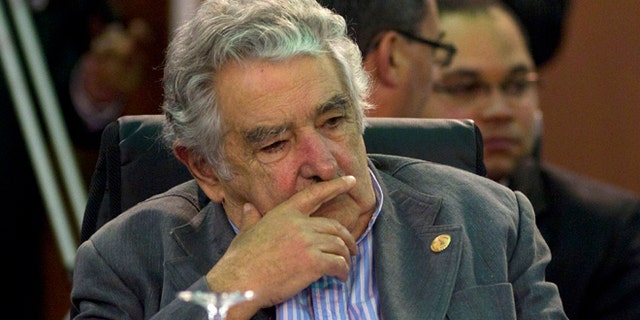 Barack Obama lives in the White House. UK Prime Minister David Cameron resides at the famed 10 Downing St. Even Venezuela's socialist leader Hugo Chávez calls the cushy confines of the Miraflores Presidential Palace home.
But what about Uruguay's José Mujica?
The diminutive president of the Southern Cone nation has shunned the country's Residencia de Suárez for the cozy but modest quarters of his small home on the outskirts of the capital, Montevideo.
Dubbed by many media organizations as the world's "poorest" president, Mujica and his wife keep house on a small farm surrounded by other tiny homes and guarded by only two police officers and his three-legged dog, Manuela.
I may appear to be an eccentric old man... But this is a free choice.
"I've lived like this most of my life," Mujica told the BBC. "I can live well with what I have."
Unlike his forebearers and counterparts around the world who live in comfort and are chauffeured around in limousines, Mujica donates 90 percent of his salary $12,000 monthly salary to charity organizations benefiting the poor and small businesses and his means of transport is a beat-up 1987 Volkswagon Beetle worth about $1,800 – or the equivalent of his annual personal wealth declaration.
This year he bumped his wealth declaration up to $215,000 – only after declaring his wife's assets of a land, tractors and a house – which still pales in comparison to Vice-President Danilo Astori's declared wealth and former President Tabare Vasquez's bank account.
"I'm called 'the poorest president,' but I don't feel poor. Poor people are those who only work to try to keep an expensive lifestyle, and always want more and more," Mujica said. "This is a matter of freedom. If you don't have many possessions then you don't need to work all your life like a slave to sustain them, and therefore you have more time for yourself."
Mujica, a former member of the leftist guerrilla group the Tupamaros, spent 14 years in prison during the country's military dictatorship in the 1970s and 80s and has four bullet wounds from action in the underground movement.
Elected in 2009, Mujica has been praised by some Uruguayans for how he lives and for his support of the country's poor, but criticized by others for not using the country's recent economic prosperity to improve public health and education.
As his popularity falls below 50 percent for the first time since his election, Mujica has faced strong opposition for not vetoing a bill that legalized abortions and strongly supporting the legalization of marijuana.
Despite the criticism the Uruguayan leader has faced, he says he plans to remain true to his beliefs and keep living the way he wants to.
"I may appear to be an eccentric old man... But this is a free choice," he said.
Follow us on twitter.com/foxnewslatino
Like us at facebook.com/foxnewslatino