Uruguay President Mujica Says Country Is Open To Accepting Guantanamo Detainees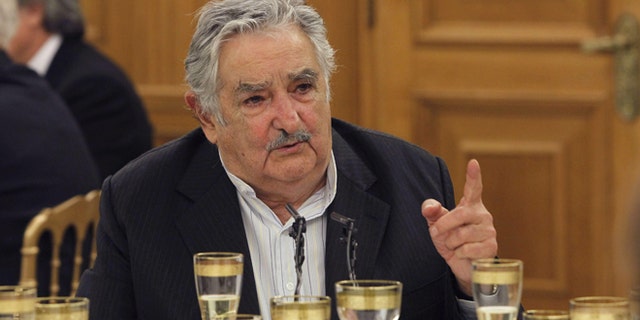 NEWYou can now listen to Fox News articles!
MONTEVIDEO, Uruguay (AP) – Uruguay's president indicated Thursday he's open to taking some former terror suspects still held at Guantanamo Bay, but the U.S. ambassador in the country cautioned that no agreement has been reached.
"If the inmates of Guantanamo want to make their nests in Uruguay, they can do it," President José Mujica told Channel 10's "Subrayado" program while at a farm fair in rural Uruguay. But he said he told his negotiators that he "would not be their jailer."
Uruguay's weekly Busqueda magazine reported earlier in the day that Mujica had agreed to accept five of the prisoners at President Barack Obama's request, and that U.S. Secretary of State John Kerry personally called Mujica to thank him on Monday.
The magazine said the deal includes a requirement that the former detainees remain inside Uruguay's borders for at least two years.
However, U.S. Ambassador Julissa Reynoso denied that the deal is done, saying that "we're still talking." She specifically denied that the governments had agreed that five prisoners would go to Uruguay.
"That's not correct. We're consulting and in conversation, but there is no deal to make a process like this in Uruguay," she told Montevideo's "El Espectador" radio show.
The U.S. has resettled 43 Guantanamo detainees in 17 countries since Obama took office, and released 38 others to their homelands. Last week, the State Department office working to close the prison said to expect significant progress with the remaining 154.
A statement from the U.S. Embassy in Montevideo on Thursday said "we are consulting with various countries in the region about closing the detention center. Given the leadership role that President Jose Mujica shows in the region, we have consulted with his government."
And a State Department official, speaking on condition of anonymity because of the closed-door negotiations, told AP Thursday, "We can't comment on sensitive diplomatic discussions ... However, as with many other governments, the United States has engaged the government of Uruguay to discuss the issue of closing the detention facility at Guantanamo. Many governments, as well as the OAS and Latin American community, have called on the United States to close Guantanamo. And we look forward to continued dialogue with these governments as we move forward with closing the detention facility."
Obama came into office pledging to close the prison for terrorism suspects on the U.S. base in Cuba but was thwarted by Congress, which imposed restrictions on transferring the prisoners overseas and a ban on moving any of the men held there to the United States. Congress finally eased the restrictions in December, and transfers and releases, which had come to a virtual halt, have resumed as part of the president's renewed efforts.
Follow us on twitter.com/foxnewslatino
Like us at facebook.com/foxnewslatino