Unemployment rate falls to 8.3 percent in January after hiring burst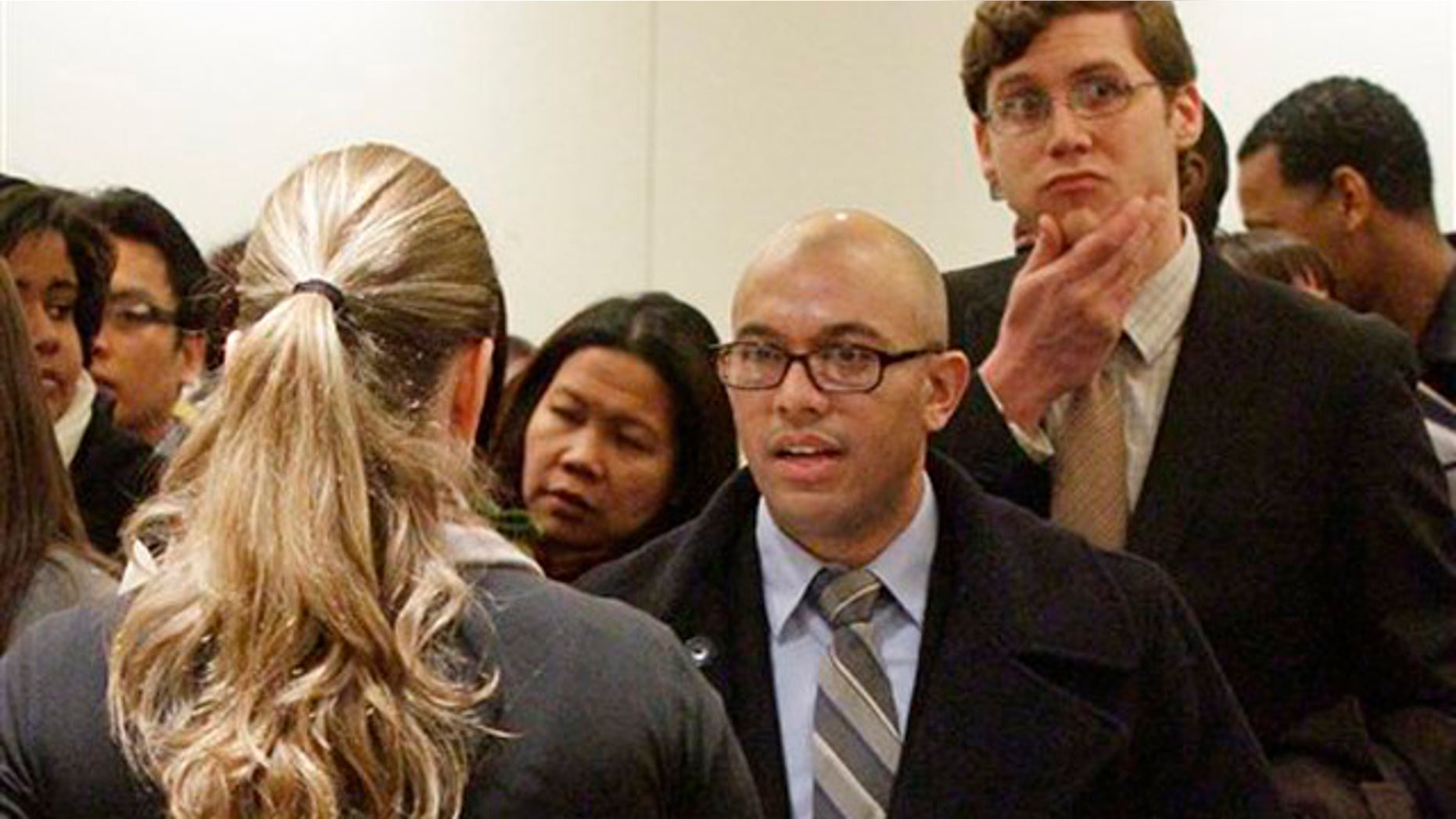 WASHINGTON – The unemployment rate dropped to 8.3 percent in January, marking the fifth straight month of decline thanks in part to a hiring spree in the private sector.
The Labor Department report suggests the job market is improving, though longer-term economic projections remain dim. The Congressional Budget Office reported earlier this week that its analysts predict the rate will creep toward 9 percent again before the end of the year.
But the January rate reported Friday is the lowest point in nearly three years. The economy created 243,000 net jobs in January, the most in nine months.
The result sent stock futures surging. The Dow Jones industrial average futures, which were flat before the report, jumped more than 100 points.
White House economic adviser Alan Krueger called the trend "encouraging."
"Today's employment report provides further evidence that the economy is continuing to heal from the worst economic downturn since the Great Depression," he said in a statement.
He pushed for Congress to extend the payroll tax cut and approve new long-term jobless benefits, "and take the additional steps that President Obama proposed in his State of the Union address to create an economy built to last."
Many Republicans support an extension of the payroll tax cut but are at odds with Democrats over how to pay for it. House Speaker John Boehner also put the onus on Senate Democrats to take "immediate action" on bipartisan bills that have passed out of his chamber.
"There's welcome news in this latest jobs report as more Americans found work last month, but the fact is our unemployment rate is still far too high. Our economy still isn't creating jobs the way it should be and that's why we need a new approach," he said in a statement. "We can't be satisfied with an unemployment rate mired above eight percent for years on end; we must do better. President Obama should call on Senate Democrats to take immediate action on our bipartisan jobs bills, and together we can create a better environment for private-sector job growth."
Employers have added an average of 201,000 jobs a month in the past three months. That's 50,000 more jobs per month than the economy averaged in each month last year.
The Labor Department's January jobs report was filled with other encouraging data and revisions.
Hiring was widespread across many high-paying industries. Pay increased. And the economy added 200,000 more jobs in 2011 than first thought.
The unemployment rate is nearly a percentage point lower than over the summer, when many feared a recession was imminent. The last time the unemployment rate has dropped for five straight months was in late 1994.
Impressively, the job gains last month were spread across the economy.
Manufacturers added 50,000 jobs, the most in a year. Even the beleaguered construction sector added 21,000 jobs, its second month of strong gains. That has likely been aided by unseasonably warm weather this winter.
Leisure and hospitality, which includes restaurants and hotels, added 44,000 jobs. Retailers added nearly 11,000. And professional and business services, which encompasses higher paying jobs in accounting, architecture and engineering, gained 70,000, the most in 10 months.
Lower unemployment is a positive a sign for Obama's reelection hopes. Still, he's likely to face voters with the highest unemployment rate of any post-war president.
The unemployment rate fell even as more people began looking for work. But a much larger number said they found work.
More jobs and higher incomes should help consumers boost spending and increase economic growth.
Job gains in November and December were revised upward to show that an additional 60,000 jobs were created in those two months.
The government also issued its annual revisions to jobs data going back five years. They showed that hiring was stronger over the past two years than previously thought. The economy added about 1.82 million jobs last year, nearly twice as many as in 2010.
Even with the gains, the job market faces a long way back to full health. The nation has about 5.6 million fewer jobs than it did when the recession began in late 2007.
There are still 12.8 million people out of work, though that is the fewest since the recession ended. An additional 11 million are either working part-time but would prefer full-time work, or have stopped searching for jobs.
When all those groups are combined, nearly 24 million are considered "underemployed. The so-called "underemployment" rate ticked down in January to 15.1 percent, from 15.2 percent.
Several reports signaled this week that the economy is improving gradually. Manufacturers expanded at the fastest pace in seven months in January, a private survey showed.
And fewer people sought unemployment benefits last week, the Labor Department said. The four-week average of applications fell to its second-lowest level since June 2008. The drop shows that companies are cutting fewer jobs, which usually leads to more hiring.
Americans spent more at big chain retail stores last month compared with a year earlier. And automakers began 2012 with a strong sales gain in January. Healthier auto sales can boost a range of companies, from steel makers to parts suppliers to shippers.
The economy expanded at a 2.8 percent annual pace in the October-December quarter, a full percentage point higher than in the previous quarter.
Even so, economists expect slower growth this year. Much of the fourth quarter's expansion was due to companies ordering more goods to restock their warehouses. Restocking is likely to slow in the first three months of this year. That would drag on growth.
Europe's financial crisis could also slow demand for U.S. goods. And average wages failed to keep up with inflation last year. That leaves consumers with less spending power, which can hamper growth.
Click here to read more at Fox Business Network.
The Associated Press contributed to this report.