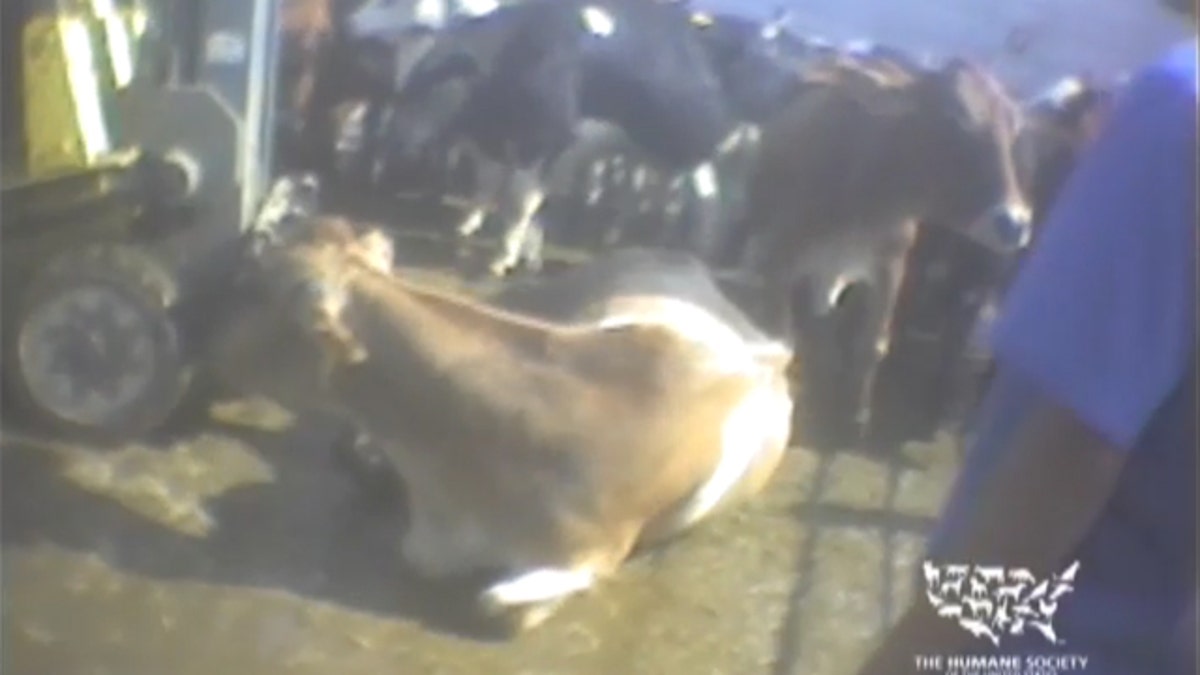 In response to a string of undercover videos meant to expose animal cruelty on America's farms, several states capitals are considering bills that would make it illegal for groups to secretly document the treatment of livestock.
Backed by the agriculture industry, lawmakers in Florida, Iowa and Minnesota have introduced proposals imposing criminal penalties for trying to make one of these films. Proponents say the measures are necessary to prevent people from lying their way into local farms, then exploiting their access to make videos which they claim are used to raise money, not improve animal conditions.
"It's almost like terrorism, the way they go in," Florida state Sen. Jim Norman told FoxNews.com.
But animal rights groups say the investigations are essential to stopping animal abuse and keeping the U.S. food supply safe. They claim the proposals to crack down on them are a sign the agriculture industry has something to hide, and suggested the bills could infringe on free-speech rights.
Both sides say that if the bills pass, copycat legislation could start popping up all over the country. The Iowa bill passed the House and is awaiting action in the Senate; the others are still in committee.
"It's a very real prospect. ... It would have a chilling effect on information coming out of these factory farms," said Wayne Pacelle, president of the Humane Society of the United States.
The Humane Society is among the groups lobbying against the bills in Florida, Iowa and Minnesota, and has experience in the undercover video field. An undercover film they released of abuses at a California meatpacking company led to the largest beef recall in U.S. history in early 2008. The footage showed workers kicking sickly cattle and pushing them with forklifts -- a combination of problems since cattle too weak to stand are not supposed to be slaughtered for food.
The Humane Society also conducted investigations at Iowa egg farms last year, releasing videos that showed chickens allegedly dying in their cages -- the investigations came shortly before salmonella fears led to a massive egg recall at a separate Iowa farm.
Pacelle questioned the timing of the latest bills.
"Iowa is looking to do this after it had one of the biggest food safety scares in American history," he told FoxNews.com.
The new bills, in Iowa and elsewhere, would outlaw a string of activities associated with undercover farm investigations. They call for some combination of the following: a prohibition on damaging property at a farm, harming the animals at a farm, producing any video or audio recording without owner consent and gaining access to a farm under false pretenses. The latter is meant to stop undercover activists from posing as job applicants.
Daniel Hauff, director of investigations with Mercy for Animals, said the proposals would effectively criminalize investigative journalism by putting restrictions on documenting a range of abuses.
"Without undercover investigations, there are no meaningful watchdogs protecting animals from egregious cruelty in these facilities. The agribusiness industry should be trying to root out cruelty to animals, not trying to make it harder to expose," he said in a written statement. "Cruelty to animals runs rampant on factory farms, and the industry knows it. Rather than improve conditions for animals, agribusiness is attempting to silence individuals who seek to expose and stop it."
But Dal Grooms, a spokeswoman for the Iowa Cattlemen's Association, said the activists are not in this for the benefit of livestock.
"Who cares more about that livestock? The farmers who own it and have to make sure that it's healthy ... or people who kind of stop in for a bit and then move on to their next victim?" she said. "They're just seeking ways to put farmers out of business who raise livestock and trying to raise money."
She said Iowa ranchers are confident in the conditions in which their livestock are being kept.
Grooms said filmmakers are the ones posing a risk to the livestock, arguing they could come in and "wipe out a livestock population by introducing various diseases."
Norman said the filmmakers are trying to "cause harm" to the industry. He expressed concern that these videos are "spliced, diced, doctored," then presented to the public without giving the farmers and ranchers any "recourse." Though he couldn't recall any explosive undercover farm footage in Florida recently, he described his proposal as a preemptive measure.
"There's only 40,000 farms left in Florida," he said. "We've got to have some protection of the farm community. ... If not, eggs are going to have 'made in China' on the side of them."
Norman said that while two other states are considering similar bills, many more are looking to Florida to see what happens.
"We have momentum," he said, estimating that "as many as 28" other states could move on similar bills.
Pacelle, though, said the proposals are designed to "conceal unholy practices that are occurring on factory farms." He rejected claims that groups like his are only releasing videos to raise money, as well as claims that the groups sit on the videos. He said it takes time to complete an investigation and compile information.
"You don't just do one day and then stop," he said. "This whole thing just shows that the industry has something to hide."