Uncertainty awaits ObamaCare enrollees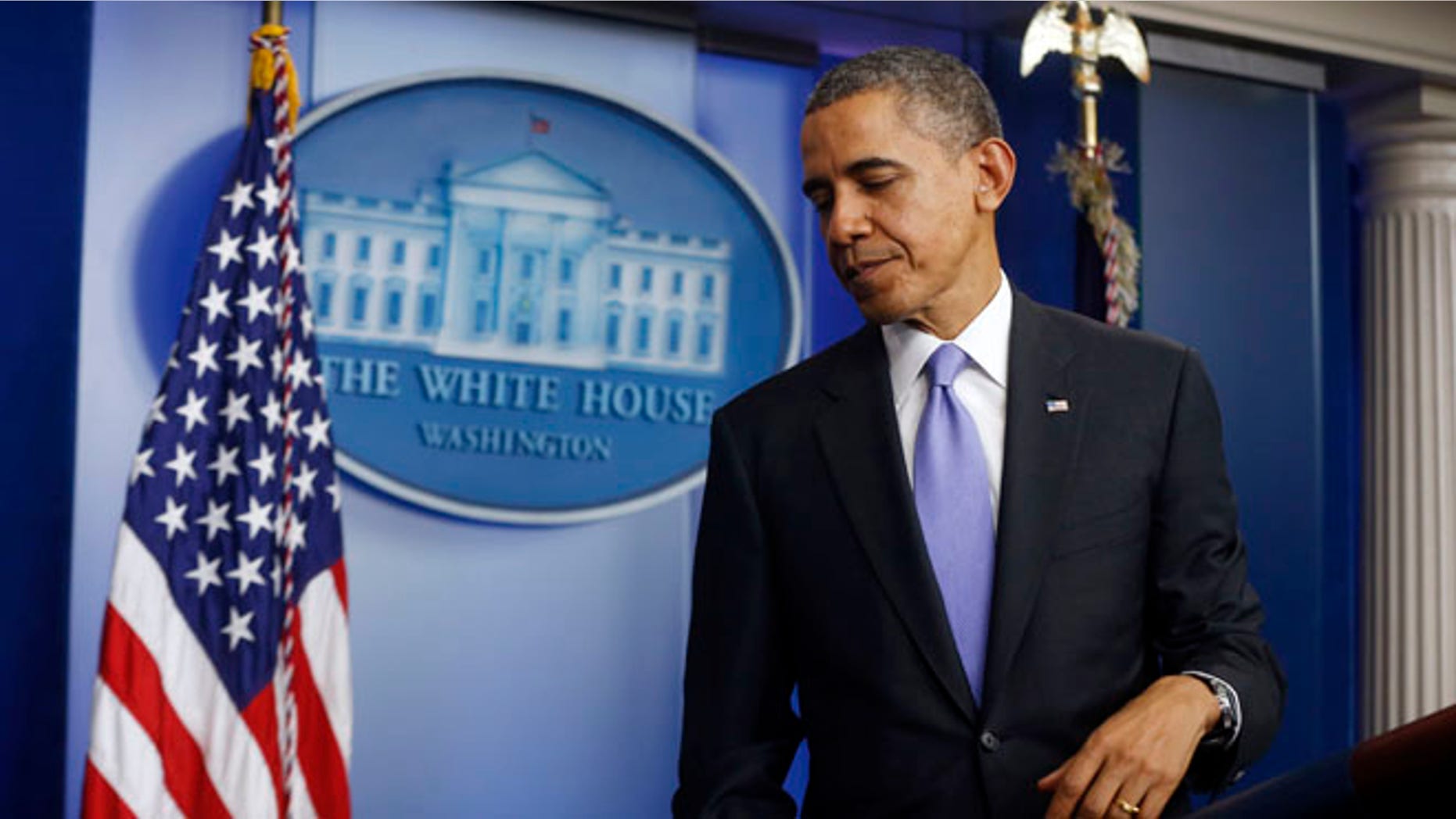 **Want FOX News First in your inbox every day? Sign up here.**
Buzz Cut:
• Uncertainty awaits ObamaCare enrollees
• Congressmen blast NYT Benghazi report
• NSA's 007-Style sleuthing
• Bubba to swear-in de Blasio
• A hero's welcome never forgotten
UNCERTAINTY AWAITS OBAMACARE ENROLLEES - While the administration touts that close to a million people signed up for ObamaCare this month – a third of the troubled program's enrollment target for the end of 2013 – uncertainty looms with the Jan.1 start date approaches for coverage to kick-in. Over 5 million policies were cancelled under President Obama's signature entitlement program, whether or not those able to enroll in time will start 2014 with insurance coverage remains to be seen. Insurers are concerned with the flood of inaccurate data they have received since the program began and whether last-minute enrollees will see seamless activation of coverage Wednesday. The stakes are high for team Obama and vulnerable Congressional Democrats still trying to recover from the botched rollout of the health law. Should millions of Americans wake up Jan. 1 only to find they aren't covered, or tangled in a web of data problems, the fallout will make prospects for Democrats running in 2014 ever bleaker. The forecast from former Gov. Howard Dean, D-Vt., is hardly bucking up spirits. Dean told "Fox News Sunday" host Chris Wallace there will be more problems but, "I think the numbers are going to be small enough so that the antis — the partisans are going to try to talk about all of these individuals who have gotten screwed by this. But most people, the vast majority of people are going to benefit from this." Fox News has more.
Youth revolt? -  How successful was team Obama in their campaign, complete with "Pajama Boy," extolling young people to enroll? The numbers will not be released until the middle of next month and are critical. If the young "invincibles," 18 to 34 year-olds, don't sign up and opt for a tax penalty instead, it could spell higher premiums across the board. Rates would go up even higher if the figures also show a late surge in older Americans with more expensive conditions buying coverage under the new entitlement program.
Doc dash - WSJ details how many patients are cramming in tests, elective procedures, and visits to specialists that may not be covered as ObamaCare goes into effect. "More than two-thirds of silver-tier (mid-priced) health plans sold on insurance exchanges sharply reduce the number of hospitals offered from what most plans include."
New ObamaCare 'fee' costs jobs, coverage - from WSJ Review and Outlook: "ObamaCare includes so many taxes that it's hard to keep track, but one of the worst takes effect on Jan. 1. This beaut is a levy on health insurance premiums that targets the small business and individual markets…The research arm of the National Federation of Independent Business calculates that the higher insurance costs will shrink hiring by 146,000 to 262,000 jobs over the next decade, with 59% of those losses hitting small business. They'll also be further encouraged to dump coverage and send their workers to the mercies of the ObamaCare exchanges."
WHITE HOUSE SAYS NO OBAMACARE CEO - The White House isn't keen on calls from some closes allies to name a chief executive officer to head ObamaCare. Despite the push from ObamaCare architect Dr. Ezekiel Emmanuel and the Center for American Progress, the liberal think-tank founded by newly appointed White House Senior Counselor John Podesta, a senior administration official told Reuters, "This isn't happening. It's not being considered." Reuters reports, "Advocates have been quietly pushing the idea of a CEO who would set marketplace rules, coordinate with insurers and state regulators on the health plans offered for sale, supervise enrollment campaigns and oversee technology."
[New Today on Fox News Opinion: security analyst K.T. McFarland considers why 2013 was a horrible year for President Obama. "The problems of 2013 – like ObamaCare, unemployment, Iran's nuclear program, Al Qaeda's expansion – won't go away just because the calendar year changes. They will only be solved when the president and his advisers make some course corrections.  But, I predict they won't. Frankly, they probably can't. The problem with people who live in a world of speeches and books and theories is they don't know how to fix things in the real world when they go wrong. They feign ignorance, blame others, and make another eloquent speech. That's bad for the president and really bad for the country."]
CONGRESSMEN BLAST NYT BENGHAZI REPORT - Rep. Mike Rogers, R-Mich., head of the House Intelligence committee is disputing a NYT report that says al-Qaeda was not involved in the September 2012 attack on an American outpost in Benghazi, Libya. Rogers told "Fox News Sunday" host Chris Wallace there's ample evidence that contradicts the NYT report, adding the paper "didn't talk to people on the ground who were doing the fighting and the shooting and the intelligence gathering." Rep. Alan Schiff, D-Calif., appearing with Rogers agreed saying, "intelligence indicates al-Qaeda was involved." Calling the timing of the report odd, Rogers declined to comment on whether or not it was published to help bolster a presumed presidential run by former Secretary of State Hillary Clinton. Fox News has more.
Benghazi witness: 'a lie' - A witness to the Benghazi attack told Fox News, "It was a coordinated attack. It is completely false to say anything else. … It is completely a lie." Fox News has also learned there was a week of briefings by the head of counterintelligence in the entire region that identified Al Qaeda as the largest and most significant element infiltrating Libya, with the final briefing on Sept. 10. Correspondent Adam Housely has the details.
[Watch Fox: Rep. Jason Chaffetz, R-Utah, discusses Benghazi in the 10 a.m. ET hour]
NSA'S 007-STYLE SLEUTHING - The National Security Agency's Tailored Access Operations unit is utilizing stealth tactics in efforts at "getting the ungettable." According to internal documents obtained by the German paper, Der Spiegel, the Bond-like methods include computer monitor cables specially engineered to trace what is being typed across the screen, USB sticks secretly embedded with radio transmitters to broadcast stolen data over the airwaves. In a more striking revelation, the paper reports the agency was able to snoop on Microsoft's crash reports, enabling NSA spies to hack into systems running the Windows operating system.  It is unclear whether or not the documents originated from leaker Edward Snowden. Fox News has more details.
[Watch Fox: Rep. Peter King, R-N.Y., discusses the NSA in the 9 a.m. ET hour]
WITH YOUR SECOND CUP OF COFFEE...Brandon Ambrosino questions whether or not the Gay and Lesbian Alliance Against Defamation's influence is waning in light of A&E's reversal of its suspension of Duck Dynasty Star Phil Robertson. "Defamation is good for GLAAD's business. To bankrupt our society of LGBT defamation would certainly put GLAAD out of work. It's hard for me to imagine I'm the only one who's wondered about this. … I'm not suggesting our world doesn't need GLAAD: There certainly is a place for them. But A&E's latest reversal should make us question what exactly that place is… speaking out against defamation is a noble thing to do. But gracing our conversation and behavior with the compassion that is sometimes lacking from our loudest political battles – that is more than noble. It's kind."
Got a TIP from the RIGHT or LEFT? Email FoxNewsFirst@FOXNEWS.COM
POLL CHECK - Real Clear Politics Averages
Obama Job Approval: Approve – 42.8 percent//Disapprove – 53.3 percent
Direction of Country: Right Direction – 30.4 percent//Wrong Track – 63.5 percent
[Polling alert - In the latest Fox News poll we ask whether 2013 was a good or bad year for you, and if you think the economy will get better or worse in 2014. The answers from poll respondents will be released tonight at 6 p.m. ET during "Special Report with Bret Baier." Check out the full inventory of Fox News polls here.]
'YEAR OF CRUZ' - ABC News dubbed 2013 the "Year of Cruz" during an interview with the Texas Senator Sunday. Sen. Ted Cruz, R-Texas, earned himself a runner-up spot on Time magazine's person of the year list for his role during October's partial government shutdown and for gaining notoriety not typically common for a freshman senator. Cruz told reporter John Karl that he isn't bothered by his critics and nobody should be surprised when the Washington establishment pushes back when you try to change the status quo inside the Beltway. Fox News has more.
[Cruz has told the Dallas Morning News he has hired lawyers to help him renounce his Canadian citizenship within the next year, further stoking speculation he may be warming up for a 2016 presidential bid.]
BUBBA TO SWEAR-IN DE BLASIO - Former President Bill Clinton will administer the oath of office for New York Democratic Mayor-elect Bill de Blasio Wednesday, swearing him in on a Bible owned by liberal hero, President Franklin D. Roosevelt. Former Secretary of State Hillary Clinton will also be in attendance. De Blasio is a long-time Clinton clan backer who served in the Clinton administration in the U.S. Department of Housing and Urban Development. He will succeed outgoing Mayor Michael Bloomberg. NY Daily News has more.
YOU HAVE A SEAT ON THE PANEL:  WEAK ON THE WORLD-STAGE - Iran's push for centrifuges underlines President Obama's growing weakness in foreign affairs. That was the overwhelming sentiment viewer voters shared with Charles Krauthammer when he said, "The Iranians are so confident about how supine President Obama is they -- is they stick their finger in his face," during Friday's "Special Report with Bret Baier" All-Star Panel. As measured by Bing Pulse, there was widespread disagreement across all political parties with President Obama when he said if he can he will deal with Iran diplomatically "that's how we should do it. And I think that would be the preference of everybody on Capitol Hill because that is the preference of the American people."
Approval among viewer voters dropped sharply when Daily Beast's Kirsten Powers stated Iran is not enriching uranium "for peaceful purposes" and "they want to continue to menace the Middle East." Charles Krauthammer's criticism over the administration's negotiations with Iran saw a spike in viewer engagement. Krauthammer's observation that a month later, nothing has been negotiated and that, "there is no urgency and everybody understands this is nothing but a figure leaf," drew 16,000 audience-panelist votes per minute. A total of 119,000 viewers took their seat on the panel, take a deeper data dive and see the full results here. Make a resolution to have your voice heard in 2014, get an early start and take your seat on the panel tonight.
WASHINGTON STATE WAGE FALLOUT - Businesses in SeaTac, Was., are bracing for one of the highest minimum wages in the country.  A recount is under way for an initiative, passed by a mere 70 votes that would raise the city's minimum wage to $15. The owner of three SeaTac hotels tells Fox News he is scuttling building plans due to the 63 percent increase in what he'll have to pay workers. Business owners are looking to contract certain jobs out as they prepare for layoffs. –Watch Fox: Correspondent Dan Springer considers the unintended consequences of the wage hike.  
SUPREME SEND OFF TO 2013 - Supreme Court Justice Sonia Sotomayor will help usher in 2014 during this year's festivities in New York's Times Square. The Bronx native will push the button to lower the iconic Waterford Crystal ball, leading revelers in the one minute countdown to say farewell to 2013.
RINGING OUT THE RECESSION? - This New Year's Eve you can dine in decadence at New York City's newly-opened Empire Steak House. The menu for two features Osetra caviar as an appetizer and a main course of wagyu Kobe steak and South African lobster tail with a Cristal champagne sauce. Dessert features a three-layer chocolate torte and Louis XII cognac. Price tag: $10,000. Steak house owner, Jack Sinanaj, is sounding an optimistic tone over current economic conditions telling NY POST , "the economy is improving" and "people come willing to spend the money."
A HERO'S WELCOME NEVER FORGOTTEN - Christmas was considerably brighter for one New Hampshire naval family. It was the first holiday Naval Petty Officer A.J. Todd was able to spend with his 3-month old daughter, born during his overseas deployment. Todd's wife, Marilynn, wanted to capture the experience on video professionally but was told it would cost over $1,500. However, a locally owned family studio offered to film the heartwarming welcoming free of charge. Laura Latimer and her brother Daniel of Latimer Studios told Fox News First it was their way of saying thank you to Todd for his service and capturing the special moment was something they had to do. Watch the special welcoming here, have the tissues handy.
[Ed Note: Fox News digital editor Chris Stirewalt will return to the column on January 2. Stay tuned.]
Want FOX News First in your inbox every day? Sign up here.