U2's Bono urges lawmakers to view aid as national security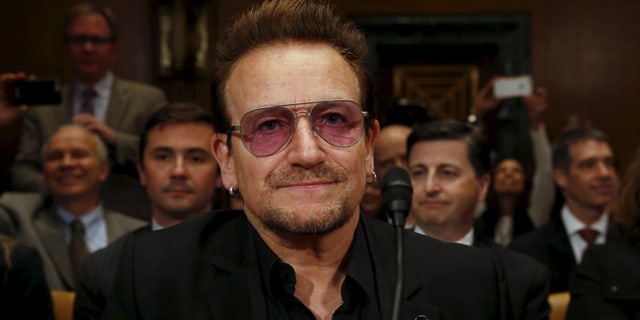 U2 front man Bono brought his star power to Capitol Hill Tuesday as he called on members of Congress to take swift action to deal with the global refugee crisis and violent extremism.
In testimony before a Senate subcommittee, Bono drew a bleak picture as he described the flood of people fleeing their homes in the Middle East, Asia and Africa. The human torrent threatens the very idea of European unity, he said, as he urged lawmakers to think of foreign aid as national security instead of charity.
"When aid is structured properly, with a focus on fighting poverty and improving governance, it could just be the best bulwark we have against the extremism of our age," Bono said.
Wearing his trademark rose-tinted glasses, Bono said members of Congress need to confront an "existential threat" to Europe that hasn't been seen since the 1940s. He said three extremes -- violence, poverty and climate -- make for a potent enemy.
In Syria, five years of violence has killed more than 250,000 people and displaced another 11 million from their homes. Nearly 174,000 migrants have reached Europe by sea since the beginning of this year alone and 723 are missing or dead, many drowning in the cold, rough waters, according to the International Organization for Migration.
Before sitting at the witness table, Bono posed for photos with three members of Code Pink, who wore pink tiaras and held cardboard torches and signs reading "Refugees Welcome."
Cameras whirred furiously as Sen. Lindsey Graham, R-S.C., the subcommittee chairman, quipped: "So this is what it's like to be chopped liver." Bono joined a congressional delegation led by Graham that just returned from Africa and the Middle East.
Bono co-founded the One Campaign, an advocacy group that works to end poverty and preventable disease.