U.S. Wants Tough European Sanctions on Qaddafi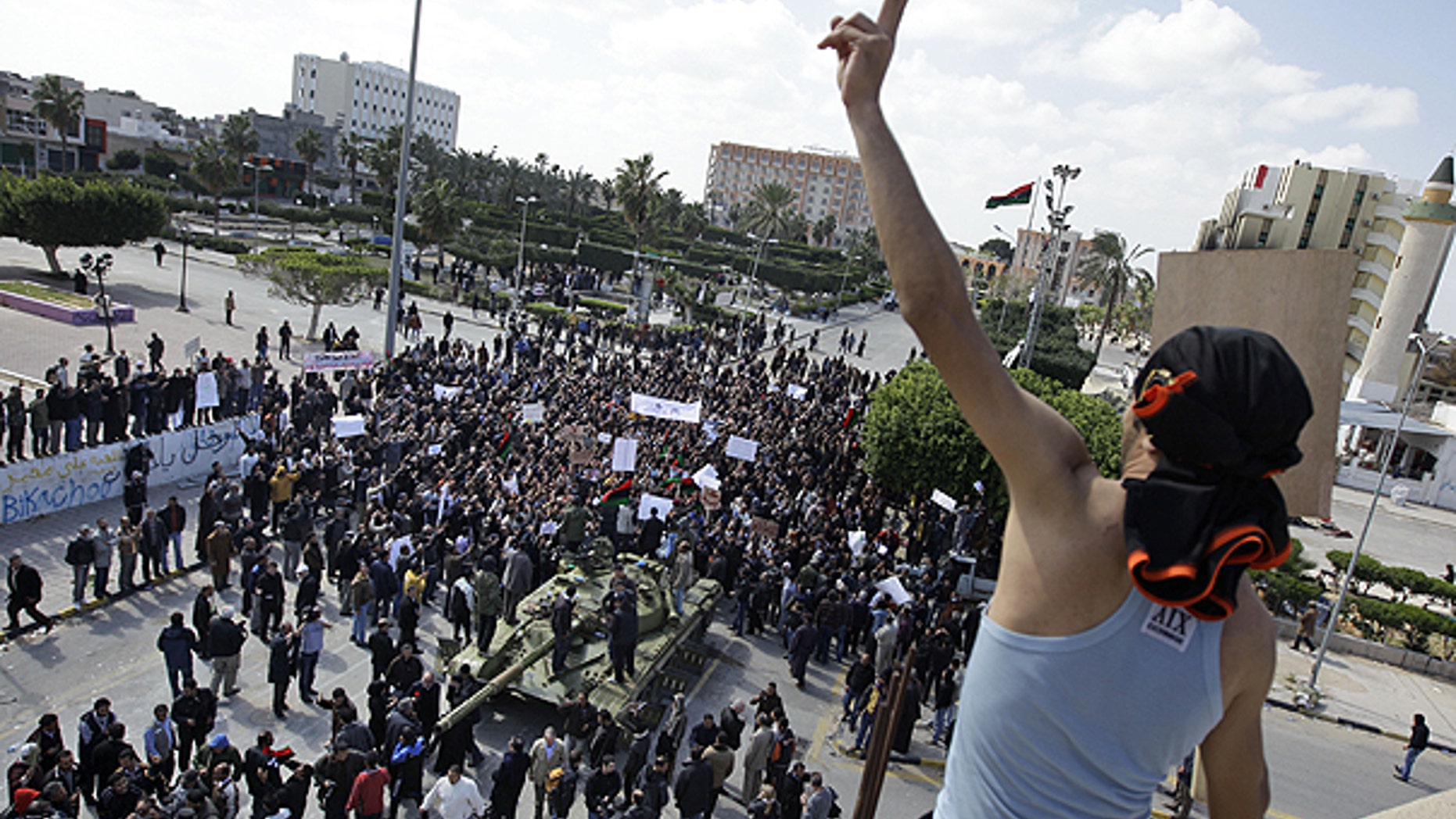 GENEVA -- The United States is pressing its European allies to set tough sanctions on the Libyan government, to turn up the heat on Moammar Qaddafi and convince his remaining loyalists to abandon the regime, U.S. officials said. The Obama administration also declared it stood ready to aid Libyans seeking to oust their longtime leader.
Secretary of State Hillary Rodham Clinton will make the administration's case for stronger action to foreign ministers from Britain, France, Germany and Italy when she holds a series of high-level talks Monday in this Swiss city.
Clinton will also look to coordinate future U.S. sanctions on Qaddafi's government with senior officials from Russia, Australia and the European Union so that the international community presents unified opposition to the attacks that have killed hundreds of people in the North African country, senior administration officials said Sunday.
They spoke after Clinton said the U.S. could offer "any type of assistance" to anti-Qaddafi Libyans organizing in the east of the country, though she made no mention of any U.S. military help to a provisional government that is organizing or of a no-fly zone over the country -- as called for by Sens. John McCain, R-Ariz., and Joseph Lieberman, a Connecticut independent.
"We want him to leave and we want him to end his regime and call off the mercenaries and those troops that remain loyal to him," Clinton told reporters a day after President Barack Obama branded Qaddafi an illegitimate ruler who must leave power immediately. "How he manages that is obviously up to him and to his family."
The senior administration officials, speaking on condition of anonymity to discuss internal administration planning, said they expected EU sanctions as early as Monday and pointed to the far larger economic impact they could have because most of Libya's exports go to the continent.
That means, as with Iran, concerted European action affecting oil, trade or investment relations with Libya could deal a crippling blow to Qaddafi's economy whereas the impact of American sanctions is more limited. While an official said "substantial" Libyan assets based in the U.S. were blocked by the administration last week, the effect of Europeans "mirroring" those penalties could do more to prod Qaddafi's closest allies to abandon ship.
And tougher measures are being considered, the officials said.
Future U.S. actions will focus on three fronts: enforcing sanctions already imposed against senior members of Qaddafi's government; providing humanitarian assistance for Libyans fleeing to neighboring countries to escape the violence; and convincing decision-makers that they support the Libyan leader at their own peril.
The last goal is aimed to accelerate the end of Qaddafi's regime. U.S. officials are hoping that their message reaches those in Qaddafi's inner circle, "some of whom may be in fact be rational, some of whom may be interested in self-preservation, maybe interested in not ending up in The Hague," an official said, referring to the international criminal court. The U.N. Security Council instructed the court on Saturday to look into possible crimes against humanity.
Officials said Clinton's conversation is intended to advance the conversation and prepare for a protracted struggle with Qaddafi, whom Obama urged to step down over the weekend. A whole range of options are being considered, beyond the possible no-fly zone, though officials declined to outline them.
The officials said it was too early to judge whether the relatively limited sanctions imposed so far -- travel bans, asset freezes, an arms embargo and a referral to an international criminal court -- could force Qaddafi to end his fight against dissenters bent on ousting him after 42 years in power.
Clinton said the U.S. was reaching out to many different Libyan groups preparing to lead their country out of four decades of dictatorship.
"We are just at the beginning of what will follow Qaddafi," she said. "It's way too soon to tell how this is going to play out, but we're going to be ready and prepared to offer any kind of assistance that anyone wishes to have from the United States."