U.S. Postal Service to newspapers: your marijuana ads are illegal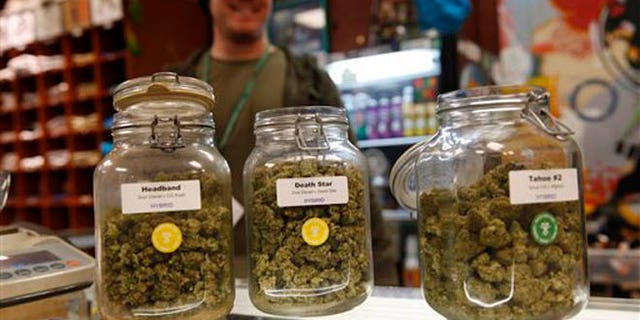 While 'neither snow, nor rain, nor heat, nor gloom of night' will stop the U.S. Postal Service from delivering the mail, that promise apparently doesn't apply to Oregon newspapers that carry marijuana ads — despite marijuana being legal in the state.
A recent USPS memo issued out of its Portland headquarters warns newspapers: continue to run paid ads for medical marijuana dispensaries and herbal shops that sell cannabis-related products, or face the wrath of the federal government.
And that edict also underscores the growing struggle created by conflicting state and federal laws on legalized marijuana.
Through popular ballot initiatives, Oregon legalized medical marijuana in 1998, and recreational marijuana in 2014. Though Oregon is one of 23 states with a medical marijuana law and one of five, including the District of Columbia, with fully legalized cannabis, it remains illegal on the federal level.
Because of existing federal law, said a U.S. Postal Service spokesman, the postal service cannot deliver anything -- whether it's cannabis, paraphernalia, or newspapers with ads promoting its sale -- through the mail.
"The Controlled Substances Act (CSA) makes it a felony for any person to place in any newspaper, magazine, handbill, or other publications, any written advertisement knowing that it has the purpose of seeking or offering illegally to receive, buy, or distribute a Schedule I controlled substance, which includes marijuana," the USPS said in a statement provided to Foxnews.com.
"The CSA provides criminal penalties for mailing advertisements for the illegal sale or purchase of marijuana (along with all other controlled substances). Advertising that solicits the illegal sale or purchase of marijuana accordingly is not mailable."
It is not clear what prompted the memo at this time. According to Marcia Van Dyke, executive director of the Newspaper Publishers Association in neighboring Washington State, which legalized all marijuana in 2012, their newspapers never had a conflict over this particular brand of advertisement.
"Many of our newspapers have been running these ads for a while now in accordance with Washington state law," she told the Oregonian on Dec. 2.
That may be so, but Laurie Hieb, Van Dyke's counterpart at the Oregon Newspaper Association, tells FoxNews.com that she has warned her members -- about 100 newspapers in all -- not to run the ads until there is some clarification of the law.
"I think because this is new to us, nobody really thought about this ahead of time," Hieb said. The Washington recreational marijuana laws went into effect in July. Oregonians can have as much as 8 ounces at home and grow up to four plants. They can carry a maximum of one ounce outside the home but can't smoke in public. Retail pot shops like the ones that have sprung up in Washington and Colorado, won't be opened until next year.
"It doesn't affect all our membership because several of them don't use the postal service to deliver their papers," and not all the ones that do run marijuana-connected ads, she said. For those that run the advertisements, however, "it's a big deal," because more than ever, newspapers rely on ads to survive.
Taylor West, spokeswoman for the National Cannabis Industry Association, which represents marijuana-related businesses throughout the U.S., says this is the latest salvo in the struggle between the federal government and states' rights.
"This is another example of how conflict between federal and state law ends up harassing legitimate businesses," she told Foxnews.com. "(They) are licensed by the state, abide by state laws and are contributing taxes. But by issuing this directive and threatening to enforce the law, they are basically treating these businesses like criminals."
Staff for Sen. Ron Wyden, D-Ore., and Rep. Earl Blumenauer, D-Ore., are looking into the matter. Both are supporters of Oregon's marijuana laws.
"Staff for Senator Wyden and Congressman Blumenauer have been in discussions with the Postal Service to seek clarification of what appears to be an outdated interpretation that is understandably puzzling to law-abiding Oregonians and small business owners in the state," according to a statement provided by Wyden's office on Thursday.
"Both the senator and congressman expect an explanation as soon as possible and are committed to working toward a resolution that reflects the decision made by their constituents at the ballot box to legalize and regulate marijuana."
The lawmakers joined the other Oregon delegation in penning a letter to Postmaster Megan Brennan, asking how or why "the decision to restrict all advertising for marijuana products and businesses outlined in the (memo) would be helpful."
They also want to know if this memo is intended to affect all states and how the USPS expected to enforce it.
Congress has been making moves to protect state marijuana laws, most recently with the Rohrabacher-Farr amendment, which prevents the Drug Enforcement Administration (DEA) from using any funds to prevent states from implementing their own medical marijuana laws. It is not clear -- and this is one of the things the Oregon lawmakers want to know -- how that law might affect the USPS' edict.
Not everyone thinks it is a bad idea to keep marijuana advertising in check. As states are beginning to legalize its recreational use, critics like Kevin Sabet, head of Smart Approaches to Marijuana, which is against full legalization, have been warning of its commercialization.
"Right now, the Big Marijuana business is taking a page out of Big Tobacco of the 1950s -- advertising and making claims without any scientific merit or oversight," Sabet tells FoxNews.com. "Federal law is the law of the land in the area of drug control, and it would be absurd if a federal agency looked the other way while the Big Marijuana Business continues to operate without interference."
West says the issue is not so cut and dry when states -- driven by voters -- have declared their interest in legalizing and regulating cannabis for the open market.
"The federal government is going to have to come to terms with the fact that voters have chosen a different way to handle this product," said West.