U.S. Officials Signal Mubarak Shake-Up Not Enough to Quell Concerns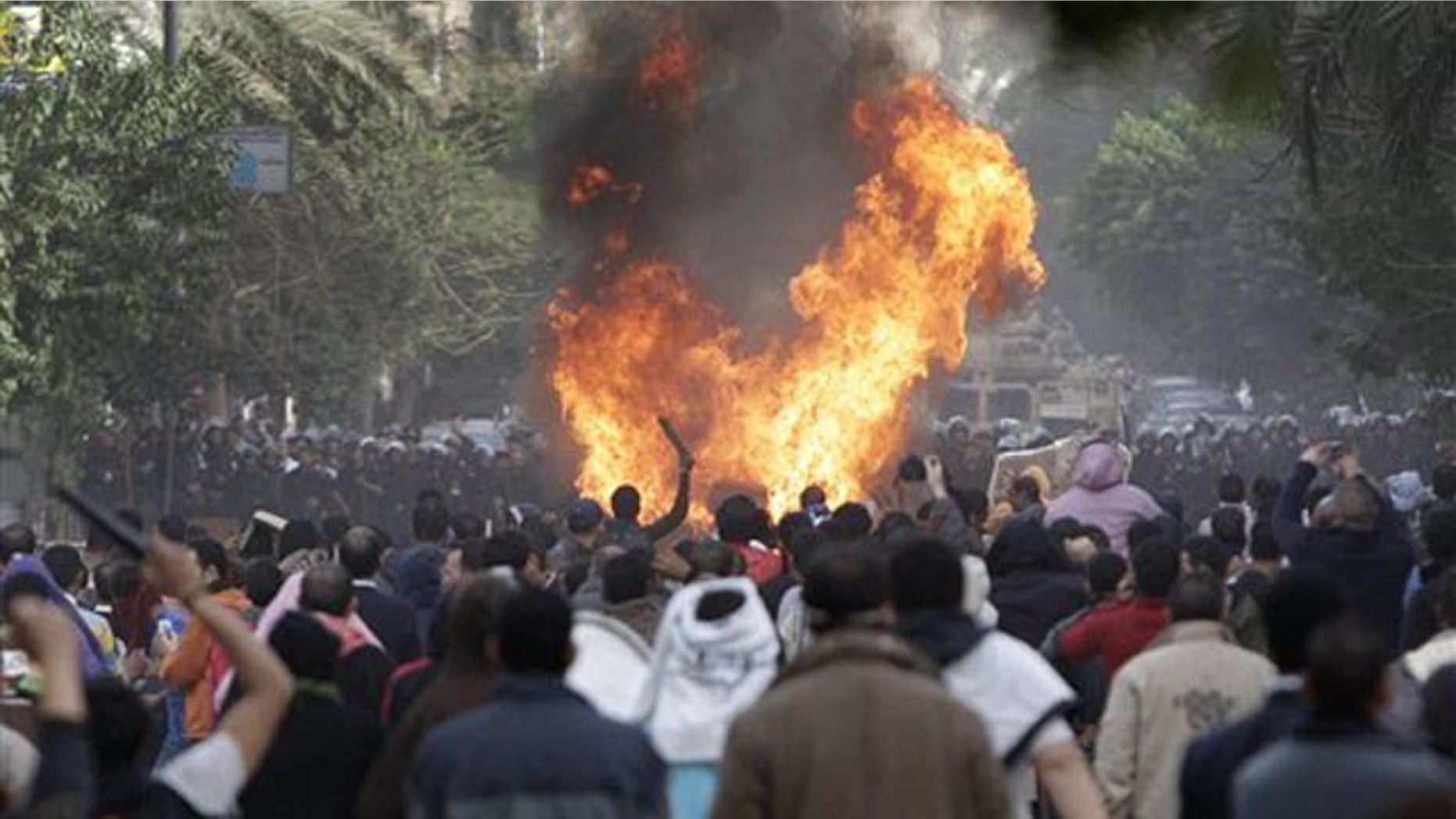 U.S. officials signaled Saturday that they want to see Egyptian President Hosni Mubarak take bolder steps to address the concerns of his country's rioting protesters, scoffing at his attempt to quiet the unrest with a string of high-level personnel changes.
After a full day of protests Friday, Mubarak answered the uprising by ordering his Cabinet to resign. Pledging to immediately form a new government, Mubarak on Saturday named longtime intelligence chief Omar Suleiman as his vice president and outgoing aviation chief Ahmed Shafiq as his new prime minister. Mubarak said he would pursue "political, economic and social reforms" to improve the lives of people he acknowledged are "suffering."
But a senior Obama administration official told Fox News there are still questions about what steps the Egyptian government will take next. Chaos reigned in Cairo Saturday in a sign that new faces on the Mubarak regime were not what protesters were after.
"The issue is, what is the Egyptian government going to do? What are the concrete steps they are going to take to move in that direction (of reform)?" the official said, adding that there would be "follow-up" talks between the two governments. "It is going to take some time, days at a minimum, before we can see what hard steps, if any, are behind the (personnel) moves that are being made."
Shortly before Suleiman was named vice president, State Department spokesman P.J. Crowley called on Mubarak to push a "meaningful process to foster real reform," suggesting the Cabinet announcement was insufficient on its own.
"The Egyptian government can't reshuffle the deck and then stand pat," Crowley said on his Twitter account.
Though Suleiman is respected by American officials, he is a central regime figure and would perpetuate the military's role in Egyptian politics. As the Obama administration expressed its reservations, Egyptian protesters made clear they were unappeased by Mubarak's announcements -- taking to the streets for a fifth straight day, once again defying a nighttime curfew. Adding to the chaos, looting was reported and gunfire was heard in some neighborhoods
The death toll rose to at least 62, with about 2,000 injured from both sides, officials said.
U.S. officials continue to closely monitor the situation. Though they have put pressure on Mubarak to pursue serious reforms, he has been a stalwart U.S. ally for years and a key player in the Israeli-Palestinian peace process. In light of the backlash, the administration is reassessing that relationship, warning that U.S. aid to Egypt could be in jeopardy if the right steps are not taken.
President Obama, who spoke personally with Mubarak Friday, convened his national security team for a one-hour meeting at the White House Saturday afternoon. Among those in attendance were Vice President Biden, White House Chief of Staff Bill Daley, National Security Adviser Tom Donilon and counterterrorism adviser John Brennan.
According to a White House statement, Obama "reiterated our focus on opposing violence and calling for restraint, supporting universal rights and supporting concrete steps that advance political reform within Egypt."
Administration officials also met earlier Saturday morning for two hours to discuss the developments.
Sen. John Kerry, D-Mass., chairman of the Senate Foreign Relations Committee, said on the sidelines of the World Economic Forum in Davos that Mubarak needs to address the peoples' concerns.
"Dismissing the government doesn't speak to some of those challenges," Kerry said.
So far, there has been no attempt to evacuate the U.S. Embassy in Egypt. According to the State Department, there are about 500 employees at the embassy and about 52,000 Americans living throughout the country.
The Associated Press contributed to this report.