U.S. Hispanic Chamber of Commerce endorses Julian Castro for vice president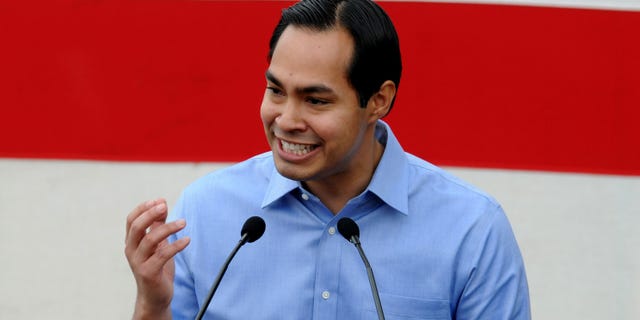 Julian Castro, the current U.S. Secretary of Housing and Urban Development, received a glowing endorsement from the country's leading Hispanic business group.
During a Saturday night event in San Antonio, Texas, the U.S. Hispanic Chamber of Commerce announced that it has endorsed Castro, a Democrat, for vice president.
"Millions of people living in this country look to Julian as the gatekeeper of American dream," said Javier Palomarez, the group's president and CEO, told Politico ahead of the announcement. "[We are] happily endorsing him for the vice presidency. We've grown to know him. We've seen him in action and feel very comfortable endorsing him."
At Saturday night's event, Palomarez touted the 41-year-old Castro's accomplishments. Before being named HUD chief by Pres. Barack Obama, he served as mayor of San Antonio for five years.
"He invested heavily in pre-K for all children in San Antonio, he created 2,700 housing units in this city," Palomarez said, according to Foxsanantonio.com.
While Castro has endorsed Democratic candidate Hillary Clinton for president, Palomarez said the Chamber is not yet endorsing any particular presidential candidate.
"I'm not saying I'm not a fan of Hillary's, but we're not prepared yet to endorse any one of the presidential candidates," he told Politico. "I've had conversations with other candidates running for the presidency and they're [interested in adding Castro to their ticket]. We should wait and see how things land."
Palomarez said he asked Clinton three months ago about her thoughts on having Castro as her vice presidential candidate. Her reply, he said, was: "I am going to really look hard at him for anything, because that's how good he is, and he deserves the accolades he's receiving."
Richard Gambitta, a retired University of Texas at San Antonio political science professor, told Foxsanantonio.com that Castro would be a solid running mate for either Clinton or Sen. Bernie Sanders.
"The key states will depend upon large Latino turnout, and Julian Castro does that," Gambitta said.
He noted that the endorsement by the Hispanic chamber coming before a presidential nominee is selected is unique.
"It's really quite unprecedented. It's not the norm anyway," Gambitta said. "Certainly this early is unique by a major business organization coming out this strongly for a particular candidate."
Despite the growing speculation that Castro is on Clinton's short list for potential running mates, Castro professes not to believe that he will not be chosen.
"I'm focused completely on being supportive of Hillary. There's a Democratic primary," Castro said during an event in Iowa on Sunday, according to the Texas Tribune. "I don't believe that that's going to happen, and I've said that."
He added: "I fully expect to be back in Texas a year from now."
Like us on Facebook
Follow us on Twitter & Instagram