U.S. Efforts to Fight Illegal Immigration Divide Some Local Communities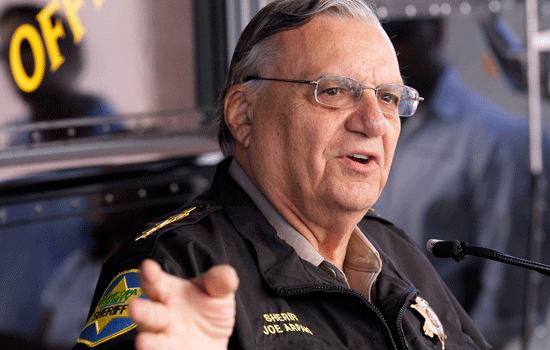 As a national debate flares up over Arizona's new immigration enforcement law, local leaders in some communities across the country are clashing with their police departments over whether those departments should be working closely with the federal government in targeting illegal immigrants.
Among the places where such battles are being or have been fought are Washington, D.C, Morristown, N.J., and Maricopa County, Ariz. The tension centers on two of U.S. Immigration and Customs Enforcement's major programs enlist the help of local law enforcement officials to identify and deport illegal immigrants.
ICE's Secure Communities program, created in 2008, allows authorities to check the immigration status of individuals they arrest, through fingerprinting. The program is operational in 168 jurisdictions in 20 states.
And the agency's more intensive 287(g) program gives local police authority to initiate deportation proceedings against illegal immigrants linked to serious crimes. Immigration authorities say they have agreements with 71 law enforcement agencies in 26 states for the 287(g) program and have identified more than 160,000 illegal immigrants since 2006 – mostly at local jails.
Critics say the programs promote racial profiling, claims similar to those lobbed at Arizona's newly passed law, which, when it takes effect in three months, will make it a state crime to be in the country illegally and will entrust enforcement to local police.
The federal General Accountability Office has criticized the Secure Communities program for failure to supervise participating agencies. But ICE boasts that, since Secure Communities was established in October 2008, 21, 736 matches have identified illegal immigrants charged with or convicted of serious crimes, such as murder, rape and kidnapping. And the agency says the program has not received any complaints of racial profiling.
"Secure Communities is a color-blind system and reduces the opportunity for allegations of racial and ethnic profiling because the fingerprints of every individual arrested and booked into custody are checked against immigration records, not just those manually submitted by local officers," the agency says on its website.
But in D.C., council members are looking to prevent city police from joining the fingerprinting program.
D.C. Council members Phil Mendelson and Jim Graham are sponsoring a bill that seeks to uphold the city's policy that local police stay out of immigration enforcement. The legislation is likely to be introduced on May 4, Graham spokesman Brian DeBose said.
Last month, Police Chief Cathy Lanier expressed support for the Secure Communities program, which takes fingerprints when inmates are booked into jail and sends them to ICE and the FBI. A police spokeswoman says the department has not yet implemented the program.
"What happened in D.C. is happening everywhere," said Sarahi Uribe, the regional organizer for the National Day Laborer Organizing Network. "No public discourse or accountability."
In Morristown, former Mayor Donald Cresitello's efforts to sign on to the 287(g) program was met with opposition from the police union and finally withered after he lost the Democratic primary election.
During his last days in office in December, Cresitello signed a document finalizing the town's request to join the program, but the new mayor, who opposes the program, said the papers are worthless, The Star-Ledger reported.
"I do not support 287(g). It's just a piece of paper. It means nothing," Mayor Tim Dougherty told the newspaper in December. "As of Jan. 1, I am the new mayor of Morristown. Donald Cresitello is no longer mayor."
And in perhaps the most prominent case, Sheriff Joe Arpaio of Marciopa County, home of Phoenix, has made a national name for himself by pushing the bounds of local immigration enforcement through the 287(g) program, leading a dozen crime and immigration sweeps, some in heavily Latino areas.
But Arpaio's efforts have also brought him troubles as he battles county officials challenging his crackdown on illegal immigrants.
"You don't get more dramatic than Sheriff Arpaio," Uribe said. "They claim they haven't gotten complaints. What about lawsuits? Or the Justice Department investigating Arpaio? So that's preposterous. I don't think they understand how racial profiling works."
Arpaio has long clashed with county authorities over his harsh anti-immigration tactics but the feud appears to have escalated recently since Arpaio stepped up his investigations of county officials amid heated political feuds over budget cuts and other issues.
The U.S. Justice Department is investigating Arpaio's office over allegations of discrimination and unconstitutional searches and seizures – a probe that the sheriff believes was prompted by his immigration efforts.
"When one law enforcement agency becomes subject to three federal investigations in a matter of weeks immediately after a shift of political control in Washington, it is difficult not to speculate that politics played a role in the decision or that policy differences related to hot-button topics such as local law enforcement's vigorous enforcement of immigration related crimes are being litigated through enforcement actions," Robert Driscoll, a lawyer for Arpaio, wrote to the Justice Department last May in a letter published in The Washington Post.
Last year, Arpaio was stripped of some of his special authority to make federal immigration arrests, though he retains some federal power that allows his jail officers to speed up deportations.
He told FoxNews.com at the time that he would continue to pursue illegal immigrants.
"Nothing will change," he said. "I'm not going to be deterred by any bully."
Last month, Arpaio cheered the new Arizona law, telling Fox News that the people of Arizona are "fed up" with violence and the "flood of illegal immigrants" in their state.
Arapaio said the new law gives him new authority to detain undocumented migrants who are accused of committing any other crimes.
"Now if we show they're illegal, we can actually arrest them and put them in our jails," Arpaio said.
The Associated Press contributed to this report.