U.S.-Afghan-Pakistan Meeting Delayed Amid Tensions Over U.S. Prisoner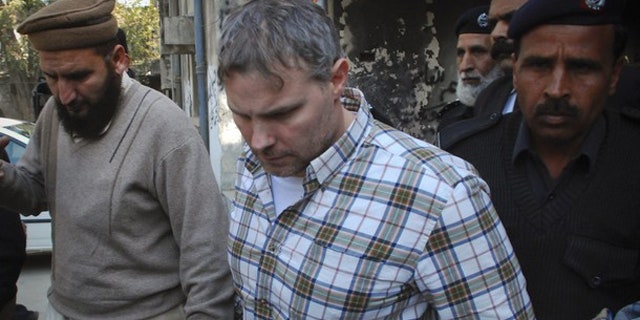 NEWYou can now listen to Fox News articles!
A top-level meeting scheduled later this month among U.S., Afghan and Pakistani officials has been postponed, the State Department said Saturday as tensions deepen over a U.S. man locked in a Pakistani jail on charges of murder.
"In light of the political changes in Pakistan and after discussions with Afghan and Pakistani officials in Washington, it was agreed to postpone the trilateral meeting," State Department spokesman P.J. Crowley said in a statement.
Pakistani police alleged Friday that American Raymond Allen Davis, 36, who is being held in a pair of shootings, committed "cold-blooded murder," while a judge ordered the man's detention extended for 14 days in a local jail and told the Pakistani government to clarify if he has diplomatic immunity.
The U.S. says Davis shot two Pakistanis on Jan. 27 because they were trying to rob him in the eastern city of Lahore. Washington insists his detention is illegal under international agreements covering diplomats because he was a U.S. Embassy staffer, and American officials have begun curbing diplomatic contacts and threatening to cut off billions in aid to Pakistan if he is not freed.
The police claims and extended detention are likely to further inflame tensions over the case between the U.S. and Pakistan, whose always-uneasy partnership is considered key to ending the war in Afghanistan.
Crowley insisted to Fox News that the postponement is about more than the recent tension over Davis.
"We continue to talk to Pakistan about Mr. Davis," he said. "This was very practical. Pakistan just dissolved its Cabinet. Not everyone has been reappointed, including the foreign minister."
Pakistani leaders -- loathe to incur a backlash in a public already rife with anti-U.S. sentiment -- have for days avoided making definitive statements on Davis' legal status, instead saying the issue is up to the courts. The fact that rival political parties control the federal government and the government of Punjab province, where any trial would be held, is further complicating the Pakistani response.
Pakistani leaders may not want to risk anger within the population if they let Davis go, but the cash-strapped country relies on billions in aid from the U.S., which needs its cooperation to help end the war in Afghanistan.
Exactly what sort of work Davis does for the U.S. is a major issue because it could affect Pakistani determinations about his diplomatic immunity.
U.S. officials in Islamabad will say only that he was an American Embassy employee who was considered part of the "administrative and technical staff." That designation gives him blanket immunity, the U.S. says.
Fox News' Mike Emanuel and The Associated Press contributed to this report.