Two Controversial Incumbents Enjoy Job Security Amid Anti-Washington Wave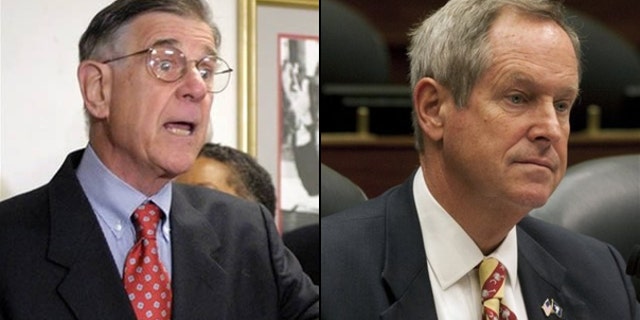 Many lawmakers are in danger of losing their jobs this year in midterm elections as an anti-Washington fervor sweeps the country.
But at least two incumbents are considered shoo-ins in Tuesday's primaries in part because of the notoriety they've gained for their controversial antics.
Joe Wilson, the South Carolina congressman best known for shouting "You lie!" at the president, and Pete Stark, the combative California congressman who told a town hall constituent he wouldn't waste his urine on him, are expected to cruise to victory on Tuesday.
Wilson, a Republican who raised his national profile when he heckled President Obama during a health care speech to Congress, again faces a primary challenge in his 2nd District from a Barnwell businessman he's beaten before.
Neal Thigpen, a political scientist at Francis Marion University, called the primary a "tune-up" for Wilson.
"Not all opposition is bad," he said. "Light primary opposition can get your organization tuned up."
Wilson is paying some attention to campaign season, already airing ads using the mass of cash he raised after yelling at Obama in September. He's drawn donations from across the country and raised $3.7 million as of March 31, according to campaign finance reports.
Wilson, a 62-year-old real estate attorney who served in the South Carolina state Senate for 15 years before winning a special election to Congress in 2001, said his campaign is focused on the need to create jobs and replace the recently passed health care overhaul law with one he says would be more affordable.
Primary opponent Phil Black is not taking campaign contributions. Black, 65, says his goal is to get publicity for his ideas on creating jobs, improving children's lives and stopping illegal immigration.
The winner will face Democrat Rob Miller, a former Marine captain who saw his campaign coffers fill after Wilson's outburst. Miller, who has no opposition, raised $2.3 million by the end of March. Wilson beat both him and Black in 2008.
In California, Stark, a liberal Democrat, is expected to crush his lightly regarded opponent, political newcomer Justin Jelincic, who describes himself as a conservative Democrat.
Stark earned his primary challenge after he slammed a constituent who voiced his opposition to Obama's health care plan last summer at a town hall meeting.
"Mr. Congressman, don't pee on my leg and tell me it's raining," the constituent told Stark, referring to what he called the smoke and mirrors of the president's plan.
"I wouldn't dignify you be peeing on your leg," Stark fired back. "It wouldn't be worth wasting the urine."
Primary challenger Justin Jellincic,a 51-year-old finance manager, said Stark's comments at the town hall inspired him to run.
"I could suffer with Pete no longer," he said on his campaign website. "I wanted an option in the primary to allow us to fire Pete and select a representative who would listen to our concerns."
In the GOP primary, businessman and author Forest Baker is competing against program manager Luis Garcia.
In March, Stark seized control of the powerful House Ways and Means Committee for one day after Rep. Charlie Rangel, D-N.Y., stepped aside due to an ethics probe. But Stark was quickly pushed aside in favor of Rep. Sander Levin, D-Mich., after many Democrats privately complained that Stark was too volatile to lead such an important committee.
Stark is known for making inflammatory comments.
In 2007, Stark accused President Bush of sending troops to Iraq "to get their heads blown off for the president's amusement."
He also once called former Colorado Republican Rep. Scott McInnis a "fruitcake."
The Associated Press contributed to this report.