Twitter temporarily suspends Sheriff David Clarke's account over tweets assailing media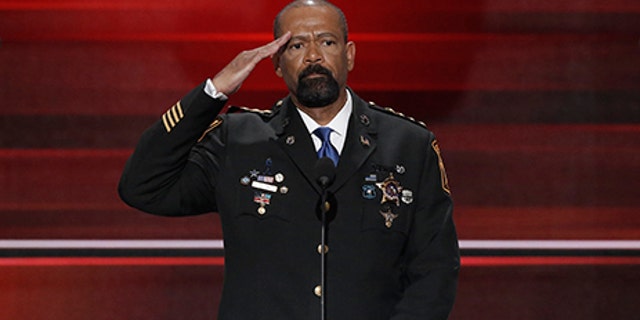 NEWYou can now listen to Fox News articles!
Former Milwaukee County Sheriff David Clarke said Tuesday that he would not be "intimidated into silence" on Twitter after his account was briefly suspended over tweets bashing the media.
In a now-deleted Saturday tweet, Clarke said he wanted to punch the "lying lib media" and "make them taste their own blood." The tweet also included an edited photo showing Clarke's face superimposed on a wrestler kicking another wrestler (labeled CNN) held by a likeness of President Trump.
It read: "BREAKING NEWS! When LYING LIB MEDIA makes up FAKE NEWS to smart me, the ANTIDOTE is go right at them. Punch them in the nose & MAKE THEM TASTE THEIR OWN BLOOD. Nothing gets a bully like a LYING LIB MEDIA'S attention better than to give them a taste of their own blood #neverbackdown"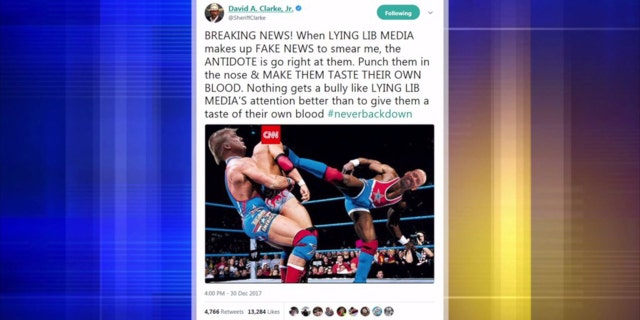 Twitter initially did not take action against Clarke but reversed course after receiving multiple complaints. Clarke's account was placed on a temporary lock that allowed him to send direct messages only until he took corrective action.
Clarke, a strong Trump supporter and senior adviser to the America First Action PAC, returned to Twitter on Tuesday morning, and the offending tweets were deleted from his page.
"I will not be intimidated into silence by lying lib media," Clarke tweeted. "I will not be intimidated by liberal hyper partisan government hacks who weaponized government authorirty [sic] to go after people whose views they don't like. I will stand and fight for truth and what I believe is right. Join me."
A spokesperson for Clarke confirmed to Fox News that his account was temporarily suspended but denied that any tweets were deleted.
A Twitter spokesperson confirmed the incident but did not comment further on the matter.