Trump's UK trip prompts US Embassy in London warning to American tourists: 'Keep a low profile'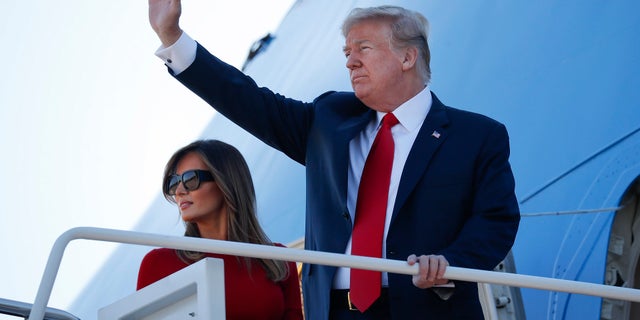 The U.S. Embassy in London has warned Americans to "keep a low profile" during President Trump's visit to Britain later this week.
"Numerous demonstrations are planned" beginning Thursday, with a majority of protests occurring in central London on Friday, the embassy said in an alert Tuesday. These events are expected to draw large crowds and close roads.
The embassy listed a few "actions to take," including: being aware of surroundings, keeping a low profile, monitoring local media and exercising caution "if unexpectedly in the vicinity of large gatherings that may become violent."
TRUMP'S UK TRIP INCLUDES PALACE POMP, AIMS TO AVOID PROTESTS
On Tuesday, Trump left for a weeklong Europe trip that includes a meeting with Russian President Vladimir Putin in Finland and the NATO summit in Brussels.
After the NATO summit, Trump will head to Britain, where Prime Minister Theresa May's government is in turmoil over her plans for exiting the European Union. This will be Trump's first visit to Britain as president.
Trump's visit to the U.K. is expected to be met with significant protests from left-wing activists, promoted by members of the left-wing Labour Party who have repeatedly called for Trump to be uninvited, particularly due to his administration's "zero-tolerance" immigration policies that separated children from their families at the border.
LONDON MAYOR SADIQ KHAN BALLOON PLANNED TO COUNTER 'TRUMP BABY' BLIMP IN LONDON
London Mayor Sadiq Khan, who has frequently criticized Trump, has already given the approval for a giant blimp dubbed "Trump baby" to fly over the U.K. Parliament on Friday. The group responsible for the blimp said the president is "a big, angry baby with a fragile ego and tiny hands" and wanted "to make sure he knows that all of Britain is looking down on him and laughing at him."
"The Mayor supports the right to peaceful protest and understands that this can take many different forms," a spokesperson for the mayor said in a statement to Sky News. "His city operations team have met with the organizers and have given them permission to use Parliament Square Garden as a grounding point for the blimp."
Fox News' Katherine Lam and the Associated Press contributed to this report.