In a surprise attempt to visit the Demilitarized Zone (DMZ) between North and South Korea, President Trump was turned away early Wednesday after fog rolled through the area.
Trump, who is currently overseas as part of a trip meeting leaders across Asia, was not scheduled to visit the DMZ amid heightened tensions between the United States and North Korea over Pyongyang's nuclear program.
However, the White House press pool was summoned earlier than originally scheduled and told by press secretary Sarah Sanders they were going to the border between the North and South.
"This is where we're going," Sanders said, as she held up a sheet of paper that had a handwritten "DMZ" on it. She told the press that was how she had been instructed to tell them where they were going.
Once there, a bad weather call by the U.S. Secret Service and the military stopped Trump -- who was flying on Marine One -- from visiting the border due to safety reasons.
South Korean President Moon Jae-in had already landed about a 20-minute drive away from the DMZ.
Sanders said the president was disappointed he couldn't make the trip -- and "pretty frustrated."
Sanders said Wednesday's trip was planned before Trump left Washington, D.C., despite a confirmation from a senior administration official late last month that there wouldn't be enough time for Trump to visit the DMZ. A White House official had also said DMZ visits have become "a little bit of a cliché."
Every president but one since Ronald Reagan has visited the DMZ. Trump's predecessor, Barack Obama, visited during a 2012 trip to Seoul and told troops stationed at the border that "the contrast between South Korea and North Korea could not be clearer, could not be starker, both in terms of freedom but also in terms of prosperity."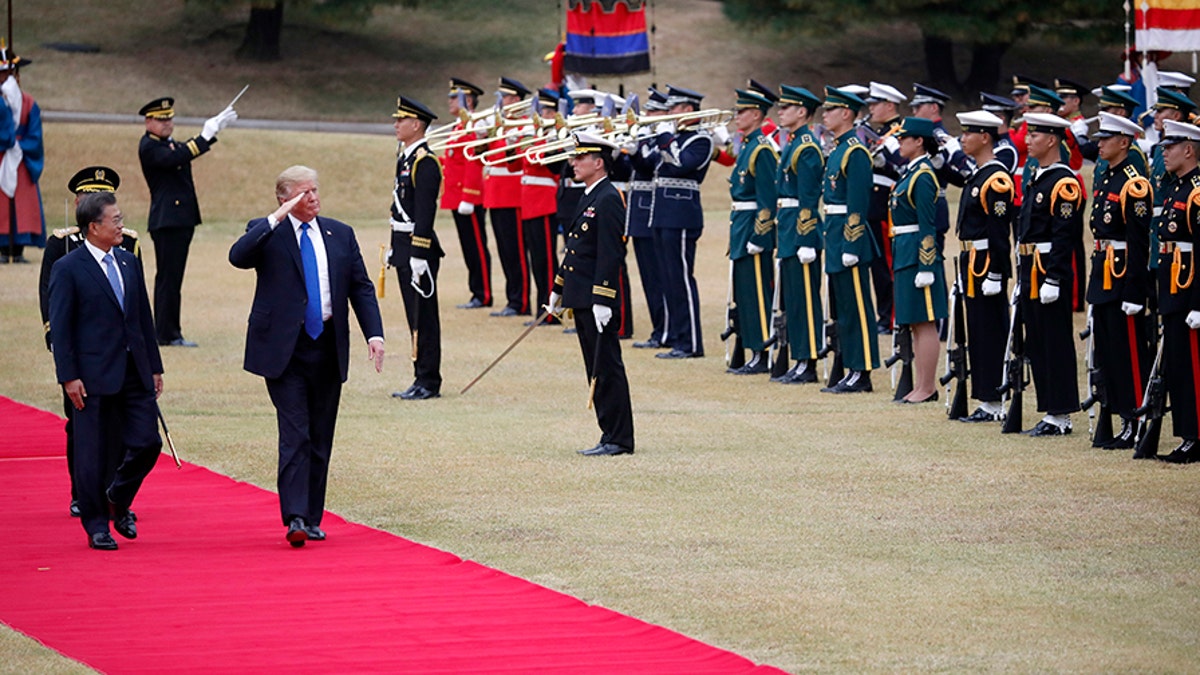 TRUMP'S ASIA TRIP: STOPS IN JAPAN, CHINA AND BEYOND
Trump, along with South Korean President Moon Jae-in, visited military base Camp Humphreys on Tuesday, roughly 40 miles south of Seoul.
His trip comes amid escalating rhetoric and taunts against North Korean leader Kim Jong Un and the country's nuclear program.
Fox News' Serafin Gomez, John Roberts and The Associated Press contributed to this report.