Trump's effort to roll back 'misguided' Cuba policy stalls
NEWYou can now listen to Fox News articles!
EXCLUSIVE: For President Trump's historic speech on Cuba policy on the sunny afternoon of June 16, his aides chose a special venue: Miami's Manuel Artime Theater, a small (839 seats) performing arts center located in East Little Havana and named for the heroic Cuban physician who led the doomed Bay of Pigs invasion against Fidel Castro in 1961. The White House selected the intimate, politically charged setting to emphasize the White House's tough stand against Fidel's brother, Raul, who has ruled the island nation since 2008 with the same brutality his late brother exhibited across the preceding five decades.
Mr. Trump was also eager to underscore the sharp difference between his stance on Cuba and that of his predecessor, Barack Obama, who ended America's long-running sanctions and embargo on the Castro regime in 2015, and ordered the reopening of embassies in the nations' capitals for the first time since 1961.
Campaigning as the Republican nominee for president last year, Mr. Trump vowed to reverse all that – and now he had come to Little Havana to make good on those promises. "It's hard to think of a policy that makes less sense than the prior administration's terrible and misguided deal with the Castro regime," President Trump told the crowd in Artime Theater.
CUBA DEAL ROLLBACK: TRUMP SAYS HE'S NIXING OBAMA'S 'ONE-SIDED' PACT
"Therefore, effective immediately" – he emphasized that word – "I am canceling the last administration's completely one-sided deal with Cuba." The audience gave a standing ovation and cried "Trump! Trump! Trump!"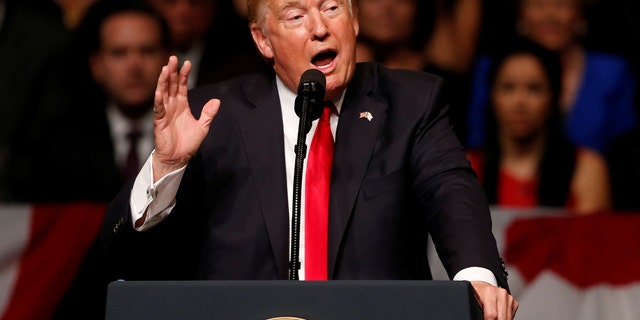 The only problem for the president and his enthusiastic Cuban-American supporters is: Nothing happened.
More than three months after Mr. Trump vowed to reinstate the sanctions and embargo on Cuba, the Treasury Department's Office of Foreign Assets Control (OFAC), which manages such programs, has yet to issue the revised official guidelines that would enable Mr. Trump's policy to be enacted.
"The announced changes do not take effect until OFAC issues new regulations," the office cautioned in a July 25 document entitled "Frequently Asked Questions on President Trump's Cuba Announcement." "OFAC expects to issue its regulatory amendments in the coming months."
Yet when contacted by Fox News this week, an OFAC spokesman confirmed the required regulatory amendments have still not been issued. Nor could Treasury provide assurances that the drafting process, "still actively underway," won't drag on for another three months. "We don't have a specific date yet for when those revised regulations will be publicly released," Deputy Assistant Secretary Seth Unger told Fox News in an email, adding only: "We still anticipate it will be in the coming months."
Experts in the arcane field of sanctions law said a number of factors could be contributing to the stalling of the president's Cuba policy rollback, ranging from budgetary constraints at OFAC to problems with the legal means by which the Trump administration sought to enact its policy shift.
"Because they are strapped for resources and lack good management," a leading sanctions lawyer in Washington said, requesting anonymity to discuss his former colleagues at OFAC, "they struggle to meet all of the deadlines. How many sanctions can be implemented by an agency of just over 200 people?"
The question arises amid a season of unusually intensive sanctions activity.
"This is an area of the law that is in flux," said Seetha Ramachandran, a partner at the New York law firm Schulte Roth & Zabel who specializes in sanctions enforcement and related fields like money laundering and white collar crime.
"Every few weeks, in fact, I think we've seen some sort of announcement of a change to the sanctions program, whether it's North Korea, or the Russia-Ukraine sanctions, or Cuba, Iran….OFAC, like any government agency, has limited resources and they have to figure out how to use those resources most efficiently and wisely."
However, the revisions to the Obama-era Cuba policy that Mr. Trump unveiled in June were nowhere near as sweeping as he suggested; the two embassies were permitted to remain open, for example, and the most significant change to the fine print amounted to the rescission of one of 12 categories of permissible American travel to Cuba (the kind called "person to person"). Nor was OFAC's ingenuity taxed especially hard by a policy shift that asked the office to restore a category of travel to the status quo that OFAC had been policing for decades prior to 2015.
Ramachandran pointed out that President Trump's Cuba announcement took two forms – his speech in Little Havana and an accompanying document the White House issued that same day – and that neither of these was an executive order, the means by which changes to the nation's sanctions regime are traditionally effectuated.
Instead, the White House disseminated to Cabinet officers and Executive Branch agencies a document entitled "National Security Presidential Memorandum on Strengthening the Policy of the United States Toward Cuba." That memorandum instructed Treasury and other Cabinet offices to "initiate a process to adjust current regulations regarding transactions with Cuba" within 30 days. Unger, the deputy assistant secretary at Treasury, told Fox News that OFAC did indeed initiate the process "immediately," but simply has not yet produced the necessary amendments to the regulations on Cuba.
"My understanding is that memorandum is not a law," Ramachandran said. "Trump could have actually issued an executive order that immediately changed the sanctions program. For example, a couple of weeks ago, there was an executive order on Venezuela sanctions that did not require any implementing regulations by OFAC. But that's not what happened here."
Late Wednesday a White House spokesman told Fox News that the president's memorandum was issued in lieu of an executive order so as to mirror the form in which President Obama's Cuba policy shift had been effectuated. "We had to do it this way to undo what he did," the spokesman said.
The White House also insisted the president's memorandum "carries the force of law within the Executive Branch," and that federal officials always expected a six-to-nine-month period of drafting and finalization of relevant regulations.
Asked about the president's "effective immediately" comment, the spokesman said the memorandum did immediately rescind the Obama-era policy, even as he conceded the changes have not yet taken effect.
The bottleneck at OFAC did not originate with the Trump presidency; nor does the issuance of an executive order necessarily guarantee swifter enactment of changes to sanctions laws by the federal bureaucracy. In March 2016, President Obama issued Executive Order 13722, strengthening the embargo against the government of North Korea. Eighteen months later, OFAC has not issued any of the kind of regulatory amendments that experts say would typically accompany such an order.
"E.O. 13722 didn't require additional regulations in order to be in effect," said Unger, who directed Fox News to a "program overview" for North Korean sanctions that the office promised to update "in the coming weeks" – to account for still another executive order on North Korea, issued last week. However, the program overview states on its front cover: "This document is explanatory only and does not have the force of law."