Trump wants Secretary of State Tillerson to be 'a little bit tougher'
President Trump on Saturday denied a frayed relationship with Secretary of State Rex Tillerson but said he sometimes wishes the country's top diplomat would be "tougher."
"We have a very good relationship," Trump told reporters before he left for a trip to North Carolina on Saturday evening. "We disagree on a couple of things. Sometimes I'd like him to be a little bit tougher. But other than that, we have a very good relationship."
The president also denied a NBC News report this week that said Tillerson, frustrated with the job, was considering resigning and had called the president a "moron."
"That was fake news," Trump said. "That was fake news by NBC."
TILLERSON BLASTS REPORT OF RIFT WITH TRUMP
Speaking outside the White House, the president weighed in on the sexual harassment scandal involving Hollywood titan Harvey Weinstein, amid reports the Democratic donor settled sexual harassment lawsuits with a number of women over the years.
"I've known Harvey Weinstein for a long time," the president said. "I'm not at all surprised to see it."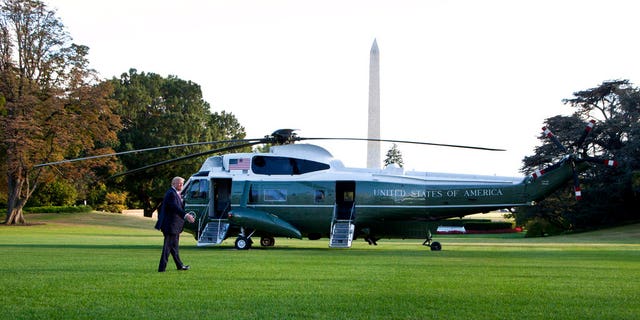 Trump also emphasized his support for his chief of staff John Kelly, saying he hopes he will stay in the role throughout his entire administration.
"John Kelly is one of the best people I've ever worked with," he said. "He's doing an incredible job and he told me for the last two months, he loves it more than anything he's ever done. He's a military man. But he loves doing this, which is chief of staff, more than anything he's ever done. He's doing a great job. He will be here in my opinion, for the entire seven remaining years."