Trump visits Pearl Harbor ahead of first official tour of Asia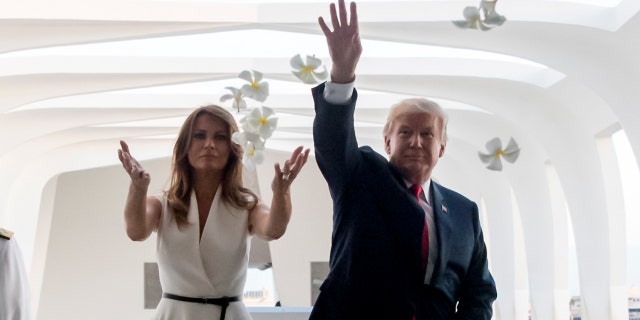 NEWYou can now listen to Fox News articles!
Before embarking on his first official visit to Asia, President Donald Trump flew to Hawaii on Friday, where he and first lady Melania Trump visited Pearl Harbor, the site where U.S. forces came under surprise attack from the Japanese in 1941.
The president and first lady also made a solemn visit to the USS Arizona Memorial, where they tossed flower petals into the water above the battleship's sunken hull.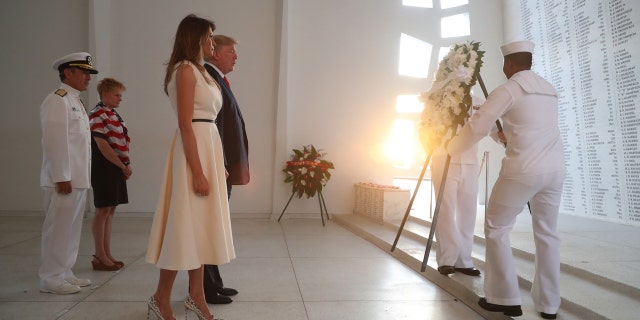 The memorial, which is accessible only by boat, straddles the wreckage of the battleship on which more than 1,000 Navy personnel lost their lives during the attack that drew the U.S. into World War II.
Trump did not speak publicly while at Pearl Harbor, but expressed anticipation earlier in the day, before a briefing with leaders of the U.S. Pacific Command, which oversees U.S. military operations in the region.
"We are going to visit very shortly, Pearl Harbor, which I've read about, spoken about, heard about, studied, but I haven't seen. And that is going to be very exciting for me," he said.
A total of more than 2,300 sailors, soldiers and Marines died as a result of the attack, as did 68 civilians, according to the National Park Service.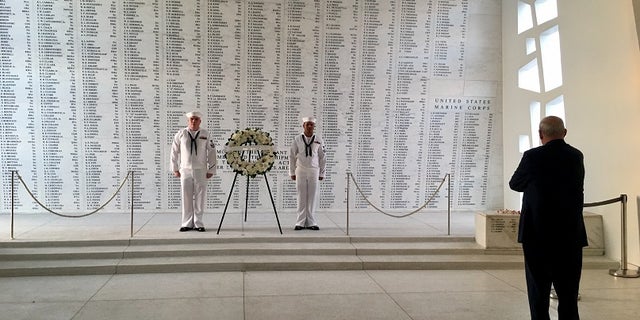 During his visit in Hawaii, Trump was expected to meet with the U.S. Pacific Command to discuss the escalating threat from North Korea. He was also scheduled to meet with the governors of Alaska, Hawaii and Pacific U.S. territories, which are all relatively close targets if North Korea opts for a missile strike aganst the U.S.
Trump will head to Japan on Saturday, then make subsequent stops in South Korea, China, Vietnam and the Philippines, where the looming crisis in North Korea will likely remain a key topic of discussion.
The president plans to attend the APEC (Asia-Pacific Economic Cooperation) conference in Vietnam and the East Asian Summit in the Philippines, for which he recently tacked on an extra day to his trip.
The Associated Press contributed to this report.