Trump tweets defense of Donald Trump Jr., blasts 'Fake Media'
NEWYou can now listen to Fox News articles!
President Trump on Wednesday morning tweeted a full-throated defense of his son, pushing back after the release of a damning email chain between his son and a Russian publicist appeared to show the younger Trump readily accepting help from the Kremlin.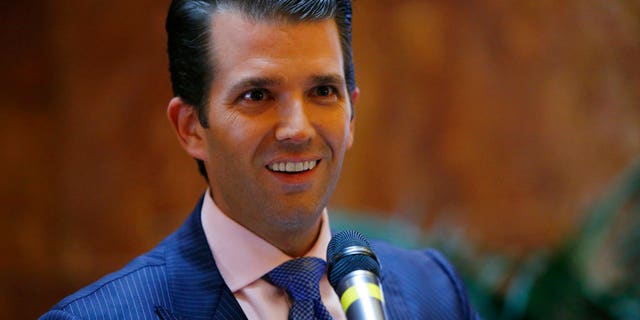 The president had initially offered praise for Donald Trump Jr., issuing a statement through a spokesperson saying his son was a "high-quality person" and applauding his "transparency" after Trump Jr. released a June 2016 email chain that spelled out an offer to give the Trump administration incriminating information on Democratic candidate Hillary Clinton as part of Russia's "support for Mr. Trump."
But on Wednesday President Trump was the defiant tweeter-in-chief, taking to social media to support his son after a Tuesday night appearance on Fox News' "Hannity."
"My son Donald did a good job last night. He was open, transparent and innocent. This is the greatest Witch Hunt in political history. Sad!" Trump wrote.
He added: "Remember, when you hear the words 'sources say' from the Fake Media, often times those sources are made up and do not exist."
The Trump administration's agenda has been stalled in part by persistent media questions and a plethora of Congressional committees and Federal agencies investigating alleged collusion by Team Trump with the alleged Russian plot to meddle in the 2016 presidential election.
While many of the stories have relied on murky anonymous sourcing – perhaps accounting for Trump's second tweet – Tuesday's Trump Jr. stories were largely predicated on the email exchange between Trump Jr. and Russian publicist Rob Goldstone – a conversation later shown to be accurate when Trump Jr. himself tweeted the email chain in light of its pending publication by The New York Times.