Trump turns up heat on Senate Republican foes
NEWYou can now listen to Fox News articles!
President Trump has dramatically ratcheted up criticism of his Senate Republican detractors, going after Arizona's senators at Tuesday's freewheeling Phoenix rally and following up with an accusation on Twitter that GOP leaders are "just wasting time" if they don't scrap the filibuster.
"If Republican Senate doesn't get rid of the Filibuster Rule & go to a simple majority, which the Dems would do, they are just wasting time!" Trump tweeted Wednesday morning.
The president has suggested before that GOP leaders like Senate boss Mitch McConnell, R-Ky., should nix the rules allowing the minority party to demand a 60-vote threshold for controversial legislation – a highly sensitive issue on Capitol Hill, amid concerns that doing so could someday hurt Republicans.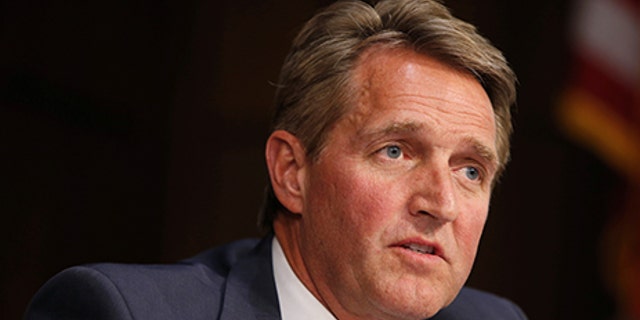 But Trump has grown increasingly frustrated with his stalled legislative agenda, suggesting Republicans in Congress could end the logjam by changing the rules.
A rule change, though, would not have saved the latest Senate bill to replace ObamaCare, which was not subject to the 60-vote standard and narrowly failed anyway. Trump made clear Tuesday night he blamed Sen. John McCain, R-Ariz., for that result -- McCain was one of three Republican votes against the so-called "skinny repeal."
He referred to the senator without using his name.
"We were one vote away from repealing [ObamaCare]," Trump said in Phoenix. "They all said, Mr. President, your speech was so good last night, please, please, Mr. President don't mention any names. So I won't. I won't. No ... I will not mention any names."
He then went on to knock Arizona's "other senator, who's weak on borders, weak on crime" – without saying his name.
Trump showed no such compunction about using names Wednesday morning, going after Sen. Jeff Flake on Twitter.
"Phoenix crowd last night was amazing - a packed house. I love the Great State of Arizona. Not a fan of Jeff Flake, weak on crime & border!" Trump tweeted.
Trump in recent days has praised Flake's primary challenger, former state Sen. Kelli Ward, as Flake has promoted a book critical of the president. He also was among the Republicans challenging Trump over his response to the Charlottesville, Va., violence. He said Republicans cannot claim to be the party of Lincoln "if we equivocate in condemning white supremacy."
McCain, who is battling cancer, has at times supported Trump's agenda, despite his vote on health care. He praised the president's strategy for Afghanistan which the commander-in-chief unveiled in an address to the nation Monday night.
In a statement, McCain, R-Ariz., called it a "big step in the right direction."