Trump touches down in Tokyo, speaks to US troops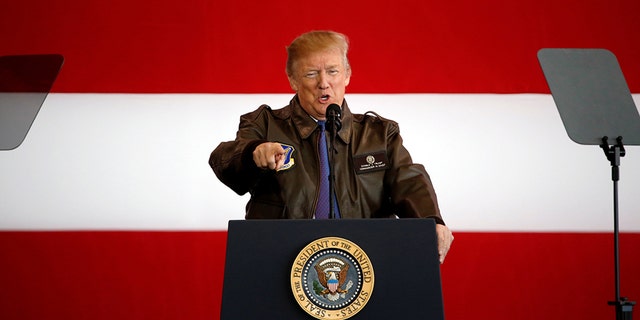 President Donald Trump arrived in Tokyo early Sunday for the first stop on his 13-day tour of Asia -- and rallied U.S. troops who awaited his arrival.
The president arrived at Yokota Air Base around 10:30 a.m. local time and shook hands and signed autographs as he made his way to a hanger where he addressed troops stationed at the U.S. military outpost.
He walked out to the podium before the crowd of hundreds as a military band played "Hail to the Chief." The crowd of service members chanted "USA! USA! USA!" as Trump was given a leather bomber jacket.
"Should I put it on?" he asked the crowd before trying it on for size.
"I like this," he said. "You can keep my other jacket."
"I'm honored to be here in this country," Trump said. "They are a great ally."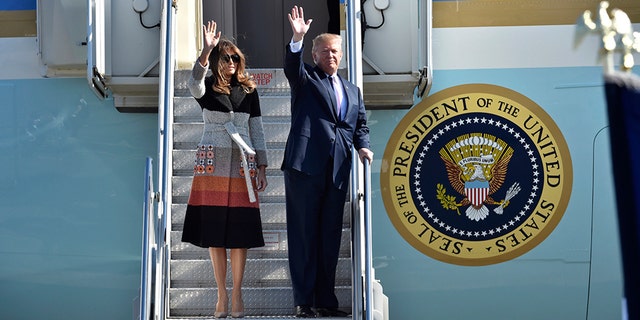 "Americans have deep respect and admiration for the people of Japan."
"Like those who came before you, you have risen to the occasion and never let anyone down."
The president thanked those in attendance before touting recent accomplishments.
"The stock market is an all-time high," he said. "Unemployment is at an all-time low."
"This has all happened since a very special day known as Election Day."
He also mentioned that ISIS has been crippled.
"We've dealt ISIS blow after blow," he said.
According to administration officials, the president's trip will be the longest in Asia by a president since 1991, when President George H.W. Bush was in office.
The president's trip comes amid the first charges in special counsel Robert Mueller's investigation into Russian meddling and potential collusion with Trump campaign associates during the 2016 presidential election.
Ahead of the trip, the president said it was possible he could see Russian President Vladmir Putin while in Asia.
"We may have a meeting with Putin," the president told host Laura Ingraham on Thursday on Fox News' "The Ingraham Angle."
"And, again – Putin is very important because they can help us with North Korea. They can help us with Syria. We have to talk about Ukraine," the president said.
Trump is slated to first meet with Japanese Prime Minister Shinzo Abe. As they did at Mar-A-Lago, Fla., back in April, Trump and Abe will play a round of golf — this time, joined by the world's No. 4 golfer, Hideki Matsuyama.
Trump's visit in Japan, according to the White House, will also include meetings with service members and bilateral meetings.
The president is also expected to meet with families of Japanese citizens abducted by North Korean leader Kim Jong Un's rogue regime.
Trump and Abe spoke earlier this week, and the president said they "affirmed the important of promoting a free and open Indo-Pacific region," and "maintaining close coordination" between the United States and Japan, and with the international community "to maximize pressure on North Korea."
After Japan, the president's next stop will be South Korea, where he will have a bilateral meeting with South Korean President Moon Jae-in. Trump will meet with service members, and also is slated for a speech at the National Assembly in Seoul.
A senior administration official told reporters during a White House background briefing this week that there was not enough time in the president's schedule to accommodate a trip to the Demilitarized Zone, which has separated North Korea and South Korea for 64 years.
Instead of the DMZ, Trump will visit military base Camp Humphreys, which is set 40 miles south of Seoul, to highlight the U.S.-South Korean partnership.
Trump's next stop is Vietnam, where he will take part in Asia-Pacific Economic Cooperation (APEC) events, according to the White House.
Trump will go to the Vietnamese capital of Hanoi for an official visit and bilateral engagements with President Tran Dai Quang and other senior Vietnamese leaders.
The final stop for Trump is the Philippines. The president was slated to be there for one day, but on Friday announced an additional day.
Trump is set for a bilateral meeting with President Rodrigo Duterte, who has been accused of human rights abuses, including killing suspected drug dealers. The White House has said that Trump could raise concerns with the program, though Duterte and Trump shared a "warm rapport" during a phone conversation.