Trump to campaign for Cruz in Texas, 77K sign up for venue that fits 18K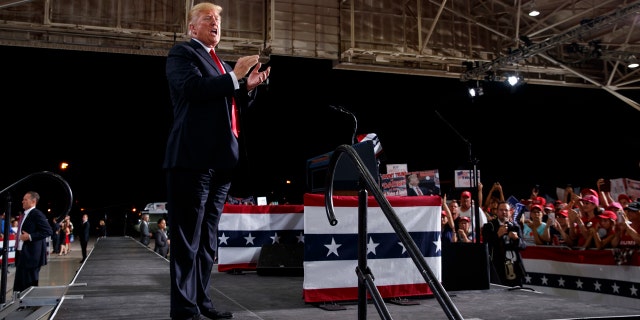 At least 77,000 people have signed up for President Trump's Houston rally on Monday to support incumbent Republican Sen. Ted Cruz, who is locked in the Texas Senate battle with Democratic Congressman Beto O'Rourke.
The Houston Chronicle reported that Houston police will be "fully mobilized" for the rally. Attendees must have tickets to enter and will be admitted in the order that they line up, the report said.
"Keep in mind that once the capacity is met, you won't get in whether you have a ticket or not," an officer said.
More than 77,800 people had signed up for the rally by Friday morning, according to The Chronicle. A person familiar with the event told the paper that the Trump campaign was not considering a move to a larger venue.
Houston police heard unconfirmed reports that a separate nearby rally for O'Rourke could also draw thousands, according to the report.
"We will have many many officers out and about," Chied Art Acevedo said. "We will have officers on the high ground, low ground, in the air. We will have officers in plainclothes, we will have undercover officers, we will have react teams."
O'Rourke had borrowed a Trump nickname for Cruz, "Lyin' Ted," during a Texas Senate debate on Wednesday.
Polls have O'Rourke staying within 10 points of Cruz in deep-red Texas.
The Associated Press contributed to this report.