Trump tells West Virginia rally: 'We didn't win because of Russia. We won because of you'
President Trump told a rally of supporters on Thursday night that he won the election not because of the Russians but because of the voters in places like West Virginia, trying to shoot down suspicion of any influence from Moscow.
"We didn't win because of Russia," Trump said at the Big Sandy Superstore Arena in Huntington, W.Va. "We won because of you. That I can tell you."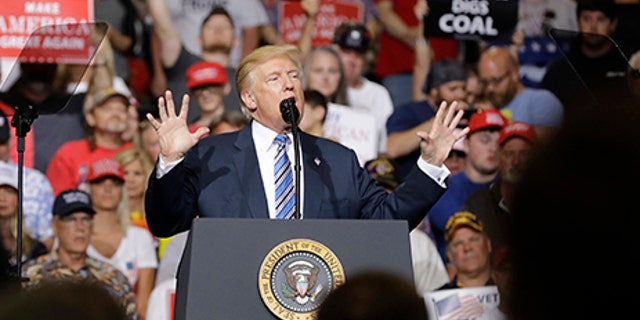 The president told the crowd he believes the Russia meddling probe that has hampered his administration is a "total fabrication."
"What the prosecutors should be looking at are Hillary Clinton's 33,000 deleted emails," he said.
Trump handily defeated Democratic nominee Hillary Clinton in West Virginia in the presidential race, winning 68 percent of the vote to Clinton's 26 percent. He argued he defeated Clinton by simply outworking "the other side."
"We won because millions of patriotic Americans voted to take back their country," he said. "Have you seen any Russians in West Virginia, or Ohio, or Pennsylvania? Are there any Russians here tonight?"
He painted the Russia investigation as a plot by his opponents to delegitimize his presidency.
"They can't beat us at the voting booths so they're trying to cheat you out of the future and the future that you won," Trump said. "They're trying to cheat you out of the leadership you won, with a fake story that is demeaning to all of us."
The rally took place just hours after fresh news broke about special counsel Robert Mueller's investigation. The Wall Street Journal reported Thursday that Mueller has impaneled a grand jury, a sign the probe is heating up. Reuters also reported that grand jury subpoenas have also been issued in relation to the infamous meeting Donald Trump Jr. and other top campaign officials had with a Russian lawyer.
MUELLER REPORTEDLY IMPANELS GRAND JURY IN RUSSIA PROBE
"I just the hope the final determination is a truly honest one, which is what the millions of people who gave us our big win in November deserve," he said in apparent reference to Mueller's probe.
During the rally, Trump also celebrated the announcement from West Virginia's Democratic governor, Jim Justice, that he is changing parties to become a Republican.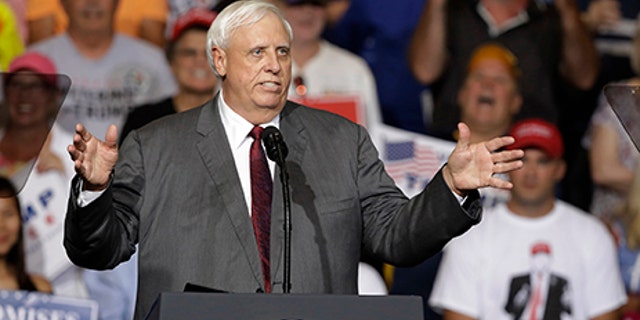 "I want to thank your great governor," Trump said. "Having Big Jim as a Republican is such an honor, I will tell you. Such an honor. A fantastic man, a fantastic guy. And thank you Jim."
Justice took the podium and said: "Like it or not like it, but the Democrats walked away from me." He praised Trump and spoke of spending time with the president's family.
"I can't help you anymore being a Democratic governor," Justice said. "So tomorrow, I will be changing my registration to Republican."
The governor also dismissed the Russian investigation.
"Have we not heard enough about the Russians?" Justice said.