Trump talks with overseas military leaders, delivers message Americans are 'incredibly grateful'
President Trump talked Sunday with top U.S. military leaders overseas, telling them and their troops in a Christmas Eve teleconference that Americans are "incredibly grateful" for them and their families' service and sacrifice.
"We're fighting well and we're winning," Trump said to the leaders at the start of the teleconference. "Wanted to wish you all a Merry Christmas. … And most importantly, on behalf of American people, we're incredibly grateful for you and your families, always under appreciated."
Since the start of his 2016 presidential campaign, Trump has made the U.S. military a top priority, vowing to provide more funding for military operations and to take better care of veterans.
Trump on Friday in fact touted the fact that the temporary spending bill recently passed by Congress included $4 billion he wanted for missile defense programs.
The president was joined Sunday on the teleconference by leaders of the Army, Navy, Air Force, Marines and Coast Guard -- including some helping U.S. partners in the fight against Al Qaeda, the Taliban and the Islamic State terror group, in such countries as Afghanistan, Iraq and Syria.
Among the leaders was Air Force Lt. Col. Paul Goossen, an Ohio resident and commander of the 69th Expeditionary Bomb Squad in Qatar.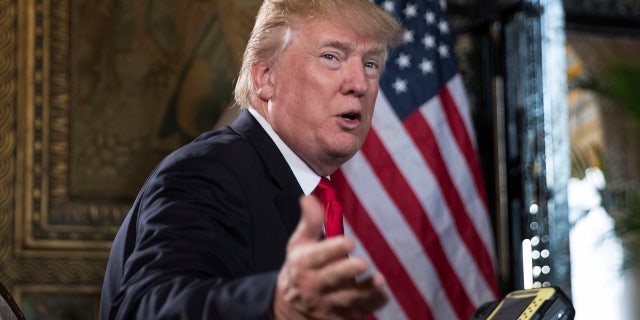 "Under his command, the … squadron has dropped more than 1,400 weapons on Islamic State of Iraq and Syria (ISIS) and Al-Qaeda in Afghanistan targets to support the grounds forces in the coalition," the White House said. "Lt. Col. Goossen's poised leadership style, operational savvy, and his strategic understanding have enabled the squadron to maintain surge operations for more than four months. There is almost no hour of the day when one of his crews is not providing an 'airborne aluminum overcast' in the fight that has liberated thousands of square miles of Iraq and Syria from the clutches of the ISIS."
The other leaders on the call were Coast Guard Capt. Matthew Wadleigh, a California resident with 30 year of service and stationed in Guantanamo Bay, Cuba; Army Col. Charles "Chuck" Lombardo, a Missouri resident and brigade commander of the 2d BDE, 1st Armored Division, known as the "Iron Brigade" and station in Kuwait; Marine Col. Christopher Gideons, a Virginia resident and commanding officer of the Special Purpose Marine Air Ground Task Force in Kuwait; and Navy Cmdr. Timothy LaBenz, a Philadelphia resident and commanding officer of the USS Sampson in the Red Sea and Indian Ocean.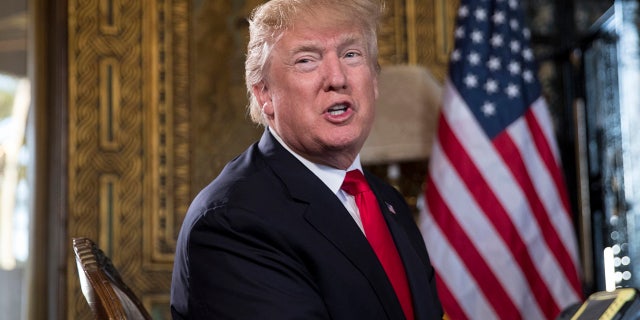 "Thank you and your crew for outstanding work in defending high value assets in the Strait of Hurmuz, the Red Sea." Trump said.
The president also told the leaders: "It's going to be an incredible year. I'm happy to bring seasons greeting on behalf of the first lady and our entire family."
Fox News' Serafin Gomez contributed to this report.