Trump slams 'total joke' Koch brothers, taking on mega-donor network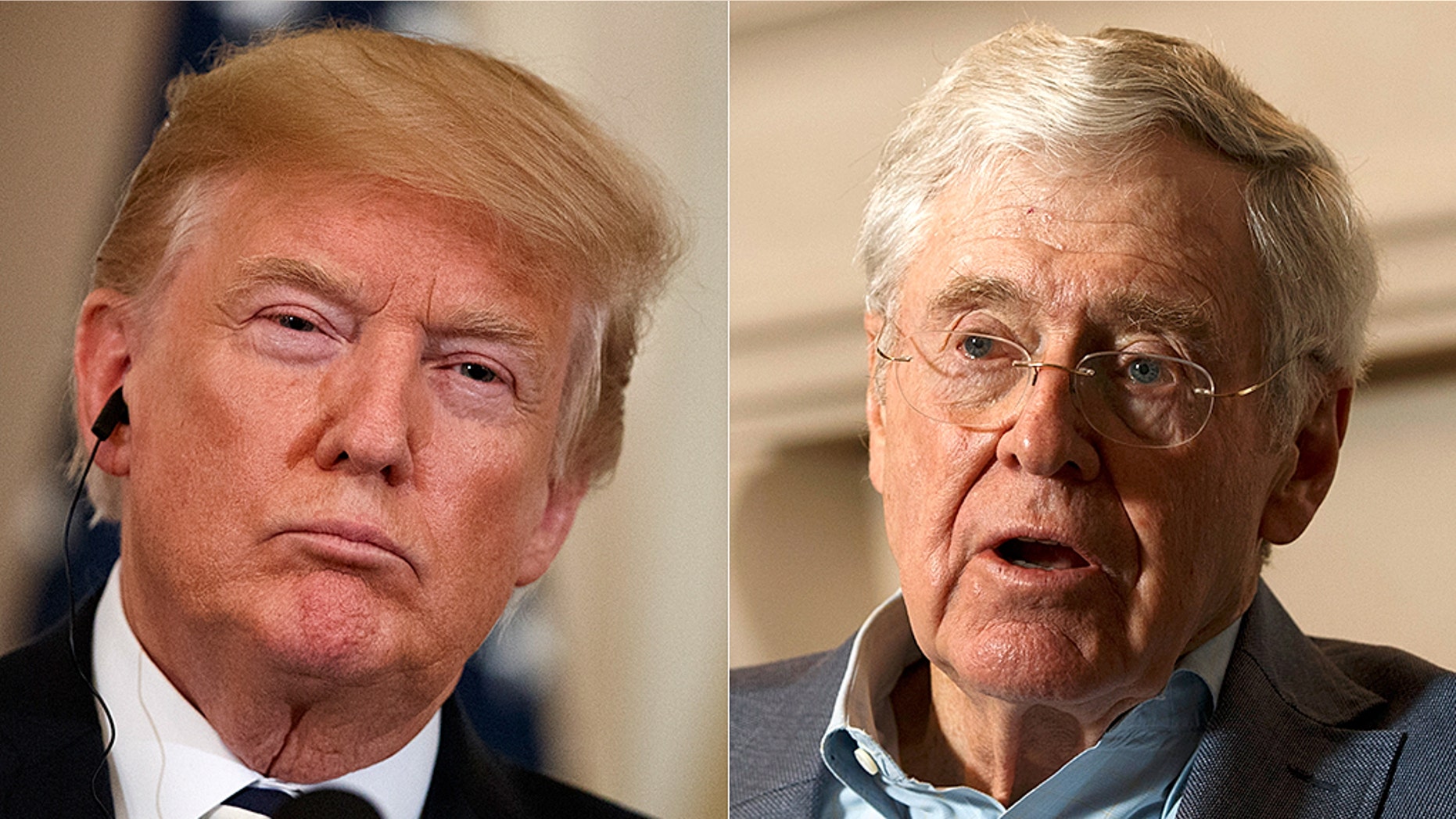 President Trump blasted the conservative mega-donor Koch brothers on Tuesday as a "total joke" and promised supporters he would be "a puppet for no one," amid rising tensions over trade and other administration policies.
"The globalist Koch Brothers, who have become a total joke in real Republican circles, are against Strong Borders and Powerful Trade. I never sought their support because I don't need their money or bad ideas. They love my Tax & Regulation Cuts, Judicial picks & more," Trump tweeted.
"I made them richer. Their network is highly overrated, I have beaten them at every turn. They want to protect their companies outside the U.S. from being taxed, I'm for America First & American Worker -- a puppet for no one. Two nice guys with bad ideas. Make America Great Again!"
The president's tweets come after the advocacy network created by billionaires Charles and David Koch announced they would not support Republican Senate candidate for North Dakota, Kevin Cramer. The Koch brothers also did not endorse Trump in the 2016 presidential election.
A spokesman for the Koch Network responded to the president's criticisms later Monday morning.
"We support policies that help all people improve their lives," spokesman for the Koch Network James Davis said in a statement to Fox News. "We look forward to working with anyone to do so."
The Washington Post reported that at a reception held by the Koch network over the weekend, officials revealed a new approach —distancing themselves from the GOP and becoming less focused on partisan politics.
Charles Koch said he "regrets" support for some Republican lawmakers in recent years.
"We're going to be more strict on holding someone accountable if they say they're going to be for the principles that we espouse, and then they aren't," Charles Koch said, according to the Washington Post. "Our organization is happy to support anybody. We'd love for there to be more Democrats to support these ideas and these issues."
The Koch brothers have been highly critical of Republicans in recent months, slamming the GOP for not doing enough to curb government spending in their $1.3 trillion spending bill adopted in March. They have specifically criticized the White House over Trump's "protectionist" trade policies, which they fear could trigger a U.S. recession in addition to a looming international trade war.
Trump's policies also have not always been in line with the Kochs' political group — Americans for Prosperity. But the group says it still plans to focus resources and funds to help Republican Senate candidates in Tennessee, Florida and Wisconsin.
According to Forbes, each Koch brother is worth approximately $60 billion, tying for 8th richest person in the world.
Fox Business Network's Blake Burman and The Associated Press contributed to this report.