Trump slams 'Fake News' for coverage of Puerto Rico trip
NEWYou can now listen to Fox News articles!
On the heels of his trip to Puerto Rico and ahead of his Wednesday visit to Las Vegas, President Trump took to Twitter to slam the "Fake News Media" for not reporting the "truth."
"Wow, so many Fake News stories today. No matter what I do or say, they will not write or speak truth. The Fake News Media is out of control!" Trump tweeted early Wednesday.
The complaint came after numerous media outlets criticized him for comments made during his trip to hurricane-ravaged Puerto Rico.
During his visit, the president pointed out that 16 people died in Puerto Rico in the midst of Hurricane Maria—a death count far lower than that of "a real catastrophe" like Hurricane Katrina in 2005.
"Sixteen people versus in the thousands," Trump said Tuesday. "You can be very proud of all your people."
Later in the day, Puerto Rico raised the Maria death toll from 16 to 34.
The president also reminded Puerto Rico of the impact the storm recovery has had on the federal budget.
TRUMP SURVEYS HURRICANE-RAVAGED PUERTO RICO, MEETS SAN JUAN MAYOR AFTER FEUD
"Now, I hate to tell you Puerto Rico, but you've thrown our budget a little bit out of whack," Trump said in a briefing. "Because we've spent a lot of money on Puerto Rico. And that's fine, we've saved a lot of lives."
The president tweeted earlier Wednesday morning that despite some media outlets' coverage of the trip, some showed "great warmth and friendship."
"A great day in Puerto Rico yesterday. While some of the news coverage is Fake, most showed great warmth and friendship," Trump tweeted.
TRUMP CALLS VEGAS SHOOTER 'DEMENTED,' PRAISES POLICE FOR QUICK RESPONSE
The president's tweets come ahead of his Wednesday visit to Las Vegas, where he plans to meet with victims and first responders and doctors after the Sunday night massacre that left 59 people dead and more than 500 hospitalized.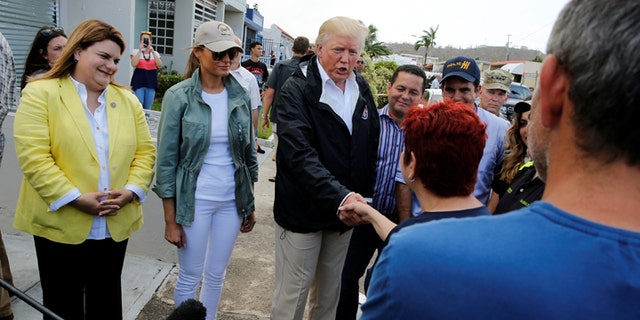 "He was a sick man, a demented man, lots of problems I guess," Trump said Tuesday of the gunman, 64-year-old Stephen Paddock. "We're looking into him very, very seriously. But we are dealing with a very, very sick individual."
The president was also hit with media criticism for some of his comments regarding the Las Vegas massacre, which is now considered the deadliest mass shooting in modern U.S. history.
The president was hit for suggesting that there was "a miracle" involved in the attack, though he was referring to the police response.
"Look, we have a tragedy and what happened in Vegas is in many ways a miracle. The police department has done such an incredible job," Trump said Tuesday. "We will be talking about gun laws as time goes by, but I do have to say how quickly the police department got in was very much a miracle. They did an amazing job."