Trump says he's considering pardoning Martha Stewart, Rod Blagojevich
NEWYou can now listen to Fox News articles!
President Trump said Thursday he was considering pardoning or commuting the sentences of Martha Stewart and former Illinois Gov. Rod Blagojevich, following his announcement earlier in the day of a full pardon for conservative filmmaker Dinesh D'Souza.
The president's comments came during a gaggle with reporters on Air Force One enroute to Houston, Texas.
Trump called the former governor's sentence on corruption charges "really unfair" and added that "plenty of other politicians could have said a lot worse."
The president said that Blagojevich said something dumb, but that "lots of politicians" do.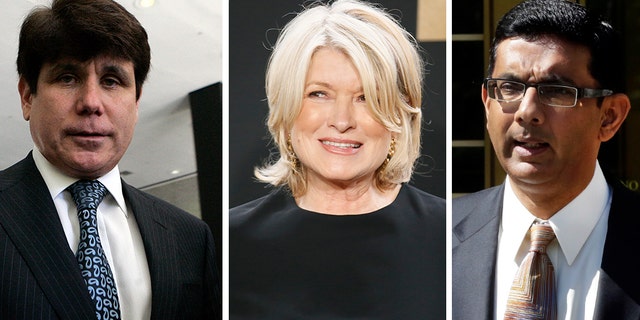 "I'll tell you another one … there's another one that I'm thinking about. Rod Blagojevich -- 18 years in jail for being stupid and saying things that every other politician, you know that many other politicians say," Trump told reporters. "And if you look at what he said, he said something to the effect like 'what do I get' … stupid thing to say."
The former Democratic governor, who was a contestant on Trump's "Celebrity Apprentice" in 2010, began his 14-year prison sentence in 2012 after being convicted of corruption. Blagojevich's scheduled release date is in 2024.
Blagojevich was governor of Illinois from 2003 to 2009, when he was impeached and convicted on corruption charges over allegations he took bribes for political appointments—including to the open U.S. Senate seat of former President Barack Obama.
Trump suggested he was more interested in "curtailing his sentence" than a full pardon.
"I am seriously thinking about – not pardoning – but I am seriously thinking of a curtailment of Blagojevich," Trump said.
The president also said he would consider pardoning Stewart, saying she "used to be one of my biggest fans."
"And there are others. I think to a certain extent Martha stewart was harshly and unfairly treated. And she used to be my biggest fan in the world … before I became a politician," Trump said. "But that's ok I don't view it that way."
Stewart was convicted in 2004 of obstructing justice and lying to the government as part of an insider trading case. At the time, former FBI Director James Comey was the federal prosecutor who charged Stewart.
The president's comments come after an early morning tweet announcing that he would pardon D'Souza.
"Will be giving a Full Pardon to Dinesh D'Souza today. He was treated very unfairly by our government!" the president tweeted Thursday morning.
D'Souza told Fox News he received a call from the president on Wednesday to notify him of the decision.
"I am thrilled and relieved and elated and as an immigrant in America, my American dream has been under something of a cloud, so I'm very relieved to have that cloud lifted," D'Souza told Fox News on Thursday.
D'Souza said he and Trump spoke for about 10 minutes, calling it a "very pleasant and very exciting call."
"President Trump told me he felt I had been treated very unfairly and he felt that I was an important voice for America," D'Souza said. "He wanted to clean my record and adhere to continue doing what I'm doing."
The conservative filmmaker had pleaded guilty in 2014 for donating $20,000 to New York politician Wendy Long, allegedly going over the contribution limit by directing other donors to give to her. He was sentenced to five years of probation and eight months in a halfway house, and paid a $30,000 fine.
The Associated Press contributed to this report.