Trump says Dem rep 'fabricated' account of call to soldier's widow, has 'proof'
President Trump on Wednesday rejected a Democratic congresswoman's claim that he told the widow of a U.S. soldier recently killed in Niger that "he knew what he signed up for."
Trump tweeted that Rep. Frederica Wilson, D-Fla., "totally fabricated what I said to the wife of a soldier who died in action (and I have proof). Sad!"
The soldier, Army Sgt. La David Johnson, was among four service members who died earlier this month in northwestern Africa during an ambush.
Wilson told a local news outlet that Trump, during the five-minute phone call to the soldier's widow, Myeshia Johnson, said her husband "knew what he signed up for ... but when it happens, it hurts anyway." She called the remarks insensitive.
Wilson stood by her account Wednesday on Twitter. And on CNN, Wilson said she and other Johnson family members heard what Trump said because the call was put on a speakerphone.
"I have proof, too," she countered.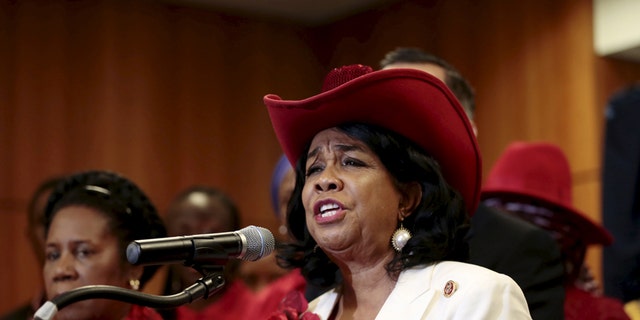 Further, Johnson's aunt, Cowanda Jones-Johnson, backed up the congresswoman's account, telling The Associated Press that Trump showed "disrespect."
But Trump, later Wednesday morning, again denied making such a remark and essentially dared Wilson to repeat the claim.
"Didn't say what the congresswoman said I said," the president told reporters. "And she knows it, and she is now not saying it. ... I'd like her to make the statement again."
On Tuesday, a top White House adviser told Local 10 News that the president's conversations "with the families of American heroes who have made the ultimate sacrifice are private."
Trump had called Johnson's widow to offer condolences. Myeshia Johnson, who is expecting her and her deceased husband's third baby in January, also has a 2-year-old son and 6-year-old daughter.
Sgt. Johnson died during a Green Berets mission in Niger. Islamic militants ambushed the soldiers Oct. 4 with machine guns and grenades.
Trump was initially criticized for lack of focus on the deadly attack, although the Department of Defense reportedly launched an investigation into the ambush, the New York Daily News reported.
The three other slain service members were: Staff Sgt. Bryan C. Black, 35, of Puyallup, Wash.; Staff Sgt. Jeremiah W. Johnson, 39, of Springboro, Ohio; and Staff Sgt. Dustin M. Wright, 29, of Lyons, Ga.
The Associated Press contributed to this report.