Trump rebuffs recusal demands for Acting AG Whitaker, swipes at Conway's husband
President Trump on Friday shot down calls for his new Acting Attorney General Matthew Whitaker to recuse himself from overseeing the Russia investigation, arguing that his public comments on the probe are not out of the ordinary for a high-ranking official.
Numerous Democratic officials have called for Whitaker's recusal after he was tapped to replace Jeff Sessions, who was forced to resign within hours of Tuesday's midterm elections.
Eighteen state attorneys general signed a document Thursday calling on the new AG to recuse himself from the probe, citing in part his "hostility" to the investigation given his past criticism in the media.
But speaking to reporters before taking off for Paris, Trump brushed off those concerns. He argued that high-profile lawyers comment on cable about matters of public importance all the time and if that were disqualifying, "You'd have nobody left to choose."
"All the time I'm watching many different people go on many different shows saying many different things. That doesn't mean they're unqualified," Trump said.
He also said he doesn't know Whitaker personally but asserted he "has a great reputation."
While Sessions' dismissal was widely expected – given Trump's animus toward the Justice Department head over his 2017 recusal from the Russia investigation – the speed at which it happened after the midterms was not. Some of the criticism Trump has faced for his choice of replacement has been bipartisan – notably, from George Conway.
The husband of White House Counselor Kellyanne Conway co-wrote a New York Times op-ed with former DOJ attorney Neal Katyal claiming the installation of Whitaker at the helm of the DOJ is "unconstitutional" and "illegal" because he was not Senate-confirmed in his prior role as Sessions' chief of staff, rendering any actions he takes "invalid."
"Constitutionally, Matthew Whitaker is a nobody. His job as Mr. Sessions's chief of staff did not require Senate confirmation," they wrote.
Trump bristled Friday at a question about George Conway, snapping back, "You mean, Mr. Kellyanne Conway? … He's just trying to get publicity for himself."
He added, "Why don't you ask Kellyanne that question. She might know him better than me. I really don't know the guy." Further, Trump argued that Whitaker was originally Senate-confirmed as a U.S. attorney under the Bush administration over a decade ago.
Whitaker, before working for Sessions and after serving as a U.S. attorney, led a conservative watchdog group and was known to take a dim view toward the Mueller probe.
In an op-ed Whitaker wrote last year, he argued that "any investigation into President Trump's finances or the finances of his family would require Mueller to return to Rod Rosenstein for additional authority under Mueller's appointment as special counsel."
"It is time for Rosenstein ... to order Mueller to limit the scope of his investigation to the four corners of the order appointing him special counsel," Whitaker wrote. "If he doesn't, then Mueller's investigation will eventually start to look like a political fishing expedition. This would not only be out of character for a respected figure like Mueller but also could be damaging to the President of the United States and his family -- and by extension, to the country."
And separately, in July 2017, Whitaker told CNN, "I could see a scenario where Jeff Sessions is replaced with a recess appointment, and that attorney general doesn't fire Bob Mueller, but he just reduces his budget to so low that his investigation grinds to almost a halt."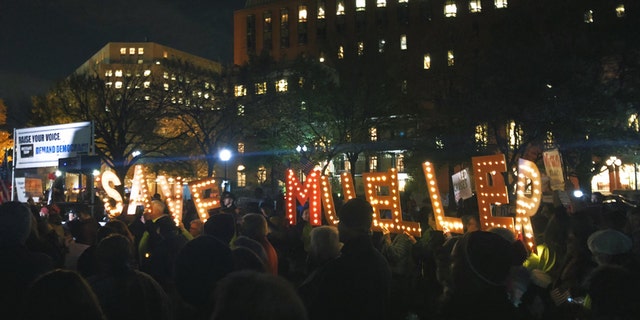 As Trump grapples with the political fallout, the Sessions resignation has prompted a new wave of protests in cities across the country.
Protesters gathered outside the White House Thursday evening, chanting "there is no excuse, Whittaker must recuse" and "Trump is not above the law."
Noah Bookbinder, former corruption prosecutor and current director of Citizens for Responsibility and Ethics in Washington, spoke at the rally and said he filed a seven-page document to the Justice Department explaining in "painstaking detail" why Whitaker must recuse. "The attorney general cannot be the president's lawyer," he said.
"This president has made it his mission, from the day that Robert Mueller was brought in as special counsel, to do everything he can to undercut this investigation," Bookbinder said. "There is no better public servant than Robert Mueller."
Many protesters did not support Sessions, either, but said one thing Sessions did right was recuse himself from Mueller's investigation.
"If we're not here protesting, nobody will hold Trump accountable," said one protester at the event. "Trump firing Sessions is crossing the red line, and I think our democracy is at risk."
In a related development, a federal appeals court on Friday ordered Mueller to explain how the DOJ leadership shakeup would affect an ongoing lawsuit over the special counsel's authority.
In a one-paragraph order issued by a three-judge panel of the U.S. Court of Appeals for D.C., Mueller and lawyers for a former associate of onetime Trump adviser Roger Stone were told to submit briefs on the matter in 10 days.
Fox News' Lauren Lee, Elizabeth Zwirz, Bill Mears and Gregg Re contributed to this report.