Trump reassures farmers immigration crackdown not aimed at their workers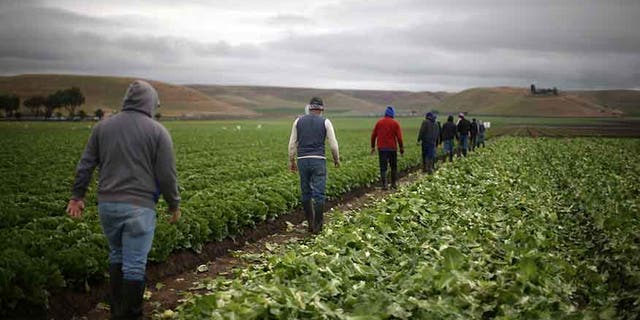 WASHINGTON – President Donald Trump said he would seek to keep his tough immigration enforcement policies from harming the U.S. farm industry and its largely immigrant workforce, according to farmers and officials who met with him.
At a roundtable on farm labor at the White House last month, Trump said he did not want to create labor problems for farmers and would look into improving a program that brings in temporary agricultural workers on legal visas.
NYC SCHOOL TURNS AWAY IMMIGRATION AGENT LOOKING FOR FOURTH-GRADER
"He assured us we would have plenty of access to workers," said Zippy Duvall, president of the American Farm Bureau Federation, one of 14 participants at the April 25 meeting with Trump and Agriculture Secretary Sonny Perdue.
During the roundtable conversation about agriculture, farmers and representatives of the sector brought up labor and immigration, the details of which have not been previously reported. Some farmers told Trump they often cannot find Americans willing to do the difficult farm jobs, according to interviews with nine of the 14 participants.
They said they were worried about stricter immigration enforcement and described frustrations with the H-2A visa program, the one legal way to bring in temporary seasonal agricultural workers.
ILLEGAL IMMIGRANT IN CONNECTICUT GRANTED 2-YEAR STAY OF DEPORTATION TO GUATEMALA
The White House declined to comment on the specifics of the discussion, but described the meeting as "very productive." The U.S. Department of Agriculture did not respond to a request for comment on the April meeting.
About half of U.S. crop workers are in the country illegally and more than two-thirds are foreign born, according to the most recent figures from the U.S. Department of Labor's National Agriculture Workers' Survey.
During the roundtable, Luke Brubaker, a dairy farmer from Pennsylvania, described how immigration agents had recently picked up half a dozen chicken catchers working for a poultry transportation company in his county.
The employer tried to replace them with local hires, but within three hours all but one had quit, Brubaker told the gathering at the White House.
Trump said he wanted to help and asked Secretary Perdue to look into the issues and come back with recommendations, according to the accounts.
While other issues such as trade, infrastructure and technology were also discussed, participants were more positive after the meeting about the conversation on foreign labor "than about anything else we talked about," said Bill Northey, a farmer and Iowa's secretary of agriculture.
Tom Demaline, president of Willoway Nurseries in Ohio, said he told the president about his struggles with the H-2A guestworker program, which he has used for 18 years.
He told Trump the program works in concept, but not in practice. "I brought up the bureaucracy and red tape," he said. "If the guys show up a week or two late, it puts crops in jeopardy. You are on pins and needles all year to make sure you get the workers and do everything right."
While use of the program has steadily increased over the past decade, it still accounts for only about 10 percent of the estimated 1.3 million farmworkers in the country, according to government data. In 2016, the government granted 134,000 H-2A visas
Employers who import workers with H-2A visas must provide free transportation to and from the United States as well as housing and food for workers once they arrive. Wage minimums are set by the government and are often higher than farmers are used to paying.
Steve Scaroni, whose company Fresh Harvest brings in thousands of foreign H-2A workers for growers in California's Central valley, says, however, that he could find work for even more people if he had more places to house them.
Trump recently signed another executive order titled "Buy American, Hire American," calling for changes to a program granting temporary visas for the tech industry, but not to visas used by farmers and other seasonal businesses, including Trump's own resorts.
Trump also signed two executive orders, just days after taking office, focused on border security that called for arresting more people in the United States illegally and speeding up deportations.
Roundtable participants said that many farmers have worried about the effect of the stepped up enforcement on their workforce, but Trump told them his administration was focused on deporting criminals, not farmworkers.
"He has a much better understanding about this than some of the rhetoric we have seen," said meeting attendee Steve Troxler, North Carolina's agriculture commissioner and a farmer himself.