Trump-Putin summit in the works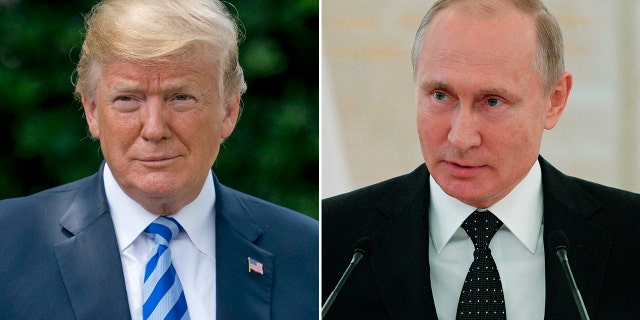 A summit between President Donald Trump and Russian President Vladimir Putin is in the works, Fox News has learned.
Trying to organize the meeting between the two world leaders "has been an ongoing project" for Jon Huntsman, the U.S. ambassador to Russia, sources told Fox News on Friday. The ambassador has reportedly been in Washington working on the plans.
TRUMP SAYS SINGAPORE SUMMIT WITH KIM IS BACK ON AFTER MEETING NORTH KOREAN OFFICIAL
"This has been an ongoing project of Ambassador Huntsman, stretching back months, of getting a formal meeting between Putin and Trump," a source told the Wall Street Journal.
The plans are reportedly at an early stage, as neither a date nor a location have yet been determined. If the sit-down happens, it would be the third meeting between the leaders.
The news comes on the heels of Trump's announcement Friday afternoon that his highly anticipated summit with North Korean dictator Kim Jong Un is back on for June 12.
"We'll be meeting on June 12 in Singapore," Trump told reporters following a lengthy meeting with a top official from the hermit kingdom.
TRUMP-KIM SUMMIT, FROM THE INVITATION TO THE CANCELLATION: A TIMELINE
Trump said his visit with North Korean official Kim Yong Chol was a "great start" and confirmed that the emissary brought a personal letter from the country's dictator.
As work towards that summit pushes forward, an administration official told the Journal that "If negotiations there continue, [work on the Russia summit] will be delayed."