Trump picks former Sen. Coats as director of national intelligence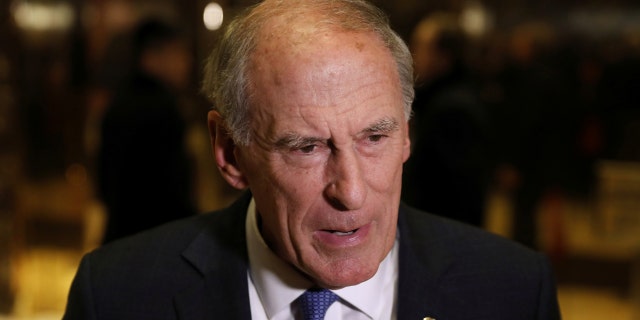 President-elect Donald Trump on Thursday picked former Indiana Senator Dan Coats as director of national intelligence, two sources briefed on the decision told Fox News.
The official announcement is expected later this week, according to the AP, as Trump makes final decisions on some of the major positions he needs to fill before he is sworn in on Jan. 20.
TRUMP'S TEAM: WHO'S WHO IN PRESIDENT-ELECT'S CABINET, WHITE HOUSE
Coats, a Republican, served as a member of the Senate Intelligence Committee before retiring from Congress last year. He also served as U.S. ambassador to Germany.
As director of national intelligence, Coats would oversee an office created after 9/11 to improve coordination of U.S. spy and law enforcement agencies.
Coats is very much beloved in the Senate, a source told Fox News, and is considered to be an interesting balance to some of the other personalities such as Gen. Michael Flynn and Rep. Mike Pompeo.
The senator was banned from visiting Russia back in late 2014 for his participation to punish Russia because of Moscow's move to annex the Crimea region of Ukraine, which he seemed to enjoy at the time.
"While I'm disappointed that I won't be able to go on vacation with my family in Siberia this summer, I am honored to be on this list," he said after Russia's announcement, according to The Indy Star.
The choice comes amid Trump's questioning of the U.S. intelligence community's assessments that Russia interfered with the election on his behalf, and one day before the president-elect is briefed by senior intelligence officials on the Russian hacking allegations.
Trump has been considering ways to restructure intelligence agencies to streamline operations and improve efficiency.
Transition officials have been looking at changes at both ODNI and the CIA, but those plans are said not to be aimed at gutting the intelligence agencies or hampering their capabilities.
Fox News' John Roberts, Mike Emanuel, and The Associated Press contributed to this report.