Trump, past presidents mourn Billy Graham's death: 'There was nobody like him!'
President Trump honored the legacy of the late Rev. Billy Graham on Wednesday by calling the evangelist "a very special man" who will be dearly missed.
"The GREAT Billy Graham is dead," Trump tweeted. "There was nobody like him! He will be missed by Christians and all religions. A very special man."
Graham, who transformed American religious life through his preaching and activism, becoming a counselor to presidents and the most widely heard Christian evangelist in history, died Wednesday. He was 99.
Graham, who long suffered from cancer, pneumonia and other ailments, died at his home in North Carolina, spokesman Mark DeMoss said.
Vice President Pence called Graham "one of the greatest Americans of the century."
"Billy Graham's ministry for the gospel of Jesus Christ and his matchless voice changed the lives of millions," Pence said. "We mourn his passing but I know with absolute certainty that today he heard those words, 'well done good and faithful servant.' Thank you Billy Graham."
Former President George H.W. Bush referred to Graham as "America's pastor" and recalled Graham visiting his family in Maine, where they would take boat rides and "talk about life."
"His faith in Christ and his totally honest evangelical spirit inspired people across the country and around the world," Bush said. "I think Billy touched the hearts of not only Christians, but people of all faiths, because he was such a good man. I was privileged to have him as a personal friend."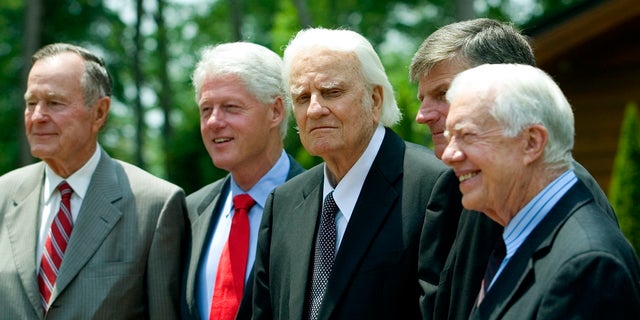 Bush added: "We will miss our good friend forever."
Former President Jimmy Carter said in a statement that Graham "had an enormous influence on my own spiritual life."
"Rosalynn and I are deeply saddened to learn of the death of The Reverend Billy Graham," Carter said. "Tirelessly spreading a message of fellowship and hope, he shaped the spiritual lives of tens of millions of people worldwide. Broad-minded, forgiving, and humble in his treatment of others, he exemplified the life of Jesus Christ by constantly reaching out for opportunities to serve."
Former President Bill Clinton called Graham one "of the most important religious leaders in American history."
"I will never forget the first time I saw him, 60 years ago in Little Rock, during the school integration struggle. He filled a football stadium with a fully integrated audience, reminding them that we all come before God as equals, both in our imperfection and our absolute claim to amazing grace."
Clinton added, "Billy has finished his long good race, leaving our world a better place and claiming his place in glory."
More than anyone else, Graham built evangelicalism into a force that rivaled liberal Protestantism and Roman Catholicism in the United States. He was a confidant to U.S. presidents from Gen. Dwight Eisenhower to George W. Bush.
"Billy Graham was a consequential leader," the George W. Bush said in a statement. "He had a powerful, captivating presence and a keen mind. He was full of kindness and grace. His love for Christ and his gentle soul helped open hearts to the Word, including mine."
In 1983, President Reagan gave Graham the Presidential Medal of Freedom, America's highest civilian honor. When the Billy Graham Museum and Library was dedicated in 2007 in Charlotte, former Presidents Bush, Carter and Bill Clinton attended.
Fox News' David Lewkowict and The Associated Press contributed to this report.