Trump orders military 'celebration' in Washington, DC
President Trump has ordered the Pentagon to plan a military "celebration" in Washington, D.C. to show "appreciation" for the U.S. Armed Forces.
White House Press Secretary Sarah Sanders confirmed on Tuesday that Trump requested such an event.
"President Trump is incredibly supportive of America's great service members who risk their lives every day to keep our country safe. He has asked the Department of Defense to explore a celebration at which all Americans can show their appreciation," Sanders said.
Trump had previously considered the idea of a military parade through the streets of the nation's capital after attending France's Bastille Day as the guest of honor in July. The president admired the country's celebrations, and called the parade "magnificent."
Trump made the order in a Jan. 18 meeting with top generals, The Washington Post reported.
The president reportedly ordered: "I want a parade like the one in France," with soldiers marching and tanks rolling.
Months after Trump's inauguration in early 2017, The Huffington Post reported, citing an email from a Pentagon official, that Trump's Inaugural Committee was "seriously considering adding military vehicles to the Inaugural Parade."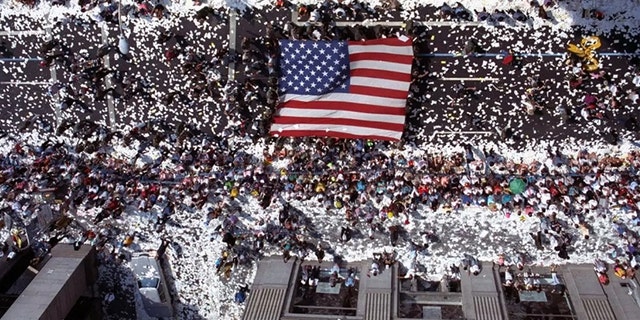 Despite confirmation of the order, a White House official told The Washington Post that the event is just in a "brainstorming" phase right now. Pentagon spokesperson Charlie Summers said officials are "looking at options."
France's Bastille Day — an annual July 14 holiday to celebrate a turning point in the French Revolution, similar to celebrations held on America's Fourth of July — showcases its military's strength by parading its tanks and fighter jets, followed by a fireworks display.
The last time a military parade marched through Washington, D.C. was at the conclusion of the Gulf War in June 1991. The National Victory Celebration Parade, which strolled down Constitution Avenue, reportedly cost more than $12 million.
Fox News' Jenny Buchholz and The Associated Press contributed to this report.